The Comedy of Errors, Shakespeare's Globe review - comedy and confusion |

reviews, news & interviews
The Comedy of Errors, Shakespeare's Globe review - comedy and confusion
The Comedy of Errors, Shakespeare's Globe review - comedy and confusion
Sean Holmes's rumbustious production goes at a breakneck speed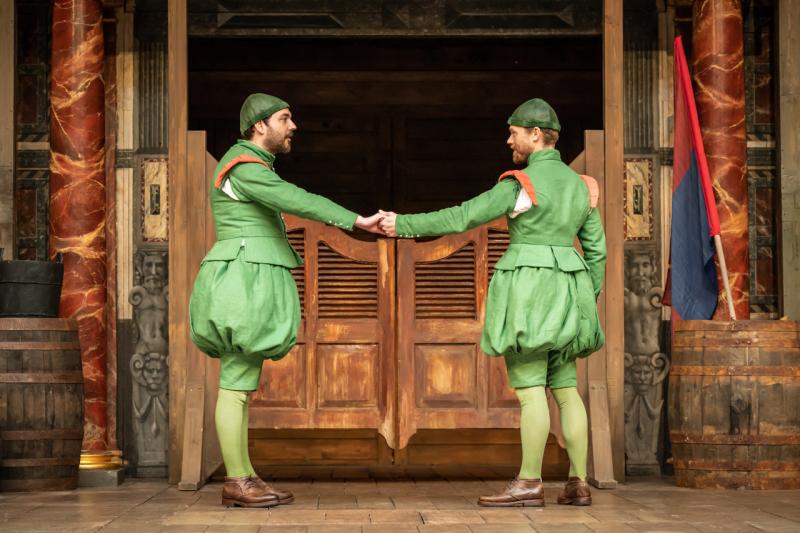 Dead Ringers: The two Dromios finally get to meet each other
Shakespeare drew on Plautus's Menaechmi for this early short comedy. Was it his competitive streak that made him up the ante with not one set of identical twins but two?
Imagine that you have newly arrived in a place that you have never visited before, and within 24 hours you are met by a woman who claims you as her husband, a man who thrusts a gold chain in your hands that he insists you had long ordered, and a courtesan who demands the return of a ring she says she gave you earlier. Farce or tragedy? That is the plight of poor Antipholus of Syracuse, who arrives in Ephesus with his servant Dromio, not knowing that their long lost identical twin brothers already reside in the town. What could possibly go wrong?
Going at a lick without an interval, Sean Holmes's production is more rumbustious than reflective. It recognises, but doesn't dwell on, the unsettling nature of the situation, while revelling in the comic confusion. Even the stark beginning is undermined. After a strident nationalistic parade, the Duke arrives by boat along with his prisoner, the elderly Egeon. The latter is condemned is death. Yes, he does get a chance to tell his sad, admittedly lengthy story of how he is searching for one son and mourning the loss of the other along with his wife, but not before another prisoner is decapitated first on the bloodstained block, his head rolling ludicrously across the stage floor.
Designer Paul Wills sets the play on a quayside with a vast mast stretching over the groundlings and a jetty pushing into the audience. Ropes swing from the columns, barrels adorn the stage, and the Syracusan Dromio scales the mainbrace in flight from the attentions of greasy Nell. The flamboyant costumes are Elizabethan, in keeping with the theatre and suggestive of 16th century London rather than a Mediterranean city.
An interpolated brawling scene of pure slapstick that sees the locals fighting with fists, swords and chairs, seeks to establish Ephesus's reputation as a raucous port famous for thieving and deception, but it feels too laboured and isolated from the rest of the action.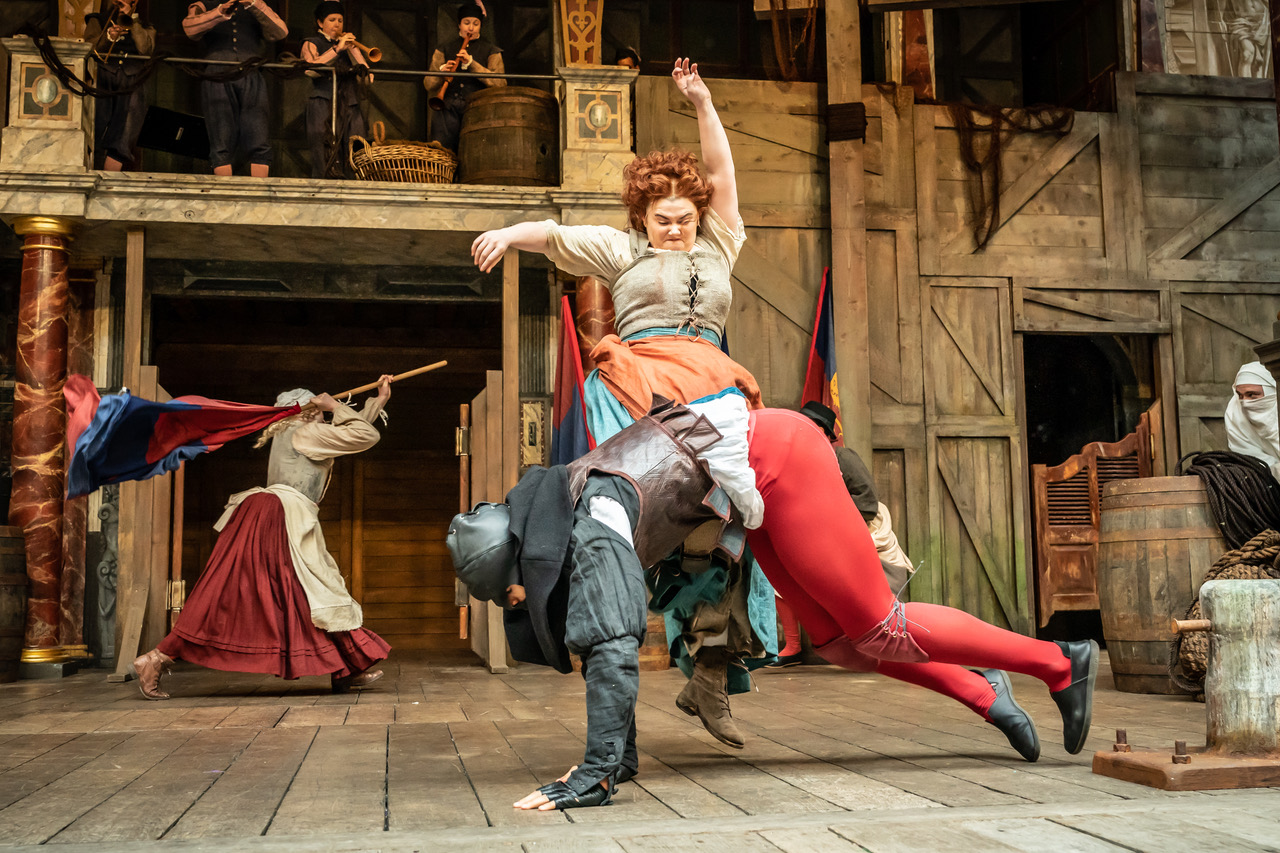 Plot is all, rather than characterisation. However, there is a strong contrast between the Antipholus twins. Michael Elcock's likeable Antipholus of Syracuse moves effectively from worrying about losing his purse in a foreign country, to terror that he has lost his identity, or wandered into somebody else's dream. His unease is matched by the ethereal sounds created by the orchestra in the balcony above. He doesn't deserve to end up with Jessica Whitehurst's increasingly manic Luciana. In contrast, Matthew Broome's Antipholus of Ephesus has little to do but lose his rag. The two Dromios look like pixies, dressed all in green. Jordan Metcalfe's baffled Syracusan manages to raise laughs for some of Shakespeare's most tortured wordplay, and even his lurid description of the enormous, greasy Nell is not as uncomfortable as it can be. As the other Dromio, George Fouracres has the resentful look of a servant who is thwacked too often and not much rewarded.
The citizens of Ephesus provide much of the entertainment. At the head is Philip Cumbus's Duke, not one of nature's leaders, who feebly tries to exert his authority. He doubles as Dr Pinch, a conjurer brought in by Laura Hanna's Adriana to exorcise the devil from her husband. More interested in snuggling up to Adriana, he fails to concentrate on the task in hand. Surreally, the Duke later objects to Antipholus describing Pinch as "a needy, hollow-eyed, sharp-looking wretch". Looking as if he has wandered in from Alice in Wonderland, Hari McKinnon as the Goldsmith totters around in his tall hat, making his case with a high-pitched insistence. Phoebe Naughton's beanpole of a courtesan is in a constant state of indignation.
Not everyone makes the language easy to understand, and it is a relief when Claire Benedict takes to the stage as the Abbess, determined to protect her inmates. Her authority and clarity dominate as the play moves to its emotional ending of recognition and reunion.
The flamboyant costumes are Elizabethan, in keeping with the theatre and suggestive of 16th century London
rating
Explore topics
Share this article