Constellations, Duke of York's Theatre |

reviews, news & interviews
Constellations, Duke of York's Theatre
Constellations, Duke of York's Theatre
Nick Payne takes in bee-keeping and the cosmos in a short intense exploration of life's random possibilities
Saturday, 17 November 2012
Dazzling: Rafe Spall and Sally Hawkins in 'Constellations'
Nick Payne has already made quite a mark. In 2009 he won the George Devine award for Most Promising Playwright with the intriguingly entitled If There Is I Haven't Found it Yet at the Bush. Wanderlust followed at the Royal Court and now with his second Court commission, transferred to the Duke of York's from Upstairs at the Royal Court, he's come up with bees and multi-universe theories, love and death.
It's funny how bees and quantum physics seem to go hand in hand. Charlotte Jones' Humble Boy buzzed along similar lines with huge success a decade ago. So it proves again in Payne's dazzlingly acted play - beautifully directed by Michael Longhurst - about the infinite possibilities of life. Underlying its jaunty exchanges is the dark unanswered question: exactly what is our purpose in life? Payne's answer - cool, uncompromising, unsentimental - is that as atoms, molecules, we are at the mercy of randomness. We whiz about. And then we're dead. In between, the possibilities for the direction our lives may take at any one time are infinite. We think we have choice, control. Payne, in a series of concentrically repeating cycles of dialogue, punctures such delusions with a scalpel so delicate you hardly realise the knife is going in.
It's all done by clever sleight of hand, if sometimes reminiscent of a drama school exercise: let's take this line and spin it through three or four different situations – give it to me when you're feeling drunk/ sober/angry/playful/defensive/assertive. Sally Hawkins quirky, spring-heeled Marianne and Rafe Spall's amiable, gentle Roland meet by chance at a friend's barbecue. Marianne jabs and feints at Roland like a light-welterweight, never quite sure when to go in close. Roland, it turns out, is an urban beekeeper, keeping his hives in dustbin liners on the roof of his flat. Marianne, amused, guiltily confesses that she sometimes buys honey from Tesco (pictured below). Roland is not put off. On the contrary, his discovery that Marianne is a cosmologist who sits in front of a computer all day – "inputting data. Quantum cosmological modelling. Not very interesting" - is turned on. Queen bee and drone steadily work their way into their anointed, predetermined places.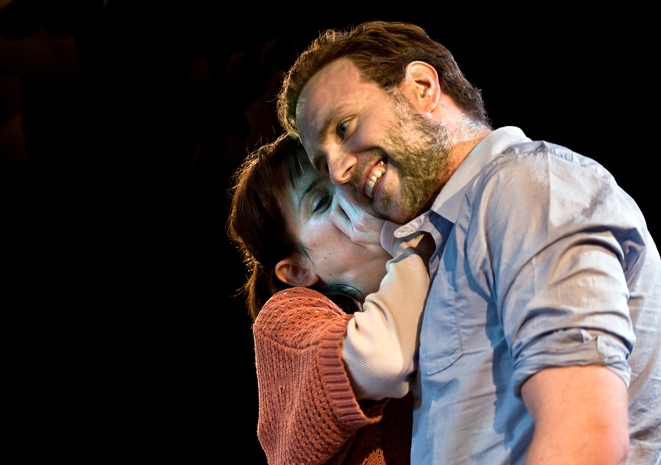 Payne is too subtle to be quite so crude. His interest, it seems, is elsewhere. "In the quantum multiverse, every choice, every decision you've ever and never made exists in an unimaginably vast ensemble of parallel universes," Marianne tells Roland. The mind boggles. And here Payne plays either his most powerful card or undermines his argument, according to your perspective. For Marianne has other things on her mind. Literally. A brain tumour. The death of her mother. One particular exchange, repeated several times throughout the play's 65 minutes, at first apparently random in meaning, ultimately becomes all too pungently clear. It is one of Payne's most moving devices – a deft exploration of the life force and its precariousness - if veering towards the melodramatic.
Highly entertaining and with an ear to the way that today's young communicate in a series of oddball, indirect, indeed often abstract lines, this is not a play for those who like their theatre neat and linear. It is chaotic, scatter-gun, balefully comic and offering infinite possibilities for interpretation. Payne's methodology may not entirely convince, but as a reflection of modern life and relationships, Constellations is beguiling, not least because it allows Hawkins and Spall to give an acting masterclass, to spin on a dime from intimacy to fracture, from jokiness to unease.
Tom Scutt's design gives this scudding love story the perfect metaphorical setting – fulling the auditorium with white balloons, surrounding an empty, slightly raised square stage. It suggests at once the cosmos and party-going and indisputably, as time goes on, a boxing ring.
Constellations at Duke of York's Theatre until 5 January

This is not a play for those who like their theatre neat and linear
rating
Explore topics
Share this article