The Country Wife, Royal Exchange, Manchester |

reviews, news & interviews
The Country Wife, Royal Exchange, Manchester
The Country Wife, Royal Exchange, Manchester
Wycherley's Restoration comedy lets loose unsuspected desires
Tuesday, 18 September 2012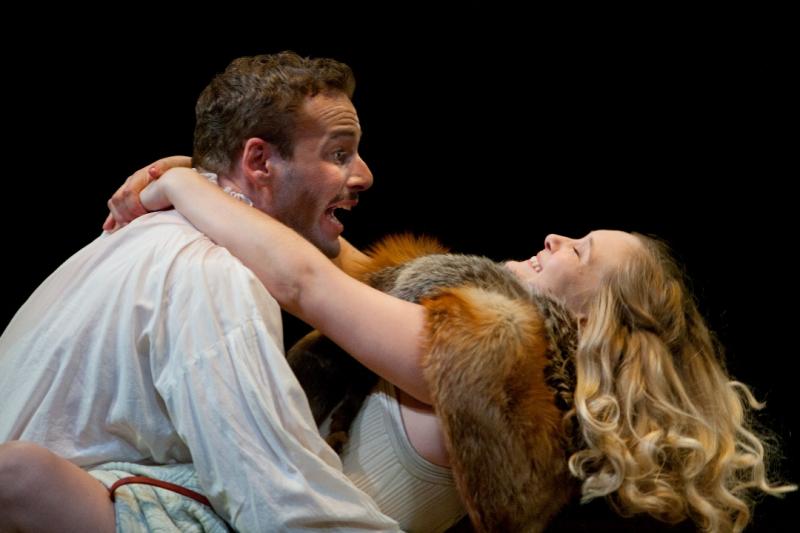 Felix Scott as Mr Horner and Amy Morgan as Mrs Margery Pinchwife in 'The Country Wife'
What's in a name? Pinchwife, Fidget, Horner, Squeamish, Sparkish… William Wycherley labelled his characters blatantly. No one is hornier than Horner, the womaniser who puts it about (sorry) that he is impotent after surgery for the pox. Pinchwife's wife gets pinched and no one is more cuckolded than he. Mind you, he takes the "if you can't beat 'em, join 'em" approach in the end when he says "cuckolds, like lovers, should themselves deceive".
Lady Fidget has ants in her pants and her not-so-virtuous group of ladies can hardly move for sexual desire. They are the cougars of their day. Even the play's title is said to be suggestive.
Marriage, infidelity, promiscuity, sexuality, jealousy, even love come in for biting satire, as Will wickedly holds up a mirror to a society riddled with hypocrisy. But 350 years ago, with Charles II back on the throne and the theatres re-opened, that was the way with comedies. Even so, Will, though so close to the court as to be sharing the King's insatiable mistress, the Duchess of Cleveland, pushed the boundaries too far. So much so that The Country Wife was banished from the stage from 1753 to 1926, when it was revived at the Everyman Theatre, Hampstead, since when it has hardly been off the stage.
It is just an entertaining frolic, amusing enough but not hilarious
So what do we make of it today? Is it too rude? Or is it just rollicking entertainment that would have had the audiences rolling in the aisles? Or is it a deceptively acidic exposition of a sick society? After all, it was performed before the very people, including the King, so vividly depicted and satirised. In the event, it is none of the above. For us it is just an entertaining frolic, amusing enough but not hilarious.
Under Polly Findlay's full-throttled direction this is a fast-paced, spirited production, with superbly timed repartee, but really quite restrained in terms of sexual romps. We know they're going on as Horner (Felix Scott, pictured below), constantly tugging at his over-active private parts, importunes every woman he sees, but the coupling is left to our imagination. And the impotence ruse is maintained to the very end. What is clearly transmitted, though, is the libidinousness of all involved.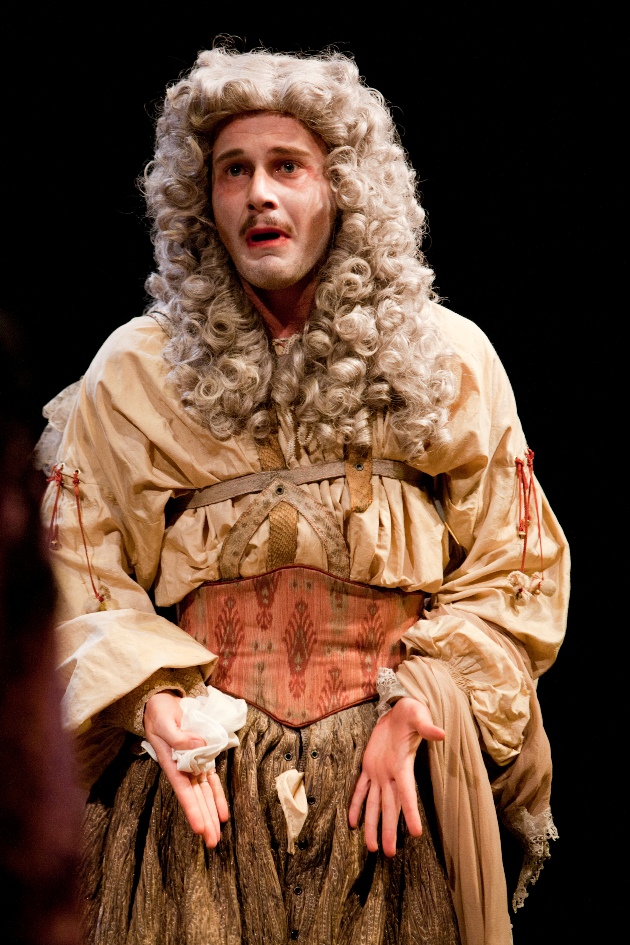 Lady Fidget, splendidly portrayed by Maggie Service, enthusiastically surrenders herself to Horner, only to be thwarted by her husband's unexpected arrival. "What did he do?" asks Sir Jasper. "Absolutely nothing" she replies with feeling. That encapsulates the female needs at large here.
In the title role of Margery, Amy Morgan modulates from being an innocent baby-doll of a country wife, with a pronounced North Walesian accent, to a scheming and sexy young woman eager to taste the fruits of city life, from theatre-going to Horner-bating. Her solo scene, where just writing a love letter to Horner clearly makes her orgasmic, is a comic tour de force.
In contrast, we also experience something of the violence in marriage depicted by Wycherley, as her husband, Mr Pinchwife (Nick Fletcher) rough-handles her in his jealousy and locks her in the house. So her feeling of being trapped like her pet bird comes across strongly, enhanced by the cage-like structure of this theatre.
Performances overall are on the mark, although Oliver Gomm's madcap Sparkish, a Malvolio-like character, is rather too hysterical for my taste. As usual with Royal Exchange productions, where sets are minimal, the characters are lavishly dressed (by Helen Goddard), with full-bottomed wigs, colourful knickerbockers and high-heeled shoes. And that's only the men. The women enjoy sumptuous gowns – all the better for raising provocatively.
Under Polly Findlay's full-throttled direction this is a fast-paced, spirited production
rating
Explore topics
Share this article