The Dark Earth and the Light Sky, Almeida Theatre |

reviews, news & interviews
The Dark Earth and the Light Sky, Almeida Theatre
The Dark Earth and the Light Sky, Almeida Theatre
Uneven exploration of the friendship between the poets Edward Thomas and Robert Frost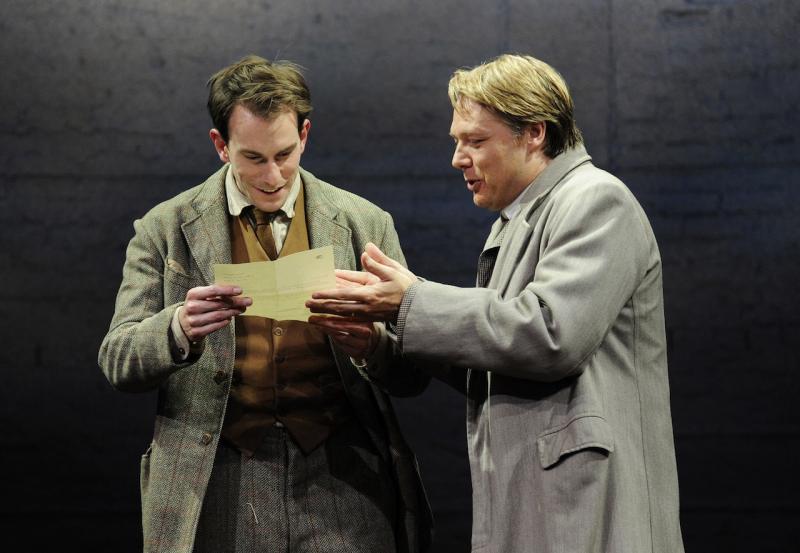 Pip Carter (Edward Thomas) and Shaun Dooley (Robert Frost)
There's no attempt to romanticise the hero of Nick Dear's new play about the Anglo-Welsh poet Edward Thomas. Thomas, who died in action in the Battle of Arras in 1917 after enlisting at the age of 39 – far too old to have had to fight – is played by Pip Carter as prickly, petulant and with an alarmingly misogynistic streak. He tramples over the feelings of his adoring wife Helen and displays an unattractive physical cowardice when ambushed by an angry gamekeeper on one of his long country rambles.
Thomas was a depressive with suicidal tendencies, but it's his wife who gets the most sympathetic treatment in The Dark Earth and the Light Sky. And it's Hattie Morahan (bottom right with Pip Carter), such a spellbinding Nora in Carrie Cracknell's Young Vic production of A Doll's House, who shows once again what a magnetic stage presence she is. She addresses the audience with recollections of the couple's early courtship, giving us glimpses of her free-spirited nature. And her character even manages to provide the play with its most tender imagery, given that Thomas's poetry is largely overlooked until the beautiful recital of "Lights Out" right at the play's close.
It's hard to get a sense of what makes this relationship between two difficult men really tick
Dear, whose most recent success was an adaptation of Frankenstein, directed by Danny Boyle for the National Theatre, focuses on Thomas's marital relationship, as well as the friendship that developed between Thomas and Robert Frost before either poet had made a name for himself, Thomas posthumously. Frost, played with dour macho bullishness by Shaun Dooley, had arrived with his family in Gloucestershire just before the outbreak of war. The two men formed a close bond after Thomas had reviewed one of the older poet's collections.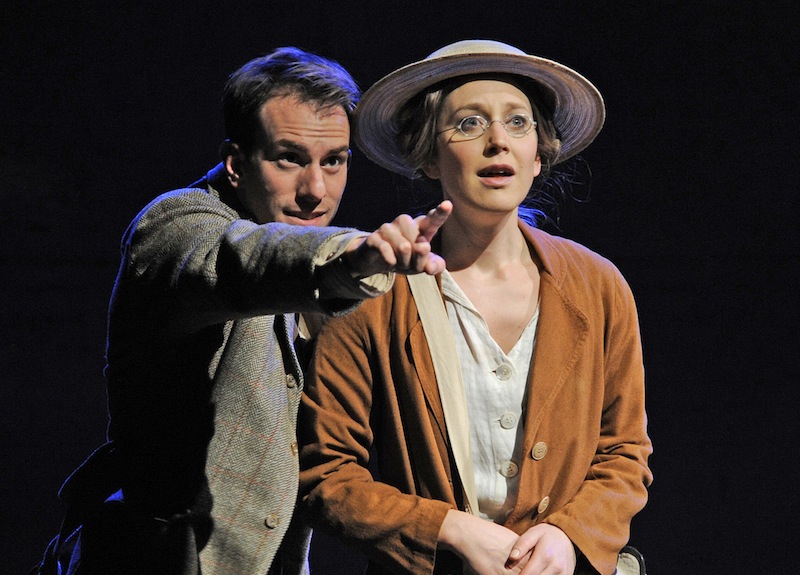 In Richard Eyre's production, however, it's hard to get a sense of what makes this relationship between two difficult men really tick. Frost, who was instrumental in the younger writer's evolution as a poet, also championed his poetry in America after Thomas's death. Not much is made of the intimacy or pull of that connection, as if it's only a shared love of poetry that's required to make the attraction self-evident. The nature of the relationship is difficult to gauge, whether it's one of acolyte and sage or one of equals. Helen and Thomas's relationship is more intimately explored, and in two perfunctory exchanges we get a keener sense of who Thomas is in relation to his father (Ifan Huw Dafydd), in which we find Thomas resembling a truculent teenager with an overbearing Victorian paterfamilias.
The play ranges across time, before and after the poet's death, fast-forwarding to Frost's return to England in 1957 and his refusal to meet Thomas's widow. Seeing her as someone who has besmirched her husband's memory through the publication of her memoirs, Frost cruelly cold-shoulders her. The exchange between them which severs the relationship is conveyed with brutal force in the middle of a bleak set of bare-earth (design by Bob Crowley) that doubles for English countryside and French battlefield.
The friendship acts as a springboard to explore Thomas's motivations for going to war and pursuing what appears to be a death-wish, and what Frost concludes is merely his indifference to life. But though these themes are nimbly explored, it's Morahan's Helen and Pandora Colin's spinsterish writer Eleanor Farjeon, by turns comical and poignant in her secret amorous longing for Thomas, who are left to carry the emotional weight of this drama.
The nature of the relationship is difficult to gauge, whether it's one of acolyte and sage or one of equals
rating
Explore topics
Share this article