Frankenstein, National Theatre |

reviews, news & interviews
Frankenstein, National Theatre
Frankenstein, National Theatre
Danny Boyle partially reanimates Mary Shelley's famous creation
Thursday, 24 February 2011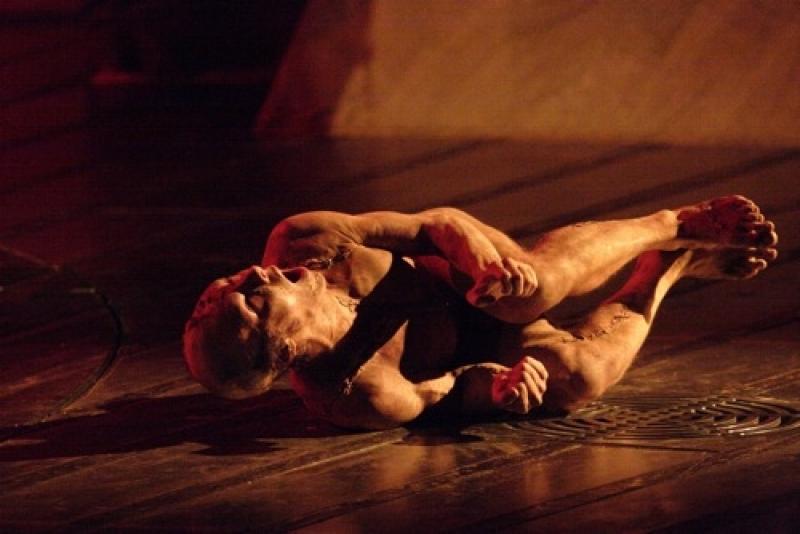 A difficult birth: Benedict Cumberbatch as the Creature
Like the misbegotten monster at its heart, this stage version of Mary Shelley's seminal novel is stitched together from a number of discrete parts; and though some of the pieces are in themselves extremely handsome, you can all too clearly see the joins. Here's a bit of half-baked dance theatre, there a scene of simple, touching humanity. And for each dollop of broad ensemble posturing, there's a visually stunning scenic effect.
In the midst of it all are two excellent performances by
Benedict Cumberbatch
and Jonny Lee Miller, who alternate in the roles of vauntingly ambitious scientific genius Frankenstein and his pitiable "hideous progeny".
In truth, this double casting never really proves itself much more than a gimmick. It points up the inescapable bond shared by creature and creator, and in both Danny Boyle's production and Nick Dear's adaptation, the doppelgänger theme is to the fore. But it would take an inattentive spectator to miss these preoccupations, even without the heavy underlining of them that the role-swapping supplies. As an actor, Cumberbatch has the edge: there's more rich detail to both his interpretations. But while there are differences of inflexion between the two pairings – Cumberbatch's monster is bitterly witty and Miller's more brutish, while Miller's Frankenstein is more Byronically smouldering than Cumberbatch's frostily acerbic version – they aren't so significantly appreciable as to justify a second viewing.
As for Boyle's production, at its best, it is startling and atmospheric; at its worst, it has you marvelling that a director so well-regarded for his film work should have produced something so stagey. And if the presence of electronic duo Underworld supplying the score sounds promising, in practice their music – a blend of unearthly chorales and folksy tunes – is disappointingly low-key and underused. Beautifully lit by Bruno Poet and designed by Mark Tildesley, the action begins well, with the clanging of a great bell suspended above the stalls. From a shaft of shining metal hang myriad gleaming bare bulbs, which flare into blazing, blinding light, generating a palpable heat.
On stage an amniotic membrane stretched across a circular frame begins to bulge and strain, until finally it bursts open, disgorging the Creature. Naked, half-bald and and criss-crossed with crude stitching, he is an unsettling sight – if scarcely as horrifying as the response of those who later encounter him would suggest. Slowly, agonisingly at first, he finds his feet, stumbling and wobbling like a toddler before eventually breaking into a delighted run. One glance from his maker, in an all too cursory first scene between them, is enough to convince Victor Frankenstein to cast out the misshapen fruit of his labour (in both senses of the word, given the birthing imagery); and the Creature rushes out into a world that quickly proves hostile.
And here the production takes its first false steps. A skeletal steam train, all metallic racket, whirling cogs and passengers in grotesque goggles with blackened faces, comes roaring out of the murk – it's infernally Miltonic, and a strikingly dark, Satanic image of a burgeoning industrial age, but its aesthetic is thereafter abandoned. Worse, it's adorned with cod business with busty prostitutes and urban street denizens that makes the sequence feel almost sub-Les Misérables.
It's not much of an improvement when the Creature stumbles upon a rural shack owned by a kindly old blind man (Karl Johnson) that looks like a greenhouse with Blakeian imagery on its flimsy walls. Here, in a series of scenes that veer between the touching and the dramatically creaky, he begins his education, develops a taste for Paradise Lost, and, during an entirely superfluous dream ballet, conceives of the notion of a female creature to share his lot, reviled as he is by society.
By the time he arrives to confront Frankenstein in Geneva, where Victor (Cumberbatch, pictured above right with Miller's Creature) is due to wed his lovely and decidedly broody cousin Elizabeth (Naomie Harris), the Creature is prepared for some well-turned disputation, and ready to demand the creation of his mate.
Anyone who's read the original novel will know it's a cumbersome work. Dear's adaptation is fleet by comparison, and some of his writing has a bracing immediacy; the Creature's brief moment of connection with Elizabeth, soon so brutally severed, is especially memorable. The themes he highlights, of scientific responsibility, justice, conformism, social hierarchy, are undeniably resonant, with the nature/nurture question – who is the true author of the monster's murderous acts? – particularly pertinent in a week in which the news reported psychologists' claim to be able to detect the seeds of criminality in children as young as three. But elsewhere the writing is conspicuously awkward, and it is helped not at all by some decidedly coarse acting, notably in the household of Frankenstein père, clumsily played by George Harris.
Still, the story has a timeless compulsion; and this version gives the Creature a powerful and poignant voice in which to speak. Notably, it's often at its most eloquent when there's no actual dialogue: when the monster gambols, with childlike pleasure, in the sun or rain, chases snowflakes in rapturous wonderment, or quails in fear and hurt from a stick or a boot. It's a shame that what surrounds him isn't more consistent or coherent.
The Creature is an unsettling sight, if scarcely as horrifying as the response of those he encounters would suggest
Share this article