Dick Whittington, Lyric Hammersmith review - big-hearted fun |

reviews, news & interviews
Dick Whittington, Lyric Hammersmith review - big-hearted fun
Dick Whittington, Lyric Hammersmith review - big-hearted fun
Dick jokes in abundance told in urban street style pantomime
Wednesday, 28 November 2018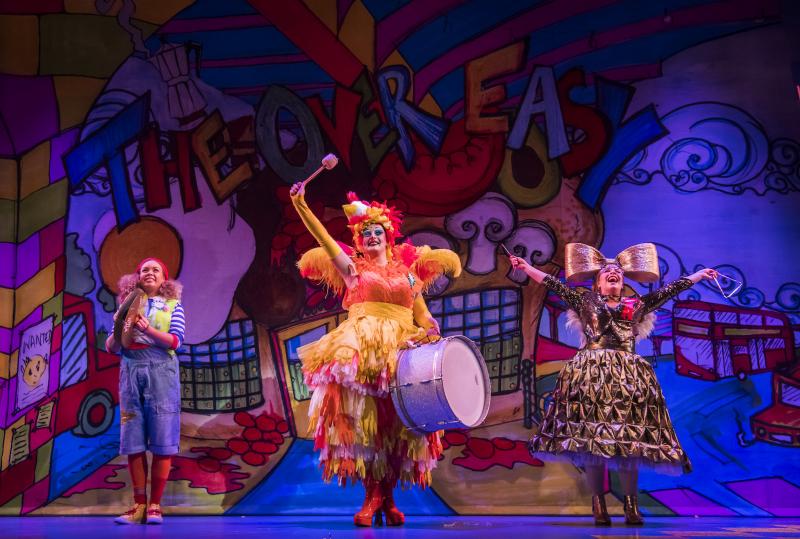 Damed if you do, damed if you don't: Carl Mullaney (centre) as the Dame in "Dick Whittington' with Jodie Jacobs (left) and Hollie Edwin (right)
In 2009 Sean Holmes, then Lyric Hammersmith's artistic director, made a bold move by reintroducing panto at the lovely Frank Matcham house after a long break. It was a box-office and critical hit, bringing in young audiences and celebrating the theatre's roots in the community while producing a quality but unstarry show.
This year's offering,
Dick Whittington
, written by Jude Christian (who also directs) and Cariad Lloyd, remains true to the theatre's urban street style of storytelling.
The story of Dick Whittington still feels relevant for London audiences; an out-of-towner comes to ye olde London towne to seek his fortune, just like many of its present-day citizens. At first the naive Welsh (very Welsh) Dick, played with enthusiasm and great warmth by Luke Latchman, experiences the worst that London has to offer as his luggage is stolen and he's stiffed by a street-seller, but then Sarah Fitzwarren gives him a job and board at her Over Easy Café.
Carl Mullaney's fetching Dame has most of the best lines – in a Great British Bake Off-inspired dress she cheekily says, "I'm covered in Paul Hollywood's home-made frosting", and the menu board at her café, in Jean Chan's colourful design, is worth a close read for several knowing jokes about Londoners' poncey eating habits.
Queen Rat (Sarah-Louise Young), a baddie who will ban sweets and not allow youngsters to watch YouTube, is itching to take over from retiring Mayor Pigeon (Margaret Cabourn-Smith, pictured right). Kind-hearted Dick, meanwhile, is aided and abetted by Tom Cat (Keziah Joseph), a cool puss who can't conceive of life beyond the city limits, the kindly Bow Belles (Jodie Jacobs) and sweet but sassy love interest Alice Fitzwarren (Hollie Edwin).
They make a great team as they drive Queen Rat and her furry friends out of town, and help Dick run for Mayor on a platform (sorry) of having people apologise if they bump into fellow travellers on the Tube. Ah, the magic of theatre....
The trick of making panto family-friendly is, of course, a script that has puns and groaners that make the wee ones laugh while throwing in ruderies and clever comments on current news to keep the adults entertained. Here the show often falls down, with too many jokes failing to land and with unsubtle swipes at Brexit. But every opportunity to reference Dick is seized with both hands (sorry again), although there's a clever willy joke kept for very late in the show.
Christian directs with zip and musical director Oli Jackson keeps things bouncing along with a score that includes a singalong, while the Lyric's Young Ensemble give great support. It's not a classic but the cast are beguiling and the show is big-hearted fun.
Dick Whittington at Lyric Hammersmith until 6 January

Carl Mullaney's fetching Dame has most of the best lines
rating
Share this article