Disruption, Park Theatre review - relevant and resonant |

reviews, news & interviews
Disruption, Park Theatre review - relevant and resonant
Disruption, Park Theatre review - relevant and resonant
World premiere of Andrew Stein's slick tech show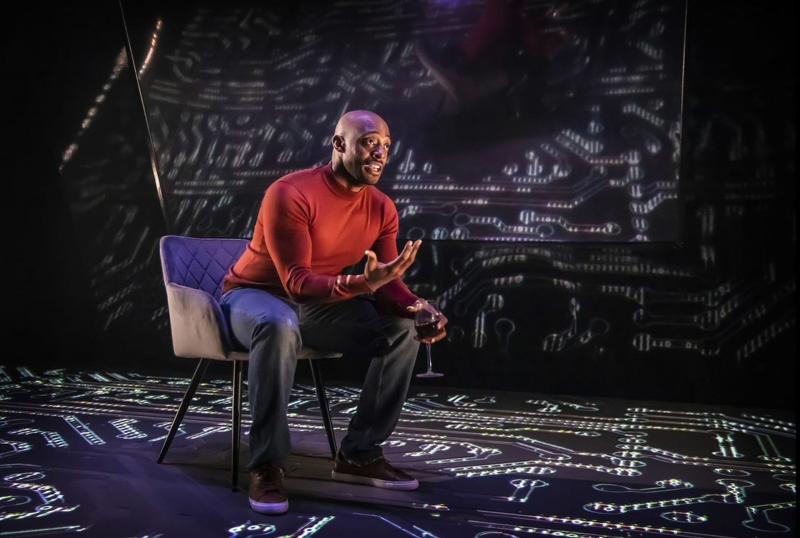 Intelligence squared: Oliver Alvin-Wilson in 'Disruption'
Plays chronicling the unscrupulous collision of high finance and big tech seem 10 a penny these days. Some writers, such as Joseph Charlton, seem to have built entire careers around telling glossy tech morality tales (for my money the best in this burgeoning genre is Sarah Burgess's Dry Powder staged at Hampstead Theatre in 2018 starring Hayley Atwell).
Disruption, which is receiving its world premiere also in North London at Finsbury's Park Theatre, is yet another slick tech show. Written by Andrew Stein and directed by Hersh Ellis, Disruption tackles the seemingly unstoppable rise of AI. Tech entrepreneur Nick (charismatically portrayed by Oliver Alvin-Wilson) has cashed out of Silicon Valley and together with his much- younger female business partner Raven (Sasha Desouza-Willock) gone on to create an algorithmic machine that harvests data to such an overwhelming extent that it can create "curated coincidence" among its users, impacting their life choices to an unprecedented degree.
Nick's guinea pigs for his machine-driven scheme are three New York-based married couples he knows from college: recovering party animal Paul (Nick Read) and his wife Jill (Mika Simmons) who are struggling to stay together; Jill's sister Mia (Rosanna Hyland) and her husband Barry (Kevin Shen) desperately striving to buy a Brooklyn brownstone; and techno-sceptic Suzie (Debbie Korley) and her academic husband Ben (Nathaniel Curtis, pictured right) who are torn over whether to have children.
The production is dazzlingly mounted, replete with flashy LED lights, throbbing techno music score and most impressively of all projector screen AI-driven binary code that shifts into phrases that characters will go on to recite. Throughout the first act, Disruption is provocative and insightful benefiting from Stein's snappy turn of phrase (at one point AI is summarised as "like having tomorrow's paper yesterday".)
But in creating a play about an invincible decision-making machine, the playwright then makes an odd choice of his own by zeroing in on the consequences for Nick's circle of friends as the ensemble gets seduced into investing in his shiny new toy only to go on to learn the oldest lesson of them all, namely be careful what you wish for. This is a shame as a Big Chill-style relationship drama shrinks the chilling lessons that might otherwise be learned from our machine-driven age.
More focus on the regulatory, legal and frankly nonsensical ramifications of AI would have been welcome. (This reviewer is still reeling from ChatGPT falsely informing me I have published a biography of Robert De Niro!) Zeroing in on the comedy and the fall-out among Nick's friends, rather than on the sinister exploits of the machine's inventor, ultimately results in Disruption lacking the emotional force of Jordan Harrison's AI-themed drama Marjorie Prime, recently staged at the Menier Chocolate Factory.
Disruption is relevant and resonant. But rather like AI it would seem, it ends up being a decidedly mixed blessing.
Provocative and insightful it, the play benefits from Stein's snappy turn of phrase
rating
Explore topics
Share this article