The Shape of Things, Park Theatre review - the shape of what, exactly? |

reviews, news & interviews
The Shape of Things, Park Theatre review - the shape of what, exactly?
The Shape of Things, Park Theatre review - the shape of what, exactly?
Revival of Neil La Bute's ruthless 2001 drama let down by clumsy writing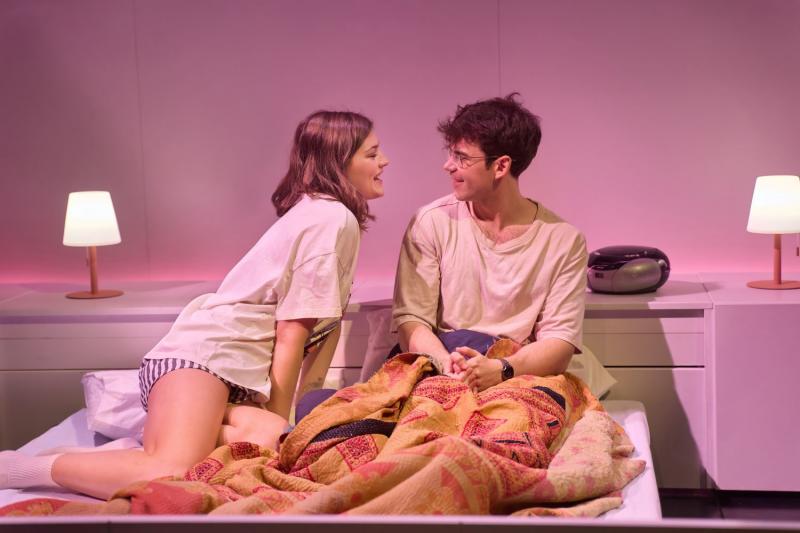 Baggy dialogue: Amber Anderson, left, and Luke Newton in 'The Shape of Things'
It's been more than 20 years since the premiere of The Shape of Things, Neil LaBute's prickly drama about couples and friends and the ways we change each other. And boy, does it show. Director Nicky Allpress and a talented young cast try their best with a script that, though updated for this version at the Park Theatre, still feels behind the times.
Evelyn (Amber Anderson) meets Adam (Luke Newton, of Bridgerton fame) at work. His work, that is – he's a security guard at an art gallery, she's an art student with a can of spray paint she eventually uses to draw a penis on a sculpture. She gives him her number by spraying it on the inside of his favourite jacket. So far, so manic pixie dream girl. But then Evelyn starts to make suggestions: how about you start working out? How about you wear contacts? How about a nose job?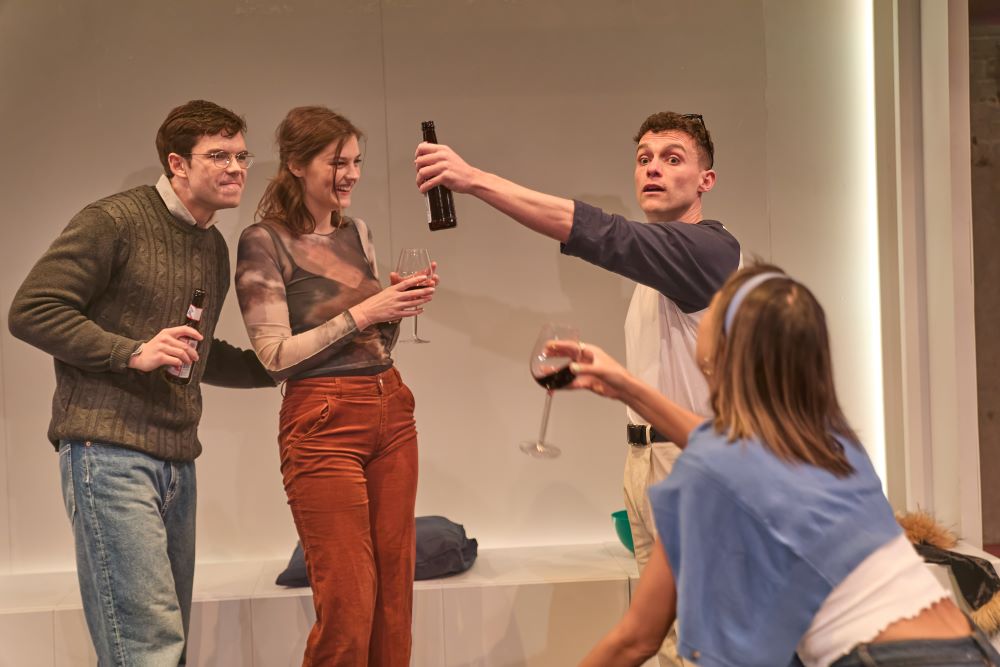 Kudos to whoever plastered Newton's voluminous hair down for the first scene, only for Adam to immediately ruffle it into a shape more pleasing to Evelyn's eye. He's too handsome to be a believable slob at the start of the play, but the changes in his body language and gestures as Evelyn sculpts him into the man she wants are impressive. Anderson is aloof but charming, as she is meant to be – LaBute never gives Evelyn enough interiority to make her properly interesting, but Anderson does her best.
Evelyn's little tweaks are all much to the fascination and then horror of Adam's friends Jenny (Carla Harrison-Hodge, pictured below with Newton, doing great acting with her eyebrows) and Phil (Majid Mehdizadeh-Valoujerdy, deliciously boorish). Jenny confesses that there are things about past partners she'd have liked to change, like wearing sunglasses on the top of your head. In a later scene, boyfriend Phil duly wears his sunglasses on the top of his head.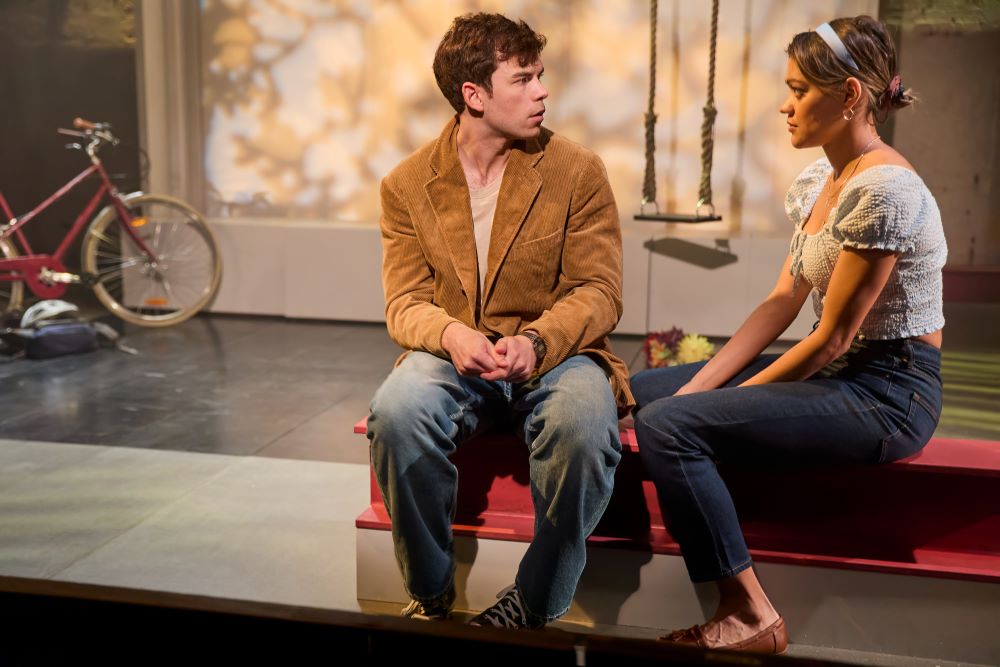 But overall, the script is lumpy. The punchlines seem to be in the wrong places: "I smell trouble," says Adam, waiting for a consultation for his nose job, "which I may not be able to do after this." The joke would be so much stronger with a little nudge of the syntax. You wish LaBute had done more of an update on the play's gender politics, too. Sex appears in the form of blowjobs or handjobs or penetration; there's never any mention of female pleasure. Jenny walks out after a row with Evelyn, and then sidles onstage again a few lines later. "I don't know why I'm back," she declares. Me neither, Jenny.
The baggy dialogue makes the direction and design look even slicker. Peter Butler's set is all rough red girders and blinding white cabinets: the Golden Gate Bridge meets IKEA. The cleverly designed pull-out bed is only pulled out for one scene, which seems a bit of a waste. Evelyn appears before curtain up reading a slim volume on one of the girders; in the final scene, Adam and Pete come and sit in the audience. LaBute originally stipulated that there should be neither an interval nor a curtain call, presumably to heighten the immersion. Thankfully Allpress has done away with these decrees and given us a break in the 110-minute show.
Ultimately, The Shape of Things is just that: only the shape of a play, not a fully-formed one. "Love it or loathe it, this is The Shape of Things," LaBute writes in his programme notes. But it's hard to love or loathe something you can't get a proper hold of.
Sex appears in the form of blowjobs or handjobs or penetration; there's never any mention of female pleasure
rating
Explore topics
Share this article