Some Girl(s), Park Theatre |

reviews, news & interviews
Some Girl(s), Park Theatre
Some Girl(s), Park Theatre
Neil LaBute's masochistic odyssey is sporadically thought-provoking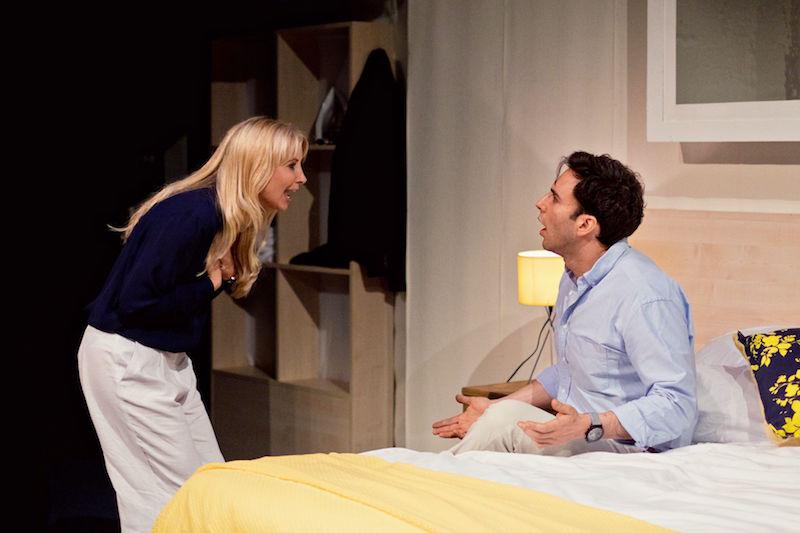 Bad romance: Bobbi (Carley Stenson) confronts Guy (Charles Dorfman)
Neil LaBute's exercise in self-flagellation, first seen in 2005 and adapted for film in 2013, offers his familiar misanthropic take on the battle of the sexes. This one concerns Guy (Charles Dorfman), engaged to be married and embarking on a tour of ex-girlfriends across America – ostensibly to right wrongs, but murkier motives soon emerge.
It's inescapably formulaic and repetitive, with Guy visiting a series of women in a series of hotels, each exchange following a similar pattern: defensiveness, rekindled intimacy, revelation and recrimination. Gary Condes's production differentiates the settings slightly, with PJ McEvoy offering four variations on hotel rooms, but that necessitates tedious set changes, with much unmaking and remaking of beds. Better to keep it simple and run the play straight through, rather than stretching the length to the point where an interval is necessary. (Charles Dorfman pictured below with Roxanne Pallett)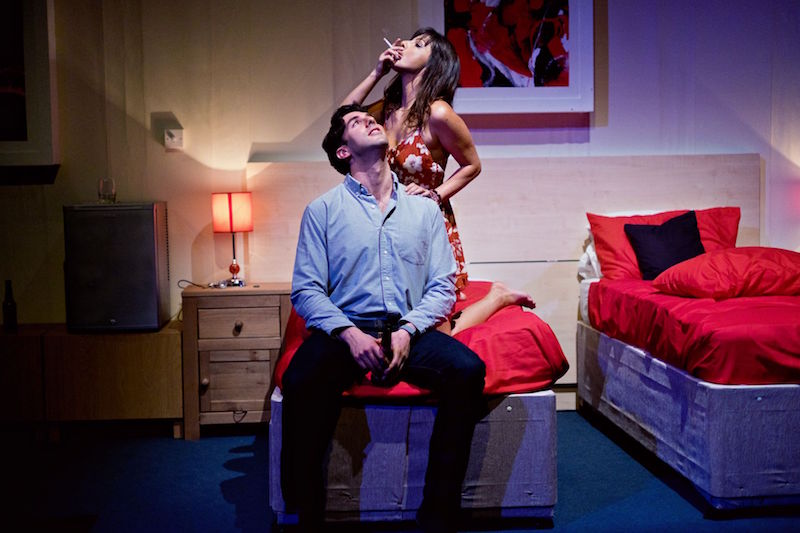 Guy is perhaps more fascinating in relation to LaBute himself than as an actual (thinly sketched) character. He's a "vampiric, cannibalistic" writer, who plundered his romantic history for a New Yorker short story and eagerly unpicks failed affairs in the name of research – more attuned to their literary value than the very real emotional cost. His view of women is limited by self-interest, and his ability to spin fictions about a rosy future with each before cutting and running borders on sociopathic.
Yet LaBute's play, for all its studious critiquing, is guilty of similar solipsism. It prioritises the narcissistic Guy's journey, subbing in women as needed, and offers sneaking admiration for the intelligent and desirable writer who escaped a narrow, small-town path. There's tension in the portrait of the toxic "nice guy"– who can't bear not to be liked – as someone the audience is encouraged not to hate. In both cases, awareness of bad behaviour strays into asking for it to be excused.
Dorfman gives Guy some well-observed tics, like arranging his apparently casually tousled hair or repeating gestures in a way that comes to seem calculated, but is ultimately too passive and ill-defined for this key central figure. His wandering, sometimes Fargo-esque accent is also a distraction. The women easily overpower him: Elly Condron's Sam, the high school sweetheart abandoned before prom, is a prickly ball of easily breached defences, while Roxanne Pallett is poignant as party girl Tyler, trying to maintain her devil-may-care sexpot act even with mascara tracks down her cheeks.
But the best foils come in the second half. Carley Stenson's sharp-witted Bobbi calls out his "emotional terrorism", hurtful vacillation and appropriation of their shared narrative, while Carolyn Backhouse's icily authoritative Lindsay (pictured above left) – the older woman whose life and marriage he blew up – subverts her implied role as maternal figure by refusing to indulge his childish wish to make everything OK. Both offer complex readings during their too-brief stage time.
McEnvoy supplies video projections to establish the multiple locations, otherwise the focus is mainly on the text – appropriately enough, given that LaBute's piece is at its richest when analysing communication. Writer Guy is, ironically, too cavalier with language, throwing around words like "always" without care: the commitment-phobe temporarily masked by what he thinks he ought to say. Yet the play also demonstrates that honesty can be just as cruel, selfish and misleading. A maddening but sporadically thought-provoking experience – the sort of combination, one imagines, that might please LaBute.
LaBute's play, for all its studious critiquing, is guilty of similar solipsism
rating
Explore topics
Share this article