The Distance, Orange Tree Theatre |

reviews, news & interviews
The Distance, Orange Tree Theatre
The Distance, Orange Tree Theatre
New play powerfully tackles one of the last taboos — women who leave their kids
Saturday, 11 October 2014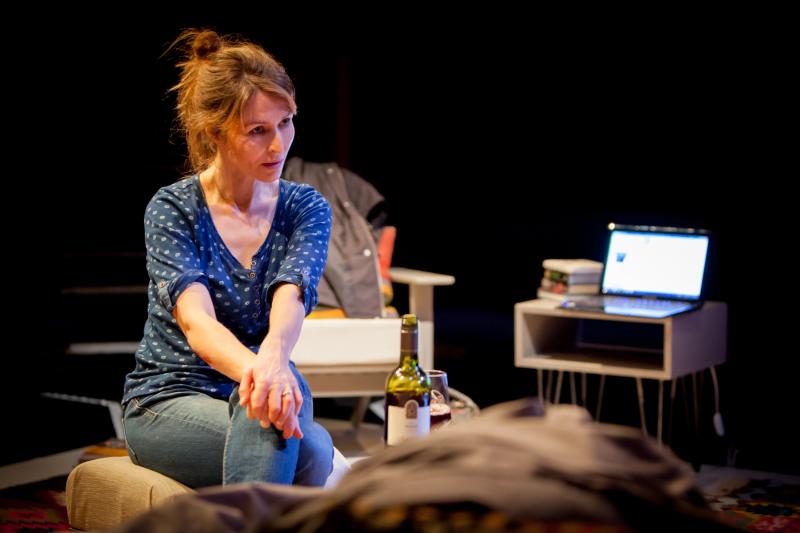 Helen Baxendale plays a mother who leaves her children
Are there any real taboos left? I mean, there have been scores of plays about incest, about abuse and about paedophilia. Have all proverbial stones been turned over? According to Deborah Bruce, a director turned playwright, there is one situation that still troubles people, especially women: it is mothers who leave their children. Although this is a staple of women's magazines, there have been few plays about the subject.
So Bruce's new drama is welcome — and it comes with the always watchable Helen Baxendale as its star.
The story centres on the 40-year-old Bea (Baxendale), a British middle-class woman who has left her Australian husband Simon and their two young kids in Melbourne to return to England. Home in this case is her best friend Kate's house just outside Brighton. Here Bea is reunited with Kate and Alex, her female friends of 20 years standing. As ever, when you are in trouble you turn to your oldest mates — but can friends from the past stay the distance? Put like that, the play's title refers both to Bea's distance from her children and the quality of her support.
A highly emotional and intelligently taboo-busting evening
Kate and Alex are initially aghast at Bea's decision to leave her children on the other side of the world. They find the idea of a woman abandoning (yes, the emotional temperature soon rises) her kids incomprehensible, unnatural, monstrous. Aren't women supposed to be mothers, always there, always on call, always nurturing? So what happens when, deep down, really deep down, they just don't feel like that? What do you do when you realise that motherhood is a mistake?
In fact, Kate, who is a real contol freak, finds it difficult to let Bea explain herself. She just takes over the situation, assuming that Simon has snatched his offspring. Pretty soon, it emerges that her strong feelings about motherhood have something to do with her relationship to hubbie Dewi, a former Welsh rock star, and their own child. And Alex's attitudes are also coloured by her experiences as a single mother, and her relationship to her 15-year-old son Liam. There's a lot going on in the mental spaces of all three friends.
Bruce sketches out Bea's situation with enormous empathy. Bea feels lost; motherhood, she has discovered, is really not for her. What she now wants is to find herself again — and that means setting out on a new life alone. But, meanwhile, she needs to convince both Kate and Alex to shut up for a moment and just listen to her. And then there's a wild card: staying with Kate and Dewi is Vinnie, Dewi's brother, a stoner with the rough charm of a rebel. Surely Bea can't be attracted to him? And what family secrets does he know?
Bruce's writing is punchy and full of truth-telling charm. It's observant, funny and rooted in the real. Aptly enough for a family drama, it's emotionally complex and often ambiguous. This is a great play about female friendship and it's based on three sharply drawn and beautifully contrasted characters. Bruce is too good to offer any neat answers to Bea's dilemma, and — on the night that I went — the women in the audience were laughing more than the men. A sure sign of some gender truths.
Charlotte Gwinner's absorbing production is well acted by an ace cast (pictured above): Baxendale's Bea is a strong study of solitude and mental strain, while Clare Lawrence-Moody's controlling Kate and Emma Beattie's scatty Alex make a fine contrast. The slightly underwritten men are fleshed out by Daniel Hawksford (Dewi), Oliver Ryan (Vinnie) and Bill Milner (Liam). If the play has a fault it is the indecisiveness of the ending, which seems to me to arrive too suddenly. The play runs for only two hours; I could have stayed longer with these characters. But the general feeling is of a highly emotional and intelligently taboo-busting evening.
Kate and Alex are initially aghast at Bea's decision to leave her children on the other side of the world
rating
Explore topics
Share this article