ear for eye, Royal Court review - powerful and passionate anti-racism |

reviews, news & interviews
ear for eye, Royal Court review - powerful and passionate anti-racism
ear for eye, Royal Court review - powerful and passionate anti-racism
New epic compares the experience of black people in the US and the UK
Deliberate frustration: Demetri Goritsas and Lashana Lynch in 'Ear for Eye'.
Two countries; two histories. Being black in the US; being black in the UK. Compare and contrast. Which is exactly what debbie tucker green's amazingly ambitious new epic, which straddles centuries and continents, succeeds in doing.
Taking a forensic look at what it means to be at the sharp end when you are Black British or African American, the show has a thrillingly unexpected theatre form and is written in green's distinctive style of reiterative and repetitive punchy dialogues, which here are both emotionally passionate and imaginatively modernistic. Covering both contemporary experience and historical background,
ear for eye
at the
Royal Court
feels like an instant classic. But it's not an easy watch.
The two-hour show has three parts. In the part one, green presents a panorama of black experience in today's America and Britain. An African-American Mom advises her son, in a series of double binds, about which hand gestures to avoid when coming into contact with the police (almost all movement or any attitude will be misinterpreted); in two scenes which mirror each other, using the same words, a black British woman and a black British man explain the harassment they suffer at the hands of the cops. But the most urgent strand is the conversations between an older and younger American man about how to protest, what to do next — when "marchin days is over man". What reason is there not to escalate the protests?
How to protest, and what to do next
Behind these scenes is the Black Lives Matter movement and recent statistics about the continuing harassment of black people on Britain's streets. Nevertheless, it's hard to accept the implicit equivalence between life in the States and in Britain: after all, the frequent shooting of innocent black men and the tear gasing of protest marches is a specifically American situation. Still, green is surely right to show that things are not so rosy here either. But she also carefully includes some moments that convey the exhilaration of being part of direct action. Of participating in change. And there is also some humour: an older African-American woman does an amazing riff on black history.
In part two, green writes a series of scenes which are a re-run of American playwright David Mamet's Oleanna (1992), in which an older male professor is confronted by a younger female student. Except that she reverses the power balance, and adds the issue of race. While Mamet was sympathetic to the professor, green empathises with her student, who is not only black, but also right, both intellectually and morally. As the two of them discuss the bloody history of American school shootings, bombings and other murders, the white professor argues that the perpetrators are simply damaged individuals, while the student points out that they are all white, and part of the structural and institutional racism of the country. As he tries to talk over her, talk her down, mansplain to her, our sympathies are clearly with her.
In part three, green surprises us with film rather than theatre. A screen, split into three, descends and we watch films of ordinary American and British men and women reading out the anti-black laws, first of the American South during the era of segregation, and second of the British colonies in the West Indies before the abolition of slavery. Although we all know that such laws were horribly racist, green brilliantly educates us in their full horror. It's one thing to know that something used to be bad; it's quite another to have to hear example after example of specific detailed regulations, all of which racially discriminate against black people. This section is both beautifully filmed, by green and Joel Honeywell, and quietly devastating in its illustration of insistent and persistent inhumanity.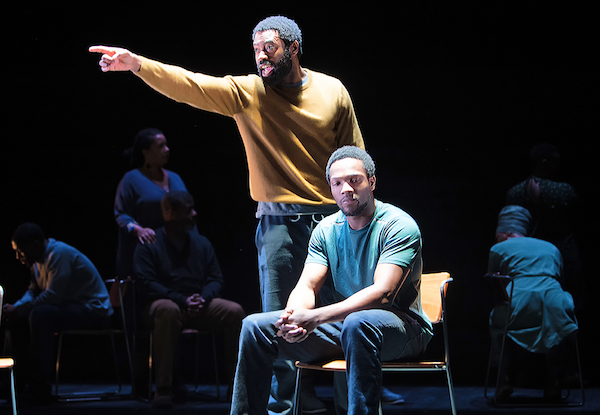 Of course, however impressive, this show is not perfect. I was conscious throughout of green's didactic intent, of her persistent need to restate her point, of her refusal to open up a space for debate and of her constant demands that we give her our assent. The scenes have little dramatic balance, and there is no story as such. Instead, we have green's voice in all its intensity, all its anger, all its crying out for justice. Part two is consciously constructed to frustrate our desire for clarity and for conclusion, and it conveys the young black student's growing frustration by making us feel an equivalent sensation. We share her experience. Likewise, most of the dialogues of part one are experiential rather than documentary. This is theatre, not journalism.
In general, this is probably the most powerful current play about racism, and it really is a difficult watch. As usual, green herself directs, with help from designer Merle Hensel, on the barest of stages, and the power of the text, which is bruising, subtle and deliberately frustrating and inconclusive, gets beaten into your skull. A large and — with one exception — black cast dominates the main stage of this venue (now that's a change in itself), and some performances are outstanding: Nicholas Pinnock and Tosin Cole as the older and younger arguing men (pictured above), and the excellent Kayla Meikle, Eric Kofi Abrefa and Seroca Davis. Demetri Goritsas and Lashana Lynch make part two both excruciating and unforgettable. A brilliant example of the best in new writing, Ear for Eye succeeds because it raises your political consciousness while expanding your sense of the beautiful.
This is probably the most powerful current play about racism, and it really is a difficult watch
rating
Explore topics
Share this article