Edinburgh Festival 2016: Alan Cumming/ The Glass Menagerie/ Mark Thomas
Edinburgh Festival 2016: Alan Cumming/ The Glass Menagerie/ Mark Thomas
Theatre highlights from the second week of the world's biggest arts festival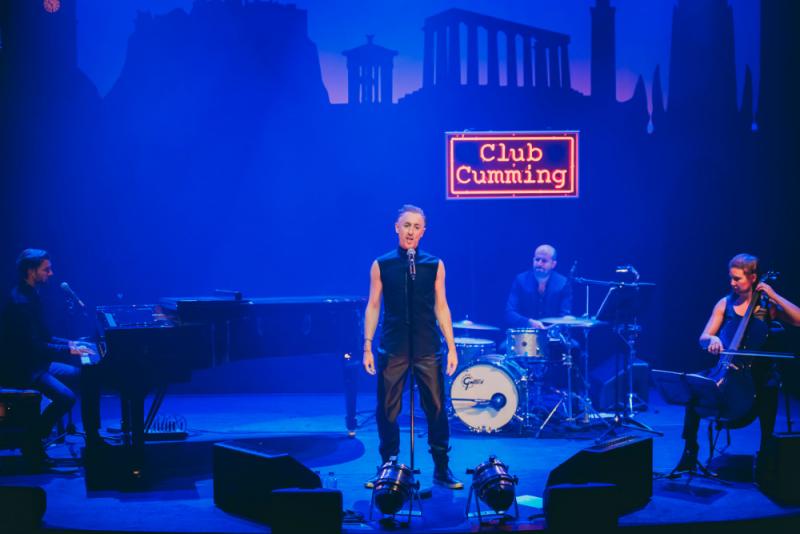 Alan Cumming Sings Sappy Songs: suggestive sauciness meets emotional honesty
Alan Cumming Sings Sappy Songs ★★★★★
Is this even theatre? Hardly – cabaret, more like, as Scottish actor-author-provocateur Alan Cumming sings his way through songs by Sondheim, Weill, Lady Gaga and more, interspersing them with anecdotes about tattoos, Liza Minnelli and a less than happy childhood.
It's one of the flagship shows of this year's Edinburgh International Festival, which has transformed the hall in its own Royal Mile HQ into a sumptuous nightspot for the event, with crowds – including Mark Thomas and First Minister Nicola Sturgeon on this particular evening – flocking to display their adoration. And there's plenty to adore. Despite a very fine backing band of piano, cello and drums, this really is all about Alan – and his disarming mix of emotional honesty, suggestive sauciness and sheer courage sweeps all before it. His late-night post-show parties are fast becoming the stuff of Festival legend, too…
The Hub, until 27 Aug, times vary
The Glass Menagerie ★★★
Director John Tiffany's production of Tennessee Williams's classic of family pressures and shattered dreams comes via Harvard's American Repertory Theatre and Broadway to the International Festival. But despite the starry pedigree, it's a troublesome, frustrating production – albeit one poised expertly between naturalism and Expressionism, and with a gripping, beautifully balanced central performance from Cherry Jones, full of vitality as matriarch Amanda Wingfield. But in turning away from some of Williams's more exaggerated aspects, it feels at times like the play has transformed from a cold stare in the face of despair to a breezy comedy of manners. That's despite an immaculate cast – Jones stentorian but fragile as the demanding mother who clings to her past glories; Michael Esper as a restless Tom; and Kate O'Flynn as a surprisingly gutsy Laura – and a wonderfully evocative set of endlessly soaring fire escapes and ominous oil slicks by Bob Crowley. It just feels strange to leave the theatre with such a spring in your step.
King's Theatre, run ended
Mark Thomas: The Red Shed ★★★★
The edifice in the title of Mark Thomas's latest Fringe show is Wakefield's timber-built Labour Club, celebrated for its good booze and even better radical politics, and a regular haunt for the comedian and activist since his time as a fledgling performer in the mid-1980s. His energetic, celebratory one-man show is a memorial to the Miners' Strike of 1984-85, and it's also shot through with a poignant melancholy for a time when radical politics still mattered, as he recounts his quest to find the children, now grown-up, who sang defiant songs as the striking miners reluctantly returned to work. He's a warm, engaging storyteller, propelling the audience through his memoir at a sometimes breathless pace – and using a handful as his on-stage extras – as well as demonstrating that in an age where convenient narrative trumps truth, the facts of the past really do matter. It's an urgent, compelling piece of theatre.
Traverse Theatre, until 28 Aug (not 22), times vary
Mouse: The Persistence of an Unlikely Thought ★★★★★
While other Fringe performers are desperate for any coverage they can get, Daniel Kitson doesn't even offer press tickets. He doesn't need to. Since winning the Perrier Award back in 2002, he's combined his stand-up with a succession of spoken-word theatre pieces, each touching and whimsical, agonisingly self-aware, and playing mercilessly with theatrical convention. And each selling out almost as soon as the tickets go on sale. Following last year's Polyphony, in which he surrounded himself with a cacophony of other voices emanating from pre-recorded tapes, this year's Mouse feels a more straightforward offering, but it's no less effective in its balance of theatrical inventiveness and emotional punch. Kitson plays a middle-aged loner, spending night after night concocting a story in an empty warehouse, where he receives a phone call, apparently a wrong number, and spends the night talking through his tale with a stranger who sounds oddly familiar. There's a twist, obviously signposted, which the audience gets long before Kitson's character does, but it's his interrogation of convention, the way he playfully bounces ideas back and forth between his show's different layers of reality, that lodge in the mind. It's generous, compassionate, and extremely funny too.
Traverse Theatre, until 28 Aug, times vary
Heads Up ★★★★
Scottish writer and performer Kieran Hurley had his first Fringe hit back in 2010 with Hitch at Forest Fringe, home of all things experimental, and since then has scored highly with hard-hitting Chalk Farm and Beats. His 2016 offering pares the theatrical devices right down – a man, a table, a microphone, a few self-cued music clips and sound effects. But his tale covers the biggest theme of all – the end of the world. He intertwines four contrasting narratives from four characters very much of our times – a futures speculator, a cyber-bullied teen, a manufactured pop star and a zero-hours-contract coffee shop server – as a brain-nagging whine heralds impending catastrophe. While never overly signposting his parallels between a decaying society and a judgement in fire from the heavens, Hurley instead paints a sorrowful, terrifying picture of disconnected lives. Heads Up feels just like the warning that its title implies – quietly furious, but sorrowfully compassionate too.
Summerhall, until 28 Aug (not 22), 7.05-8.05pm
All In ★★★★
It was back in 2013 that Barcelona-based theatre company Atresbandes left Fringe audiences open-mouthed with their uproariously rude, appropriately fiery Solfatara. Their 2016 show is a more considered, almost abstract offering, meditating on the individual versus the crowd, the compulsion to conform, through several wilfully disconnected examples – from Beethoven's "Ode to Joy" through to coerced crowds at North Korea's Arirang Festival, and most memorably a blatantly artificial yet squirm-inducingly believable lunch with four supposed friends. Playing with loud music and striking lighting effects, Atresbandes have got something really special – a mix of in-your-face rawness, a fearlessness to try and test their audience, all shot through with gutsy deadpan humour. It's well worth checking out.
Summerhall, until 28 Aug (not 22), 5.25-6.25pm
The EIF has transformed the hall in its own Royal Mile HQ into a sumptuous nightspot for Cumming's event
Explore topics
Share this article