Edinburgh Festival 2018 reviews: Nigel Slater's Toast / Status |

reviews, news & interviews
Edinburgh Festival 2018 reviews: Nigel Slater's Toast / Status
Edinburgh Festival 2018 reviews: Nigel Slater's Toast / Status
Two superb - and very different - examinations of what defines our identity
A warm, generous hug of a show: Sam Newton and Marie Lawrence in Nigel Slater's Toast at the Traverse Theatre
Nigel Slater's Toast ★★★★
"It's impossible not to love someone who makes toast for you," says Sam Newton's eager, nine-year-old Nigel, in Henry Filloux-Bennett's fluent stage adaptation of Nigel Slater's 2003 memoir. And in Jonnie Riordan's energetic, elegant production – arriving at Edinburgh's Traverse Theatre from Manchester's Lowry – food quite rightly takes centre stage. In the tempting aromas of cooking that waft out from the stage; in the patisserie treats passed out into the audience; in the walnut whips that taste of a seductive but dangerous adult world.
Young Nigel's relationship with his mother is defined by food – she's not a great cook, but she knows what he likes, and nurtures the lad's emerging interest. As she grows increasingly ill, however, cookery takes on other roles in the boy's life: as a gauntlet thrown down by an ascerbic schoolteacher; as a questionable marker of masculinity; and, most importantly, as a battleground with his father's austere new companion.
Putting Slater's name in the show's title no doubt ensures abundant festival audiences. But it's a mark of the show's strength – and, indeed, of Slater's original book – that Toast feels more like an archetypal myth of childhood loss, sexual awakening and driving passion than a conventional celebrity autobiography. And it has quietly perceptive things to say, too, about food and memory, about family love and hard-won maturity.
Sam Newton is magnificent – and rarely off stage – as a wide-eyed, thoughtful Nigel, pitch-perfect in his shifting emotions, with sly comic timing and impressive dance skills, too. Indeed, a couple of set-piece movement scenes from Riordan, who choreographs as well as directing, push the story along beautifully amid Libby Watson's lovingly evocative 1960s kitchen set. Nigel's hesitant dance atop revolving kitchen cabinets with his mother (a touchingly fragile Lizzie Muncey) to Charles Trenet's "La mer" can't help but bring a lump to the throat.
Nigel Slater's Toast is a warm, generous hug of a show, full of big-hearted joy but shot through with quiet tragedy too – tenderly evocative and gently nostalgic.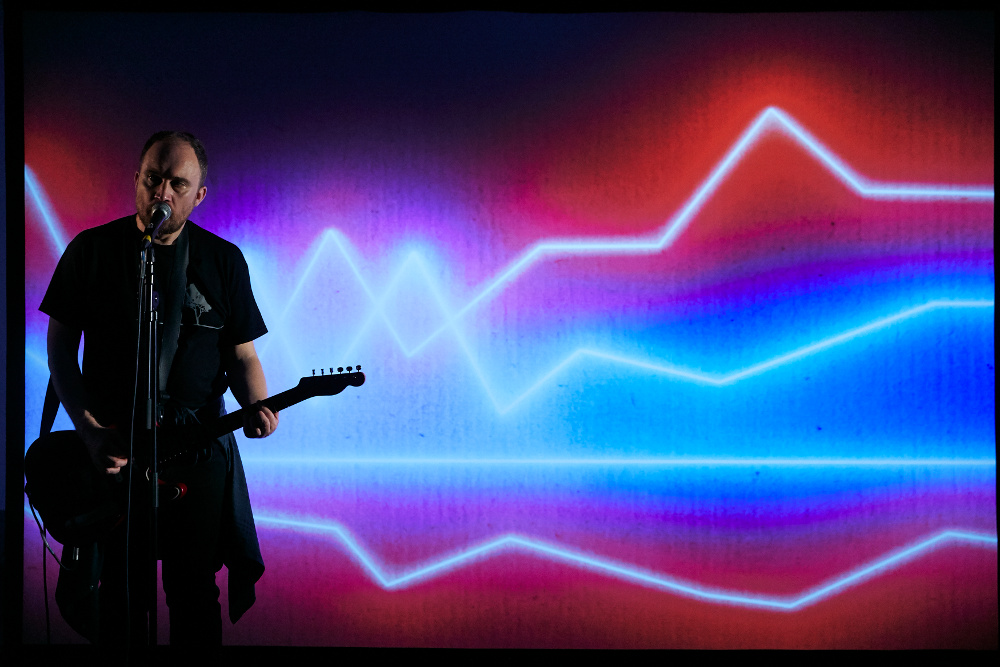 Status ★★★★
Across town in Summerhall, however, Chris Thorpe's compelling solo show explores an entirely different perspective on identity. Thorpe plays Chris – not himself, he assures us, and not someone he even likes very much. Surveying the UK from his south London rooftop on the morning of the EU referendum result, he realises he wants to renounce his nationality. But over the course of an impromptu road trip that takes in talking coyotes in the US desert and holographic lions in Singapore, he begins to question where that sense of nationality lies, and what it even means.
Thorpe says his show isn't about Brexit, and in some senses, it's about far more than that. Combining punchy, Billy Bragg-like rock songs on electric guitar with captivating, almost magic-realist storytelling, Thorpe's show is a typically unflinching, unsentimental look at why (and if) we feel a sense of nationhood – whether borders are simply irrelevant lines on misdrawn maps, or whether it's down to something deep within us. His conclusions – whether or not we're meant to take them on face value from this self-named character Thorpe doesn't even like – might be surprisingly conservative, but they come after some intense reflection on the issues involved, as well as unexpected perspectives from unnerving encounters. Not least a near-miss of a beating from Serbian police, reminded that they can't do that because Chris is British.
Status is a sophisticated, hugely confident show, meticulously crafted in Thorpe's bracing monologue and directed with assurance and remarkable insight by Rachel Chavkin, with evocative but unobtrusive video from Andrzej Goulding. And it takes some provocatively unexpected twists and turns in its interrogation of nationhood and privilege.
Status at Summerhall until 26 August
Toast feels more like an archetypal myth of childhood loss, sexual awakening and driving passion than a conventional celebrity autobiography
Share this article