Edinburgh Fringe 2019 reviews: Sea Sick / Vigil / When the Birds Come |

reviews, news & interviews
Edinburgh Fringe 2019 reviews: Sea Sick / Vigil / When the Birds Come
Edinburgh Fringe 2019 reviews: Sea Sick / Vigil / When the Birds Come
Three contrasting shows tackling climate change and mass extinction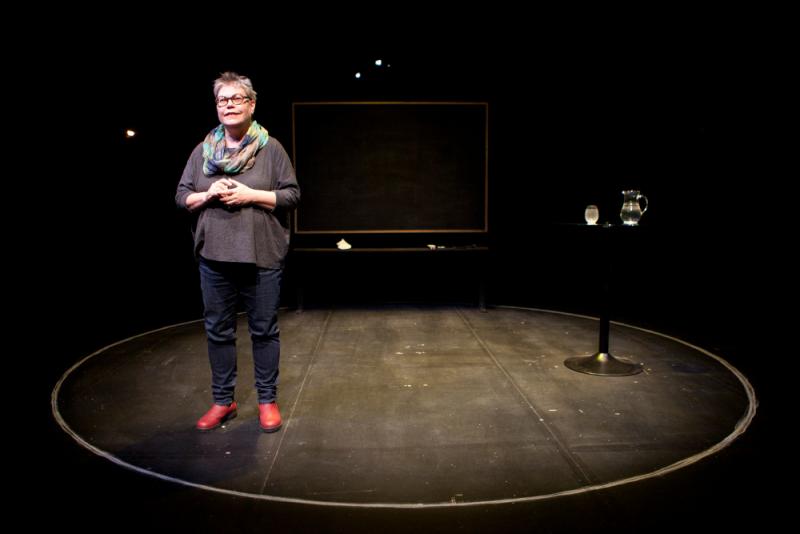 Alanna Mitchell in the quietly gripping Sea Sick: a softly spoken call to arms to defend our oceans
She's not a performer, Alanna Mitchell tells us. She's a writer and journalist. But what she's discovered about climate change, and specifically about its effects on the world's oceans, has compelled her to tell us about it in this show.
And it's Toronto-based Mitchell's unforced, unperformative directness – just a woman telling us a story, with a blackboard and chalk – that really carries her quietly gripping Sea Sick. That, and the increasingly worrying information she slowly divulges about the state of our seas, and about how that's going to impact on all of us.
For as she observes early on, if all life on land were to die, sea creatures would barely notice. But if all sea life died, there'd be no life on land either. She reaches her conclusions after years of research, of travelling the world speaking to top scientists about the truth of the harm we're causing, and about what we can do about it.
There's plenty of heartwrenching detail on how we're ravaging the planet: the octopuses climbing up fishermens' lines to escape the increasingly acidic water, or the 'dead zones' in the Gulf of Mexico where nothing lives. But this is also a personal testimony, of wonder at a once-a-year coral spawning and a deep-sea submarine dive, of awe in front of scientist mega-minds.
It's an expertly constructed show that almost feels like a long-form magazine article or book, as Mitchell slows integrates more and more voices, moving her narrative into ever more detailed and specific areas, yet making sure she's leaving nobody behind. A moment arises when she fills her backboard with figures, but it's crucial that we understand them all, she explains – and duly takes us through them carefully, explaining their significance in terms that will affect all of our lives.
Sea Sick is a quiet call to action, a reminder of our responsibilities, and a crucial examination of an underexposed issue. But in choosing to inform and encourage, rather than lecture and hector, Mitchell makes us think we might just be able to do something about it.
Vigil Summerhall ★★★★
A box of bones, a list of names, a solo performer. Tom Bailey's Vigil with Bristol-based Mechanimal theatre company takes a far more oblique, allusive (sometimes elusive) perspective on issues of climate change.
The central concern here is mass extinction, and the more than 26,000 species recently made extinct or in severe danger of becoming so. If you were the sole surviving Penitent Mussel, clinging to a rock awaiting a mate, how would you feel? When would realisation strike that, yes, this really was the end?
Indeed, Bailey has a lot of fun in anthropomorphising some of these species. He stalks the vast space of Summerhall's Upper Church, enacting naive mimes reacting to these species' sometimes bizarre names. Funny though they are, however, his movements serve a more serious purpose: to reveal just how little we know about the world around us, and how we can only imagine other forms of life in terms relating to human lives and experiences. And in any case, he struggles to keep up with the rapid succession of names appearing behind him. All those grasshoppers, all gone or about to go.
In the end, through its humour, its fragile poetry and its episodes of horror and despair, Vigil feels like just that: an hour of reflection bearing witness to a quiet tragedy. Maybe that's all that's left for us to do.
Vigil at Summerhall until 25 August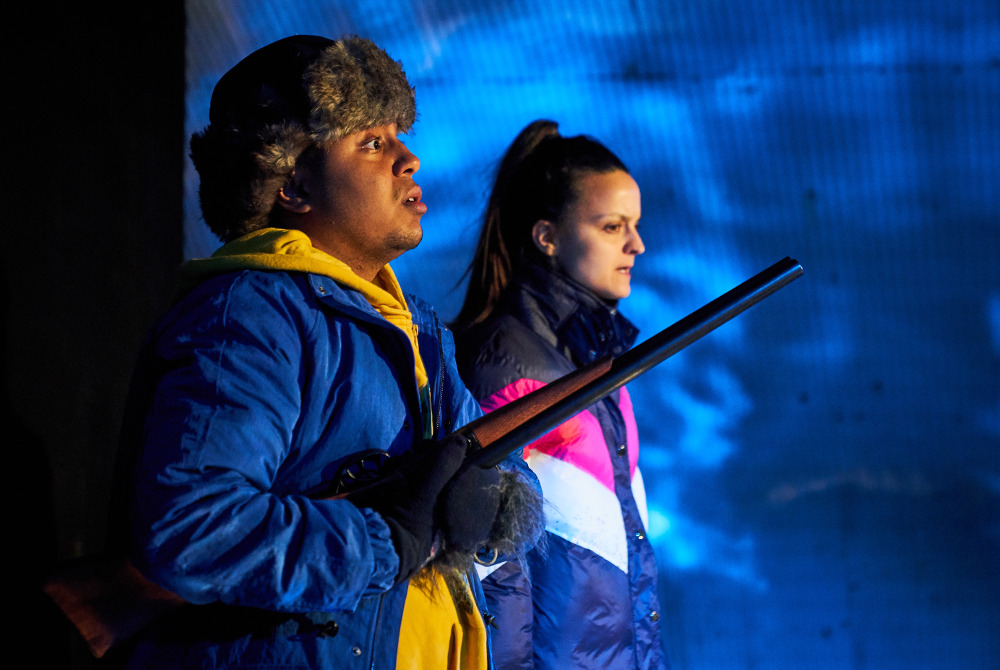 When the Birds Come Underbelly ★★★
Climate change has almost a non-speaking role in Tallulah Brown's quietly touching When the Birds Come at the Underbelly, as the silent force that dictates the play's plotline.
Margaret and Stanley are two kids growing up in rural Alaska, but Stanley worries he unleashed something destructive when he melted snow with his hands as a three-year-old. Now, five years on, the Ninglick River is surging ever closer to their community, even threatening to engulf their home, and the once solid tundra is softening before their eyes. It's time to flee.
Brown paints a convincing picture of a rural way of life under threat, as climate forces urge more and more people to take refuge in the cities. It's a timely reminder, too, of lives on the extremes suffering climate-related changes far more acutely than many able to attend the world's biggest arts festival.
When the Birds Come – whose title refers to the arrival of migrating geese, an event that happens earlier and earlier each year – is a thoughtful, slow-paced work, one whose themes slowly sink into the consciousness and worry away long after the show has finished. Zak Douglas and Phoebe Vigor deliver fine, nuanced performances as the siblings, capturing them well as both children and young adults, and you can almost feel the icemelt dripping in Isabella Van Braeckel's wood-and-metal set.
It's Toronto-based Mitchell's unforced directness – just a woman telling us a story, with a blackboard and chalk – that really carries her show
Share this article