Edinburgh Fringe 2021: Doppler |

reviews, news & interviews
Edinburgh Fringe 2021: Doppler
Edinburgh Fringe 2021: Doppler
An elusive eco fable from Grid Iron makes glowing sense in its forest setting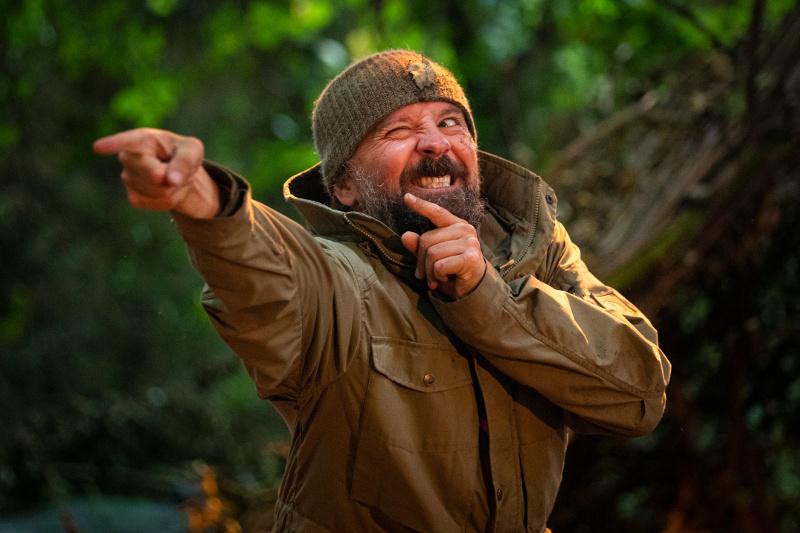 Absurdist logic and off-hand humour: Keith Fleming as forest dweller Doppler
There's always a tricky balance to be struck with site-specific theatre. What's more important: the show itself, or its unusual setting? And to what extent does its location enrich or even impact on the essence of the text?
Edinburgh-based site-specific specialists Grid Iron have been staging shows in parks, pubs and plenty of other unconventional settings for decades.
Doppler
, however, must surely rank as one of their simplest and most effective marriages of content and location.
Doppler is a husband and father, and he lives alone in a forest near Oslo. He's not sure why: it's something to do with the death of his dad, and his growing dislike of being around other people. Nonetheless, he quickly builds a friendship with an elk calf (after hunting its mother for food), strikes a bartering bargain with a local supermarket guy to supply him with milk, and plays unlikely counsellor to a local German ex-pat, who's dealing with his own father's passing by constructing an obsessively detailed model of the wartime zone where it happened.
Adapted for the stage and directed by Grid Iron's Ben Harrison, from the 2004 novel by Norwegian writer Erlend Loe, Doppler is a quirky, somewhat elusive tale of escapism, defiance and empathy that somehow manages to be profoundly philosophical and deeply silly at the same time. But within Grid Iron's magical setting – a secluded glade within the grounds of Newhailes House, on the way to Musselburgh from Edinburgh city centre – everything makes sense. Even if it's an alternative kind of sense, and one that begins to crumble once you leave its enchanted setting. Seated on sawn-off logs next to Doppler's gently smoking fire – and amid the ramshackle awning and lights suspended from the surrounding trees in Becky Minto's evocative set – it's easy to feel entirely removed from everyday life, and from the bustling streets of an even depleted festival, and to begin to understand these unusual relationships that Loe's anti-hero comes to value so much.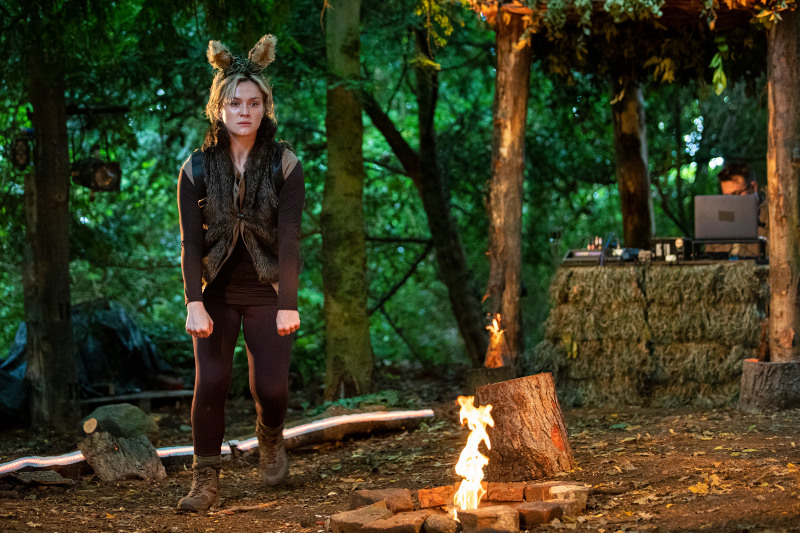 Grid Iron regular Keith Fleming is dazzling in the show's title role, on stage virtually throughout as narrator of his own story, and injecting it with just the right sense of absurdist logic and humour to make it all seem somehow normal. From Bongo the elk calf to Doppler's petulant daughter Nora and swaggering wife Kjersti, Chloe-Ann Tylor (pictured above) is wonderfully agile, capturing character in a single stare or pose, while Sean Hay is equally strong as the supermarket barterer and introspective German. Live Foley sound effects from musician Nik Paget-Tomlinson are a joy in their own right, and only add to the sense of the show sourcing all its material from the forest itself. At once an eco fable, a study of a fracturing mind, and a laugh-out-loud satire on consumerism, Doppler is also a seamless coupling of text and location, and a show that's too clever to be tied down to a single meaning.
Doppler is a quirky, somewhat elusive tale that somehow manages to be profoundly philosophical and deeply silly at the same time
rating
Share this article