Edinburgh Fringe 2022 reviews: Kathy and Stella Solve a Murder! / Hiya Dolly! |

reviews, news & interviews
Edinburgh Fringe 2022 reviews: Kathy and Stella Solve a Murder! / Hiya Dolly!
Edinburgh Fringe 2022 reviews: Kathy and Stella Solve a Murder! / Hiya Dolly!
A musical whodunnit and an ovine origin story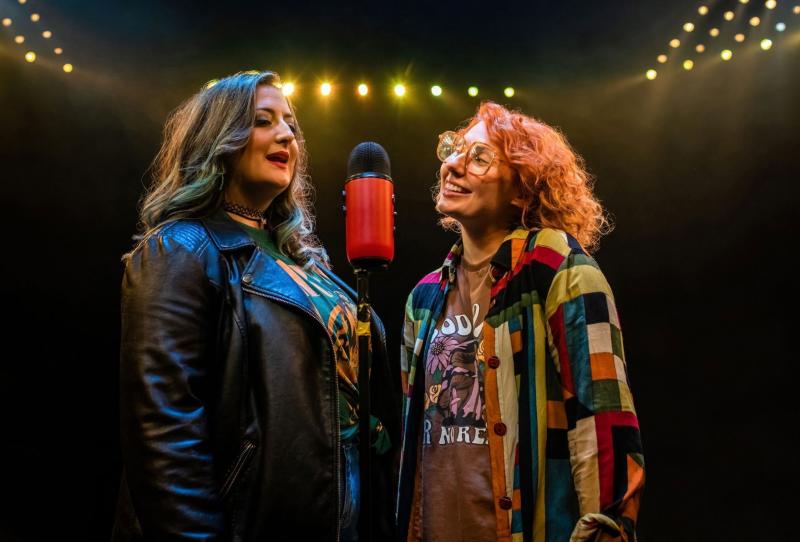 Rebekah Hinds (left) and Bronté Barbé play best friends Stella and Kathy
Kathy and Stella Solve a Murder!, Summerhall ★★★★★

What a pleasure to be in the audience for this terrific musical whodunnit, about best friends Kathy (Bronté Barbé ) and Stella (Rebekah Hinds), who live in Hull and have a podcast devoted to "in-depth chat about murders", the grislier the better. So when their heroine, crime writer Felicia Taylor (Jodie Jacobs) is decapitated shortly after they meet her, they set about finding her murderer.
What follows is pure joy as the cast of five (three of them playing multiple roles) sing, dance and emote their way through a story littered with red herrings and multiple suspects but which is actually about love and friendship, and finding a purpose in life. The writing is witty, with some painfully funny rhyming; when Kathy, who has always wanted to work in forensics, was a girl she played "doctors and corpses" while other girls were obsessed with "ballet and horses".
The book, lyrics and direction are by Jon Brittain, with music and lyrics by Matthew Floyd Jones (of Frisky and Mannish fame, also on keyboard and vocals). TJ Lloyd and Imelda Warren-Green, meanwhile, round out the excellent cast.
The show is produced by the same team behind Fleabag and Baby Reindeer, a mark of real quality, and deserves a life beyond the Fringe.
Hiya Dolly! The Space @ Surgeons' Hall ★★★
Edinburgh has many claims to fame, not least that it was at the Roslin Institute just outside the Scottish capital that Dolly the sheep was cloned, the first mammal cloned from an adult somatic cell. Another first is that Hiya Dolly! is a musical with a bovine heroine (personified by Jessica Donnelly), who provides occasional exposition when needed in Vince LiCata's entertaining play with live music.
Andy Jordan's production is a brief primer about the creation of the world's most famous sheep (named after Dolly Parton, as the cells used were from mammary glands) and the story of the people who made it happen.
LiCata is a scientist by training and the play is a winning mix of mix of science, human drama – including a lab romance and one researcher's emotional fragility – and music. Its songs are set to traditional Scottish folk tunes arranged by Ciaran McGhee, while others are pop songs with rewritten lyrics (The Proclaimers' "I'm Gonna Be 500 Miles", for instance, becomes "I would fuse 500 cells").
The writer gives due credit to the many people behind the scenes who contribute so much with little public (or sometimes even professional) credit, and we see how major breakthroughs are the result not just of painstaking research but also of twists of fate.
The Edinburgh Fringe runs until 29 August
What follows is pure joy as the cast of five sing, dance and emote their way through a witty story
Explore topics
Share this article