Edinburgh Fringe 2023 reviews: Dark Noon / Concerned Others |

reviews, news & interviews
Edinburgh Fringe 2023 reviews: Dark Noon / Concerned Others
Edinburgh Fringe 2023 reviews: Dark Noon / Concerned Others
A brutal history of America and an intimate examination of Scottish drug-related deaths in two powerful shows
Wednesday, 23 August 2023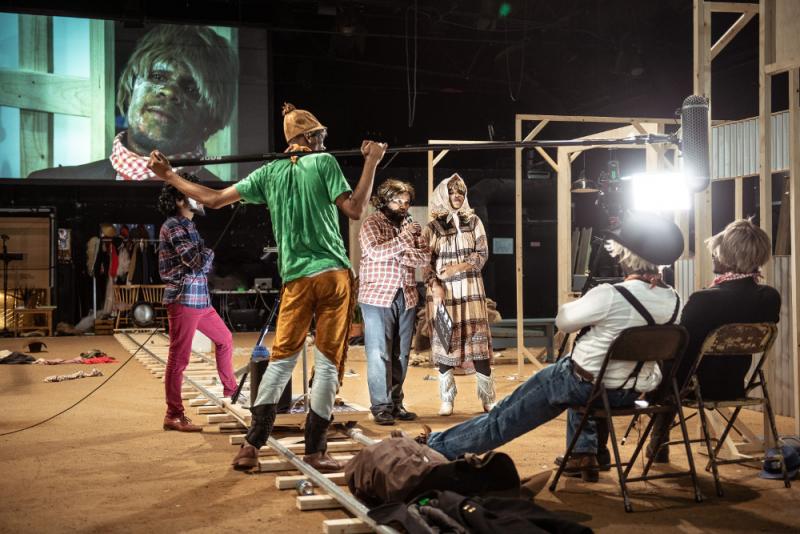 Audacious and fearless: video and theatre combine in Dark Noon's unflinching examination of the Wild West
Dark Noon, Pleasance at EICC ★★★★★
If there's a more ambitious theatre production than Dark Noon at the Fringe this year, I've yet to see it. That's ambitious in terms of its staging: during the course of the show's 100 minutes (yes, it's a proper, full-length production), virtually an entire town is constructed on a bare red-earth stage right before our eyes. But it's also ambitious in terms of its themes and subject matter. This is the history of the Wild West, the great American push to the Pacific, frontier pioneers, gold rushes and the law of the gun. It's a world of corruption and exploitation, of racism, abuse, violence and pain, interrogated up close by roving cameras and projected live onto a giant screen at the back of the set. And it's told by an apparently tireless, fiercely committed company of seven South African actors (six black, one white).
Yes, race is the huge issue sitting squarely on top of Dark Noon. And it's thrown in our faces – or rather the actors' faces – right from the show's very opening moments. We might rightly condemn white actors blacking up to play non-white characters, on many levels. How do we feel about black actors daubing their faces with white greasepaint to portray the early white settlers, missionaries, prostitutes and sherrifs who colonised a continent?
But before you've even had a chance to weigh up the implications of that, Dark Noon has dashed on to equally provocative portrayals, recounting with unflinching honesty the brutality and raw greed on which modern America is built, conveying its sometimes shocking setpieces with an apparently casual, throwaway disregard that conceals a steely sense of fury.
It's jaw-droppingly audacious, and breathtakingly fearless, daring you to either look away or challenge what you're seeing. It's as if the oppressed or the vanquished have been asked for their views on how things have been for them, only to respond with harrowing honesty – and a lot of pitch-black humour too. And, it has to be said, increasingly deep involvement from the audience as the show progresses, making us not just complicit but a key part of the action.
Danish and South African co-directors Tue Biering and Nhlanhla Mahlangu have constructed a seemingly sprawling, chaotic work – with maybe just the kind of raw authenticity middle-class Western watchers might expect to experience from black township actors – that's actually highly sophisticated, tightly controlled and bristling with righteous, finger-pointing fury. It's in a big venue (and a comfortable one, too), with tickets available until the end of the festival. If you're in Edinburgh, I urge you to experience it.
Concerned Others, Summerhall ★★★★
From one of the Fringe's biggest, most lavish productions to what must be one of the festival's smallest, most focused, most intimate shows. Though Concerned Others from Edinburgh-based visual theatre company Tortoise in a Nutshell still grapples with a weighty theme: Scotland's shamefully high rate of drug-related deaths, the highest in Europe, one of the highest in the world.
But don't go looking for simple answers, much less finger-pointing condemnation in this deceptively slight solo tabletop show. Through live animation, video, intricate miniature models and even some live-action physical performance, deviser/performer Alex Bird (also one of the company's co-founders) stares unflinchingly at the fallout of drug- and alcohol-related deaths, how those substances are embedded within Scottish society, and the lasting impacts on those left behind.
Most impressive, though, is Concerned Others' elegant staging, involving a moveable, tippable table of lights, and multiple boards serving as miniature screens for Lewis Den Hertog's eloquent video projections – sometimes little more than subtitles for the spoken text we're hearing from survivors and health professionals, or endless alcohol adverts, but powerfully done. A running man serves as the image that both separates and unites Bird's developing sections, first as animated stick figure, then as primitive zoetrope before becoming embodied in Bird's own body. Tiny sets of rooms and buildings, explored through Bird's roving camera, provides a context for the tales of neglect, poverty and abuse we're told lie behind these issues.
At just 45 minutes, and with its content and messages seemingly boiled down to such concentration that not a single gesture or word feels superfluous, there's a danger that Concerned Others might feel like little more than a theatrical lecture. But it's Bird's fluent presentation, and his assured movement from idea to idea, that both display the show's impressive craft and make it so deeply moving.
Virtually an entire town is constructed on a bare red-earth stage right before our eyes
Share this article