Edinburgh Fringe 2023 reviews: PLEASE LEAVE (a message) / Shadow Kingdom |

reviews, news & interviews
Edinburgh Fringe 2023 reviews: PLEASE LEAVE (a message) / Shadow Kingdom
Edinburgh Fringe 2023 reviews: PLEASE LEAVE (a message) / Shadow Kingdom
Communicating with the far future and dream-like shadows for children in two contrasting shows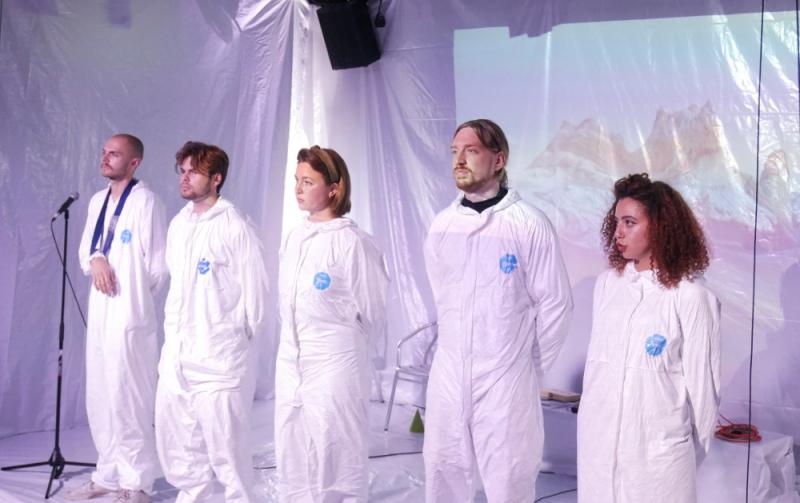 Cheesy karaoke, confessional anecdotes and an antiseptic staging in Clusterflux's PLEASE LEAVE (a message)
PLEASE LEAVE (a message), Underbelly, Cowgate ★★★★
One of (brilliantly named) London-based theatre collective Clusterflux's actors sent me a Twitter DM to request a review of their new show: here that review is, a few days later. Yucca Mountain in New Mexico also required a message, this time aimed at generations far into the future, to warn about the radioactive waste buried beneath it. Even Eighties pop icons Berlin and MC Hammer sent out messages into the future, tracks that we can now listen to as cultural artefacts from particular times and places.
There's a lot going on in Clusterflux's ambitious PLEASE LEAVE (a message), all of it revolving – sometimes obliquely – around communication, the delivery of messages, and the inexorable tread of time. With a steadily increasing accumulation of cheesy karaoke pop hits, plus confessional anecdotes from the strong five-strong cast, live video streaming, multiple threads of projected surtitles and more, there are several levels of information, not to mention connections and interconnections, to absorb in a texture that occasionally borders on information overload. But then again, that relentless accretion of content is kind of the point.
Nonetheless, PLEASE LEAVE (a message) is a carefully, rigorously structured show, one that plays with ideas of decay and dissolution as the already imperfect Yucca Mountain warning message disintegrates upon each of its returns as a chapter heading, and as actor Chris Whyte encourages us to question the truth of anything we're seeing: is that shoulder injury for real? Performances are direct and deadpan, from Jack Hilton's memories of a teenage break-up delivered via text message to Linda van Egmond's apparently endless list of fears. The quintet's nicely antiseptic staging provides a wonderfully fluent image for both rising sea levels and the unstoppable accumulation of information and detritus.
As with so many shows by young performers that gaze ahead to the future, climate change is the massive issue hovering behind all of this, referenced as a too-obvious-to-mention question when considering events stretching millennia into the future. It generates a quiet background hum of grief and inevitable loss behind a show that otherwise swaggers with confidence and conviction, as well as plenty of persuasive ideas. Provocative, audacious and thoroughly entertaining, Clusterflux are clearly a company to watch.
Shadow Kingdom, Assembly Roxy ★★★
A suspicious owl-headed hero/villain, an all-knowing god whose head can detach and fly away on its own, and most of all a lost little girl who must reconcile the differences that beset the Shadow Kingdom in which she finds herself. There's a nicely slippery sense of good and evil, dark and light to Japanese/Canadian Mochinosha Puppet Company's naively endearing tale. At its core, Shadow Kingdom is a children's show, but what will inspire adults is the remarkable shadow puppetry that the two Mochinosha performers employ – not only drawing on dozens of hand-cut puppets, but also manipulating them with cross-fades, close-ups and deft scene changes to create what amounts to a live animated movie. There are lessons to be drawn from the show's shifting poles of right and wrong, if you really want to, though it's probably better to sit back and simply surrender to the dream-like narrative. Sit near the front to be up close with the performers in action with their arsenal of miniature carved creations, or further back to simply enjoy the spectacle on screen.