Edinburgh International Festival 2023 reviews: FOOD / Dusk |

reviews, news & interviews
Edinburgh International Festival 2023 reviews: FOOD / Dusk
Edinburgh International Festival 2023 reviews: FOOD / Dusk
Our compulsion to consume and our acceptance of outsiders investigated in two visually impressive shows
Theatrical magician: Geoff Sobelle is an attentive waiter at FOOD's immense dining table
There's no denying it: Los Angeles-born Geoff Sobelle is a theatrical magician (quite literally – it's how he began his career). Through a string of visually spectacular shows on the Fringe and more recently at the International Festival, he's unleashed wildlife into the streets of Edinburgh, drawn aeons of history from a cardboard box, and even constructed an entire house on stage.
So it's perhaps no surprise that, for his new FOOD unveiled this year, Sobelle has transformed the Festival Theatre's smaller Studio space into the setting for an immense dinner party, complete with apparently football-pitch-sized dining table in the middle of the room, around which sit a few lucky audience members. 'Lucky', that is.
As ever with Sobelle's witty, whimsical shows, the element of surprise is key, so don't expect many details here. Suffice it to say that over the course of the show, he dispenses food and wine, does quite a lot of consuming himself, and finally conjures a breathtaking historical survey of humankind's exploitation of the natural world.
It's jaw-droppingly impressive and, yes, really quite magical. But it's also quite tricky to discern what Sobelle is trying to say beyond the sleight of hand and the gargantuan stage trickery. Yes, it all revolves around our relationships with food, our expectations of a high-class eating establishments, our compulsion to consume – in its most fundamental sense. More specifically, though, Sobelle's miraculous effects feel like ends in themselves, rather than pointing to any profounder insights.
That said, FOOD is a thoroughly entertaining, engrossing show (though hypnotically slow at times), whose arm's-length list of crew, designers and props makers is testament to its breathtaking technical ingenuity. You might just leave scratching your head – not just at how Sobelle has pulled it all off, but also at what was all for.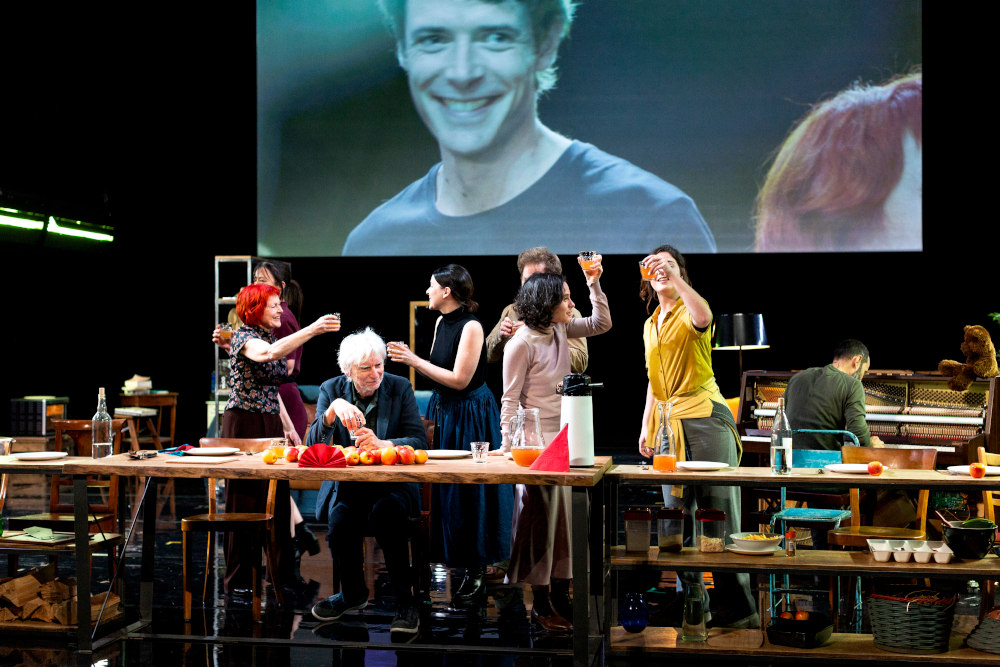 Dusk, Lyceum Theatre ★★★★
When the close-knit community of actors and other artists at the Comédie de Genève are pondering material for a new production, they hit upon a stage version of Lars von Trier's notorious 2003 movie Dogville. After all, as director Christiane Jatahy asserts in her brief programme note to Dusk, Dogville was essentially theatre made into film, so why not return it to the stage?
What the Swiss group attempt, though, isn't quite a literal reversioning. Instead, Dusk is very much their own, thoroughly 21st-century response to Dogville, two decades years after the film's creation, in a new world where its themes of insiders and outsiders, exclusion and discrimination are all the more urgent and compelling.
Luckily, company actor Tom (an oily, needy Matthieu Sampeur) has just met Grace (a captivating Julia Bernat), a thrilling young artist of considerable talent who's escaping persecution abroad. But she'll need to gain the trust and acceptance of the Geneva group, obviously, before she can fully contribute.
The layers upon layers of truth and artifice, reality and commentary make Dusk a playful but also a slippery work. Things are made even more complicated through the decision to film Grace's interactions to the group – for archive purposes, clearly – and the increasing discrepancies between what we see on screen and what's really ('really') happening on stage.
But as Dusk's plotline slides inexorably towards exploitation and abuse, it becomes increasingly unclear as to whether we're in Geneva or Dogville, whether it's the actors or their characters who are expressing their bigotry – or whether it matters either way.
If that makes Dusk sound like a high-concept cerebral workout, well, in many ways it is. An underlying issue with that is that – at least for anyone who knows Dogville, or has bothered to Google its plot – Dusk's messages become clear and and its trajectory almost certainly inevitable from the moment its source material is revealed. You might question, too, whether a closing monologue drumming home the dangers of fascism is really needed after everything we've seen and heard.