End of the Rainbow, Trafalgar Studios 1 |

reviews, news & interviews
End of the Rainbow, Trafalgar Studios 1
End of the Rainbow, Trafalgar Studios 1
From showbiz to endgame: Tracie Bennett gives us Garland plus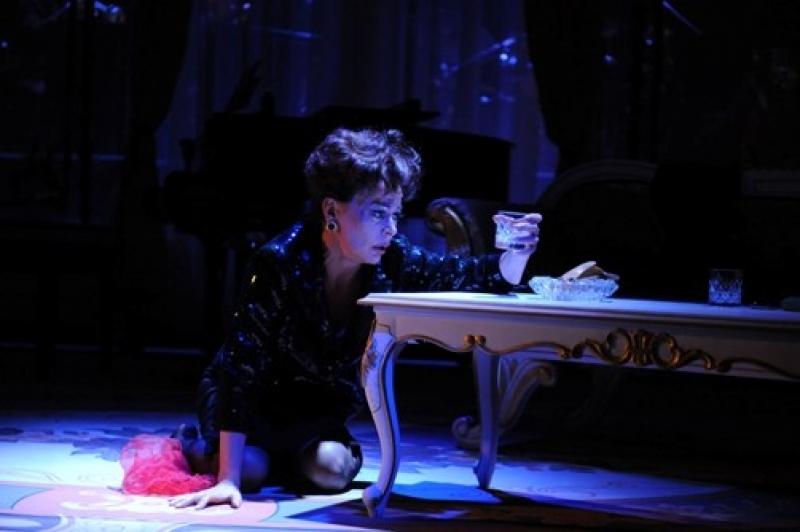 Tracie Bennett as Judy Garland: more than just an impersonation
"Can't go on, ev'ry thing I had is gone". Hear Judy Garland deliver those lines from Arlen's "Stormy Weather" live at Carnegie Hall in 1961 and you'll know that no singer, not even Callas, could go further turning heartbreak into art and serving up the naked truth. I wasn't expecting this production of Peter Quilter's play, previously seen in Northampton, to do much more than echo your average queen's "such a tragic life" line, nor Tracie Bennett to go beyond a Star Impersonation.
But after a first act of saying and doing theatre, the will-she-go-on nature of Judy's last appearances became nailbiting drama and Bennett made her own terrifying
tour de force
out of a ritalin-fuelled "Come Rain or Come Shine".
That in itself would be enough to earn this risk-taking singer-actress all the awards that are so obviously coming her way. How on earth can the woman perform at that level night after night for at least the next three months? Could it possibly work if her cover has to go on? It's certainly a well-made show with its fair share of laughs (not least in the mileage Quilter gets out of Garland accidentally consuming the pills her pianist is keeping for his sister-in-law's spaniel's mange). Director Terry Johnson may have written some terrible plays himself, but as a director of musical theatre he continues his current good form.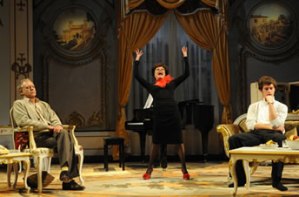 The predictable tantrums and addictions of Garland's last year are played out in a kind of love triangle, with perfect contrast between Stephen Hagan's young, hunky and unscrupulous prospective husband number five and the gay, slightly awkward pianist, a low-key performance poignantly judged by Hilton McRae (the two men pictured with Bennett right). Actually I couldn't help wondering if the implication that Mickey Deans was somehow responsible for the drug overdose that caused the 47-year old Garland's untimely demise in June 1969 might not be a little libellous, but Deans died in 2003.
Little of what made the star so intensely human in later years, not least the obviously strong bonds, despite everything, with her children, is allowed to get in the way of the opening repartee between the two men and their diva. What stops the tug between brotherly concern and thrusting ambition from slipping into predictability is the way Bennett's Judy realises all too well what's at stake in both cases: no manipulated victim she, at least when it comes to toyboy Mickey. McRae has good material to work with when Anthony exchanges irony for sensitivity and paints a rosy picture of domestic contentment in rainy Brighton ("by the sea, dear Miss G, we'll be comfy cosy", as Sondheim might have put it). A moving truth lies behind the idea that her followers won't recognise Garland walking along the prom because she'll be so happy. And her tragic, tight-lipped dismissal of that dream quickly shreds potential excess sentimentality.
That's not always easily set aside in the first half. I wasn't quite touched by Bennett's injection of private significance into "The Man That Got Away" for the Act One curtain, though I could see the point that it undercuts the happytime numbers of the first Talk of the Town sequences (the elegant hotel room, luxuriously designed by Bill Dudley no less with a painted carpet that looks real enough to roll around on, peels away to reveal a fine team of live musicians under the ever-resourceful Gareth Valentine's supervision, though it was a shame to have them, and Bennett, so raucously amplified).
But theatre of embarrassment within the right bounds takes over as the much more convincing assumption of Garland's confidence failure gets in the way of "When You're Smiling": the Trafalgar Studio audience, so ready on press night to whoop and cheer, doesn't quite know what to do here, nor in the climactic drug-induced frenzy, the only means by which the show can go on. It even feels a little odd to applaud the final, very individual and at times painful memorial of "Somewhere Over the Rainbow". "By Myself" as encore - now that, on the other hand, is true showbusiness. And it relies, cannily enough, on the standing ovation which is bound to ensue night after night, as long as this phenomenal performer can muster her extraordinary energy. Without, presumably, taking to the booze or knocking back the ritalin.
It feels a little odd to applaud the final, very individual and at times painful memorial of "Somewhere Over the Rainbow"
Share this article