Endgame/Rough for Theatre II, Old Vic review - Beckett played for laughs
Endgame/Rough for Theatre II, Old Vic review - Beckett played for laughs
Alan Cumming and Daniel Radcliffe lead a lively double bill
Wednesday, 05 February 2020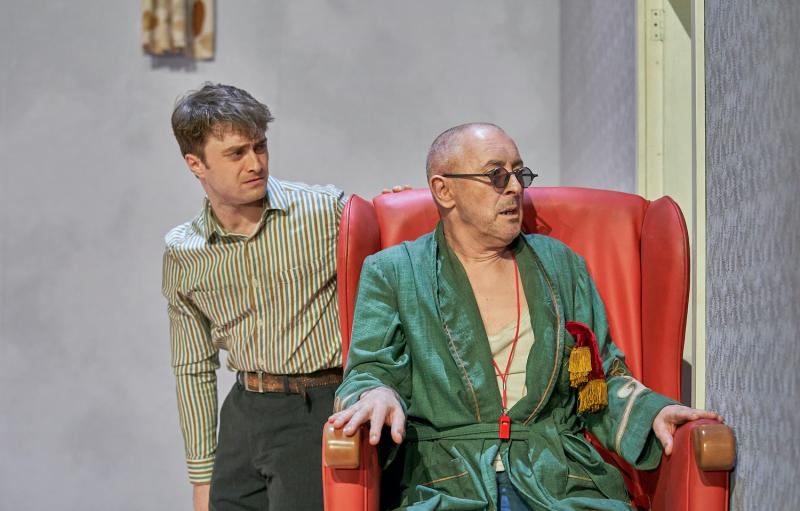 No exit: Clov (Daniel Radcliffe) reluctantly serves Hamm (Alan Cumming)
"Nothing is funnier than unhappiness." Director Richard Jones has certainly taken Beckett's words to heart in this vividly comic, star-cast Old Vic double bill, pairing Endgame with a lesser-known short play – which acts as a sort
of stylistic and thematic
amuse bouche
. The result is a richly engaging evening, though one that skirts real profundity.
We open with Beckett's Rough for Theatre II, a half-hour vaudevillian sketch in which two dark-suited, bureaucratic colleagues (Alan Cumming and Daniel Radcliffe, pictured below) discuss whether or not a man will commit suicide; echoes here of both Pinter and Kafka. The man stands in a window frame, poised to jump, a stark silhouette against blinding white nothingness. The pair review the man's life, from a grim childhood through to physical ailments and disappointments.
It's a compelling double act, with Cumming's blustering, motor-mouthed clerk testifying furiously like a lawyer performing for the court as he lists the man's negative experiences with pedantic specificity, while the quieter Radcliffe offers eerily upbeat rejoinders – his tone, if not the content of his speech, staying unfailingly chirpy. However, when one of their desk lamps begins switching off independently, it's Cumming's character who shrinks, terrified, from the darkness.
Cumming adds superb touches, whether savouring the despairing cry of editors everywhere as he sifts through dense writing to "find the verb", brandishing a pencil with a Harry Potter wand-like flourish, or – when transferring his files to his colleague's desk, nervous of upsetting another lamp – just softly nudging the documents onto the table with his groin. Radcliffe provides a good sounding board, but gabbles his own speech so that nuances are lost. In both this and the following Endgame, it's his physical work that proves more effective. His Clov has a hunched, limping but still manic scuttle – like a crab dragging an injured limb – and he either wriggles or slides hurriedly down the ladder, each descent seeming more precarious. However, the mechanics of his performance are too evident.
Cumming's Hamm has prominent prosthetic withered legs and grotesque false teeth, undermining the way he lounges arrogantly on his throne-like chair; despite his despotic power games, we're always aware of his physical limits. Again, it's odd-couple farce, with this Hamm petulant, disdainful and cool ("Can there be misery loftier than mine?" he drawls), while Radcliffe's apron-clad workhorse Clov staggers round the room with thudding footfalls, eyes wild and hair on end, heaving items and sweating profusely. In both pieces, there's a hint of a queer reading (Cumming's clerk craves Radcliffe's "animal warmth"; "Kiss me," purrs Cumming's Hamm, plus the quite literal "I feel a little queer") – though this is played purely for winking humour, rather than any deeper meaning.
Jones also stresses the meta aspects of these pieces. In the first, a red curtain is visible above the action, as a constant reminder that we're in a theatre, and Cumming delivers many of Endgame's lines directly to the audience as wry commentary – like the indisputable "This is slow work". All of this is enjoyable in the moment, with Cumming holding court deliciously like a pouting minor royal, but pushing the work into broader territory risks making the cyclical existential despair feel bluntly repetitive, rather than increasingly agonising and insightful. Some of the more reflective sections barely engage, with the energy dipping between comic set-pieces, even though we get some fascinating echoes from the first piece in motifs like tough parenting or dying lamps plunging people into darkness.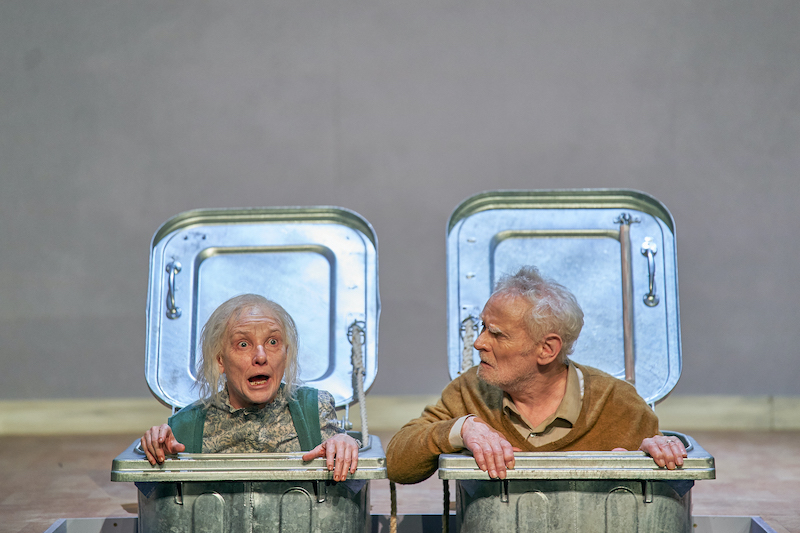 There's also the slight problem that Jane Horrocks and Karl Johnson are so magnetic as the dustbin-housed parents, we really want more of them. Horrocks, almost unrecognisable in her ageing make-up and wig, controls the pacing of each interaction with marvellous precision, and though some of the gags are rather hoary ("Our hearing hasn't failed." "Our what?"), she and Johnson deliver them impeccably. There's a wistfulness to their shared sighs over a mythical "yesterday", when life was better, an aching poignancy to their tantalising physical separation, and a mingled tragicomedy in Johnson's Nagg trying to engage her with a familiar funny story, only to see her slip away.
Stewart Laing's set features the grimly institutional walls of an abandoned old folks' home, tatty curtains framing an alarming post-apocalyptic blankness. Fergus O'Hare's soundscape is likewise evocative, as is Sarah Fahie's crisply structured movement. Given the draconian Beckett estate's short-sighted refusal to allow real innovation in staging his work, this kind of stylised exaggeration is a savvy way around the restrictions. However, despite the timely references to environmental calamity, it does come at the expense of the real terror of mortality and the unknown void, and of the philosophical, delicately bleak poetry – which, when left to accumulate, can pierce the soul.
Cumming holds court deliciously like a pouting minor royal
rating
Share this article