In a Forest, Dark and Deep, Vaudeville Theatre |

reviews, news & interviews
In a Forest, Dark and Deep, Vaudeville Theatre
In a Forest, Dark and Deep, Vaudeville Theatre
Neil LaBute's new thriller is nasty, slick and slight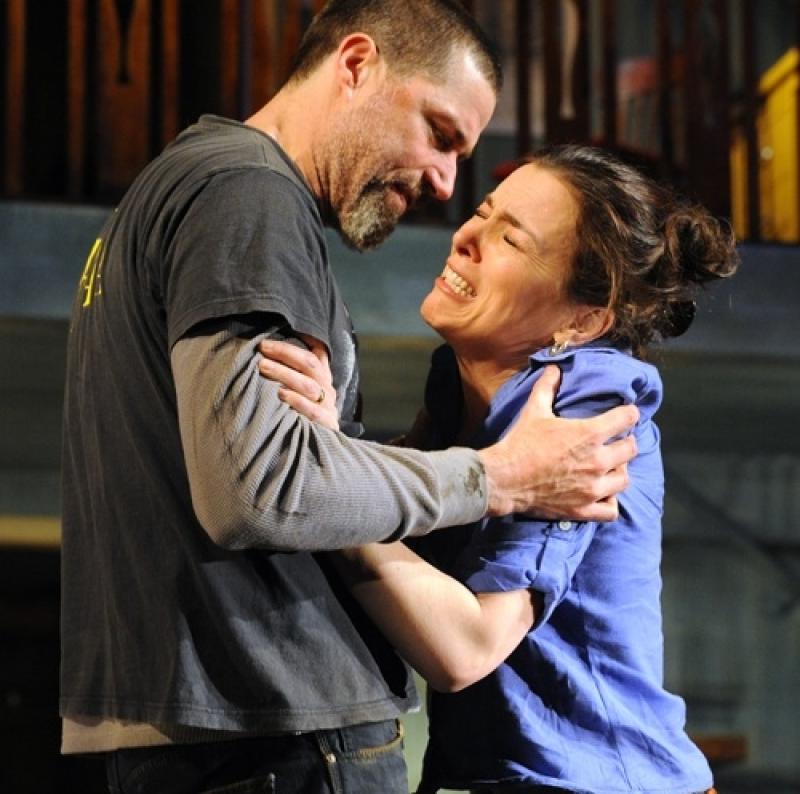 Toxic siblings: Matthew Fox (Bobby) and Olivia Williams (Betty)
Dark this new one-act drama by American playwright Neil LaBute may be; deep, not so much. It has all the author's usual hallmarks: an accumulation of sinister tension, disturbing sexual politics, the threat of violence. And in a taut, pacey production heralded by an opening soundtrack of punishingly loud grunge-rock music and directed by LaBute himself, it's acted with conviction by Olivia Williams and Matthew Fox, best known for TV's Lost.
The writing also makes murkily playful use of fairytale imagery and undercurrents of classical tragedy. But for all its slick style, its narrative is a tantalising trail of breadcrumbs leading nowhere in particular.
Williams is Betty, married, a mother and a prosperous arts academic; Fox is Bobby, her determinedly blue-collar carpenter brother, divorced, with a history of physically abusive relationships. She wants to clear out the cabin in the woods she owns following the departure of a student tenant, so she's asked Bobby to lend some muscle and his pick-up truck. Together in this confined space – a picture-book doll's-house design by Soutra Gilmour – they scratch at one another, repeating well-worn patterns of lifelong sibling rivalry and resentment.
But as the night draws in and a storm brews outside, petty recriminations give way to much more disturbing revelations, and their conflict becomes a deadly game of cat and mouse. Whose claws will prove sharper?
The structure of the piece is akin to that of a Hollywood thriller, and LaBute piles on the creepy clichés with glee: the cracks of thunder, the flickering lights, the teasing clues and sudden reversals of audience expectation. Bobby is touchy, thin-skinned and bitter: he envies Betty's income but derides her career ("artists are a fuckin' waste of space"); he spitefully reminds her that as a teenager she was "chunky". And like so many LaBute men, he is a blatant misogynist. He idealises and empathises with their domineering father, while both Betty and his mother were always, he says, "icy bitches"; the women he has dated were "cunts". "Fuck you, sis," he spits. "I mean that from the heart."
But if Bobby seems like the black sheep, we quickly learn that Betty has her issues, too, among them a terror of ageing and the decline of her physical desirability, and a promiscuity that has earned her brother's disgust but doesn't deter him, in one especially tense, furious moment, from threatening to rape her.
The real reason for her haste to clear out the cabin opens a whole ugly can of wriggling worms; and Bobby's response, when he unpicks her copious lies to expose her secret, suggests that if blood is thicker than water, morality is strictly relative.
"It's like a curse!" wails Betty as skeletons clatter out of closets, underlining the Greek flavour of their twisted familial relations, worthy almost of the House of Atreus.
The trouble is that despite all the extravagant nastiness on show, the psychological texture of the play is thin. The allusions to schism and sexual tension throughout Bobby and Betty's upbringing intrigue, but are never properly explored. Brother and sister are also a pair of lost children, like Hansel and Gretel, and though LaBute does his best to keep you guessing as to which of them is more wicked witch, it's soon pretty obvious which turn the tale is going to take. It begins to feel worryingly as if the play is little more than a series of gratuitous, if neatly deployed, shock tactics. And that's frustrating; a work so savage ought to offer something substantial to sink the teeth into. Instead, it's as flimsy as a house built of gingerbread.
'Bobby is touchy, thin-skinned and bitter. "Fuck you, sis," he spits. "I mean that from the heart"'
Explore topics
Share this article