Globe to Globe: A Midsummer Night's Dream, Shakespeare's Globe |

reviews, news & interviews
Globe to Globe: A Midsummer Night's Dream, Shakespeare's Globe
Globe to Globe: A Midsummer Night's Dream, Shakespeare's Globe
The language may be unfamiliar, but the magic of Shakespeare's comedy is unmistakable in this South Korean adaptation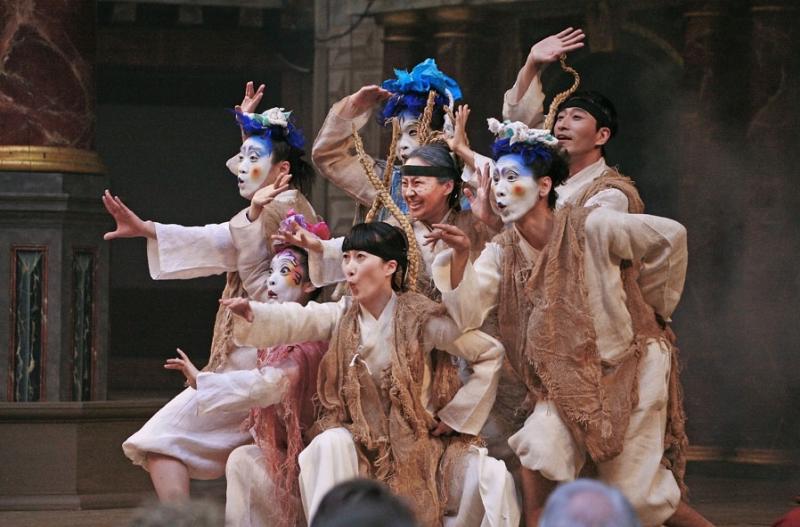 Putting a girdle around the earth: the Korean version of 'A Midsummer Night's Dream'
A comedy of alienation, estrangement, and magical metamorphosis – if ever there was a Shakespeare play made for the linguistic transfigurations of the Globe to Globe season it's A Midsummer Night's Dream. Unmoored from the familiar English text and cast adrift in a forest of mischievous Korean spirits, you couldn't wish for livelier or more bewitchingly colourful guides than the actors of the Yohangza Theatre Company.
Shakespeare's best-loved play gets a boldly South Korean re-write in the hands of Yohangza. Oberon and Titania become Gabi and Dot, king and queen of the Dokkebi (Korea's own petulant and all-too human fairies) while Puck is transformed into Dot's naughty little brother Duduri (played here in an inspired double-act by Sang-bo Kim and Jung-Yong Jeon). Feminists will rejoice at a twisted take on the original that sees the lecherous king "enamoured of an ass" (or rather, here, a pig) instead of his wife – a suitably humiliating punishment for his roving eye. With the framing figures of Hippolyta and Theseus stripped away, both audience and the quartet of lovers can do little but surrender to the singing, dancing, miming magic of the Dokkebi.
Tradition rubs up against some distinctly contemporary humour
Yohangza's style is as much dance as drama, using a vivid soundtrack of tuned percussion to blend dialogue into action and movement, rhythmically choreographing scenes at a ferocious pace, and supplementing the unfamiliar language with visuals. The result is a little bit Complicite, a little bit pantomime, and a lot Shakespeare. What's most striking about the show is just how close it is in spirit to the Globe's own productions. Characters frolic among the groundlings, teasing them, tormenting them, and drawing them into the action (literally in the case of one brave woman). Tradition rubs up against some distinctly contemporary humour, and cheeky asides in English delighted the first-night crowd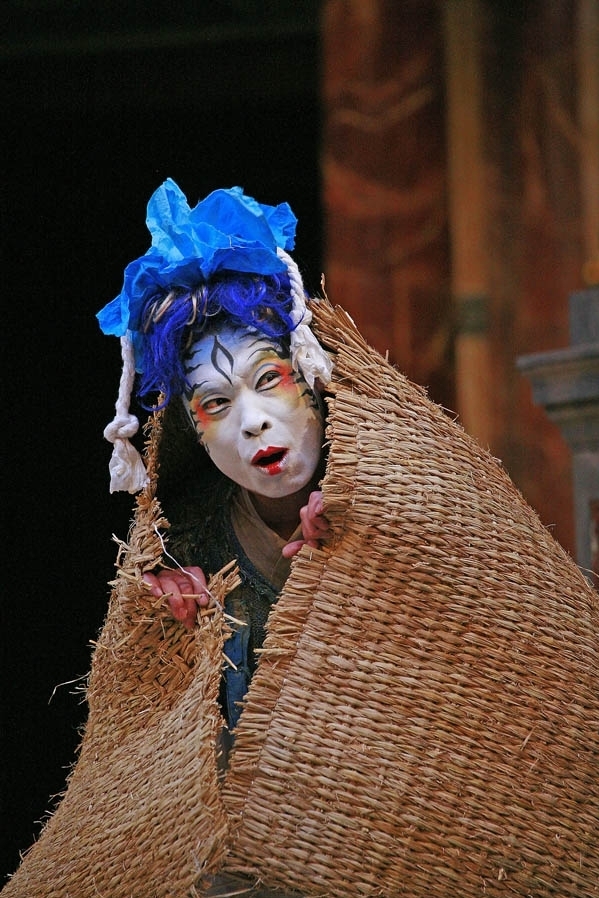 While some moments translate vividly – Helena's "I am your spaniel" is rendered unmistakable (and hilarious) by some energetic pawing, panting and wagging, Puck's many personalities take on new life in the push-pull of two clowning acrobats, and Lysander's sudden adoration of Helena becomes an absurd little ritual dance – there are just a few that remain stubbornly lost in translation. Quite why elderly herb-collector Ajumi (A-Young Jeong, the female Bottom here) urinated at length and then smeared it all over her face I'm still unsure, nor was it evident what rare plant so delighted her at the end (an age-defying flower? Herbal Viagra?), but such details just add to the madcap joy of proceedings, which zip along at such a pace that there's little time to ponder.
There's nothing even remotely approaching a slow scene, but particular highlights include a meticulously choreographed four-way fight for the lovers (with the girls defiantly out-doing the men), Duduri's comedic acrobatics, and Hae-Kyun Cheong's charming, charismatic Gabi (pictured above right) – a comic villain everyone is cheering for. For sight-gags it would also be hard to beat the extended sequence in which Lysander and Hermia (Hang and Beok, played by Jin-Gon Kim and Seung-Hae Nam) fight their way through a "forest" of opinionated spirits, who strive to derail any illicit fumblings that might bring shame to the lovers.
Each summer British audiences get the chance to return to the Globe, to revel in its physical, and inventive theatre, and to watch tourists discover it too. What Globe to Globe now offers us is the unique opportunity to become tourists ourselves – to experience the particular magic of a theatre where language might be foreign, but humour, humanity and emotion are all reliably familiar.
The audience can do little but surrender to the singing, dancing, miming magic of the Dokkebi
Share this article