'The greatest play ever written': translating The Cherry Orchard |

reviews, news & interviews
'The greatest play ever written': translating The Cherry Orchard
'The greatest play ever written': translating The Cherry Orchard
Rory Mullarkey introduces his new version of Chekhov's masterpiece for Bristol Old Vic
Saturday, 24 February 2018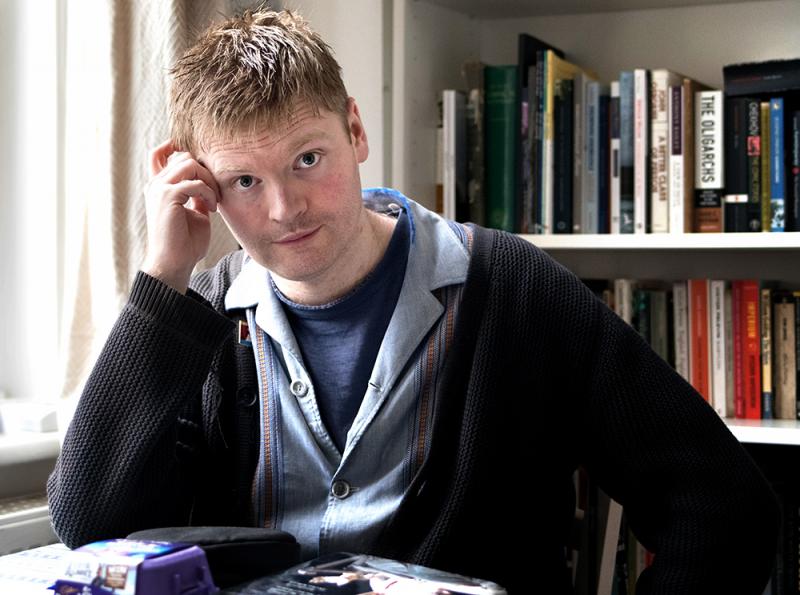 Rory Mullarkey: 'I made myself tea and tried not to break any of the crockery'
"The Cherry Orchard is the greatest play ever written," I declared, confidently, aged 16, to my mother, having just read The Cherry Orchard for the first time.
She responded to my claim with a non-committal snort – remembering, perhaps, the production of
The Seagull
(the previous month's "greatest play ever written") I had dragged her to the Saturday beforehand, and which I had forbidden her from leaving at the interval because she was so bored – and continued with what she was doing, namely driving us to the dentist.
But maybe her snort was prematurely dismissive? I've returned to the play again and again in the long intervening years: reading the text over and over, seeing it performed whenever I could, and even playing Lopakhin in a low-budget student production, for which I essayed a Chekhovian goatee, and was angered when the resultant bristles led me to be dubbed "Lenin" by the other members of the company – my writerly ambitions had ended up dictatorial. So I feel like all this reading, watching, acting, has pulled the play into my metabolism, somehow: I've several times written a line of my own, only to realise my unconscious has plucked it straight from The Cherry Orchard, at which point I've hastily deleted the just-written line in embarrassment. Or I've left it in.
And now I've translated the play.
I've called what I've done a "translation" because I've worked directly from the Russian – I studied Russian at school and at university, and have lived and travelled in Russia and the former Soviet Union quite a bit – and I haven't cut anything. But the terminology around this area of work can certainly be slippery: there are so many "translations" and "adaptations" and "versions" and "after"s and "inspired by"s knocking around these days that it's hard to know what's what.
I see it like this: in 1904 Anton Chekhov built a beautiful house out of words and I went and looked around it for a while. I sat on the chaise longue in the living room. I made myself tea and tried not to break any of the crockery. I looked out of the window. And then I came home, to the UK, in 2018, and I built a new house. I tried to make it look as much like Chekhov's as I could, but the soil is different here, now, and the air is different too, and the light, and we have different tools, and different ways of using them. So what I've built here is something new, as every other translation or adaptation, however much the translator or adaptor has tried to make it look, or not look, like Chekhov's house, ends up being a building of its own. I've tried to be as faithful as I could to Chekhov's design. Because I speak Russian, I may know a bit about his building materials. And, because I'm a playwright, I may know a bit about how he's put them together. But this construction, ultimately, which you're about to visit for yourself, is a new one. (Pictured below: Kirsty Bushell as Madame Ranevsky and Jude Owusu as Lopakhin)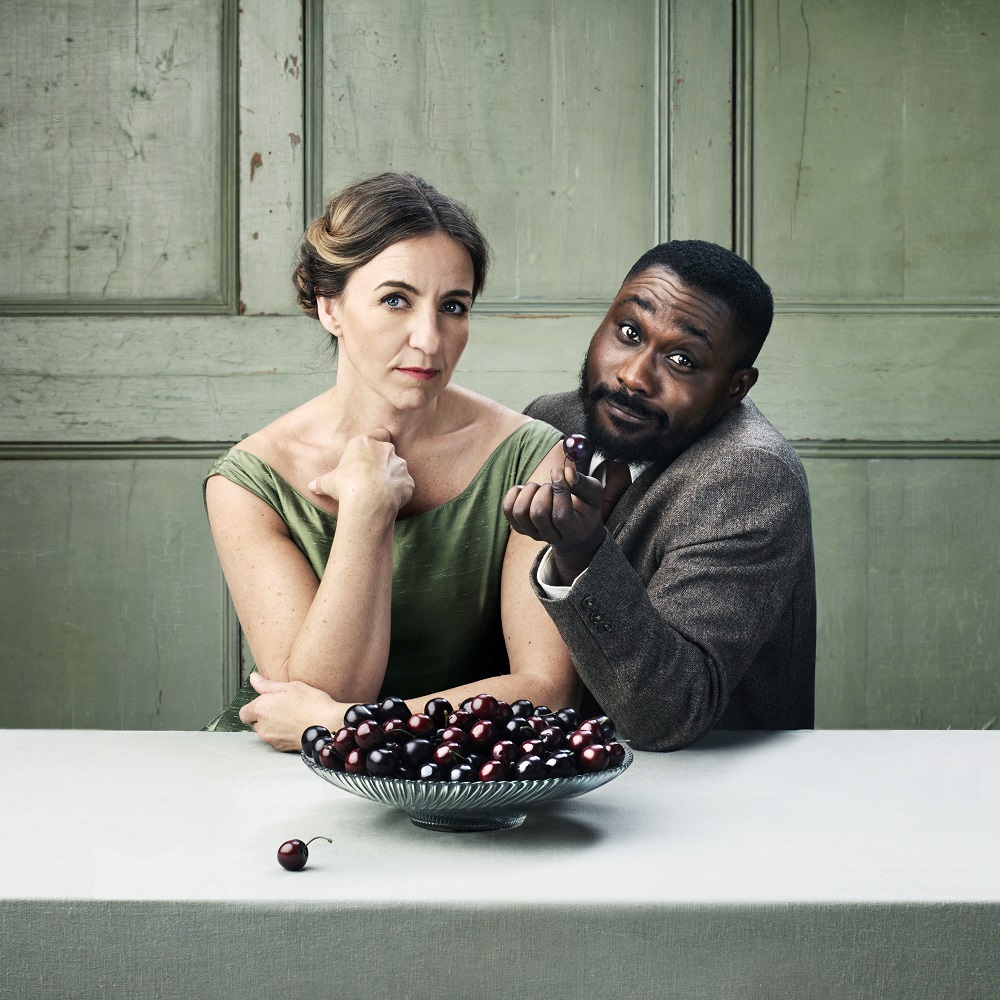 My method was fairly straightforward: I went through the Russian and tried to render each line of it into English, as accurately as I could. When I say "accurately" I definitely don't mean "literally", since "literal translation" is famously an oxymoron, and to place an aspiration towards fidelity of literal meaning above all other concerns would make for some pretty strange dialogue. If you were to try and capture all the resonant meanings in the Russian word "pashlee", for instance – most commonly translated as "let's go" – you'd end up with something like "plural subjects have had the intention to start unidirectional movement on foot", which is certainly faithful to the meaning, but possibly a bit of a mouthful for an actor who's trying to get offstage. So I've been a little promiscuous with literal meaning, and had my dalliances, where necessary, with word-sound and word-length, tone, pacing, rhythm and – crucially, since this is drama – intention.
In terms of style, I've striven for directness and clarity. Because of the rigidity of its phonetics and its grammar system, Russian hasn't changed as much as English has over the last century, meaning the person on the street in Saratov today speaks far more like Chekhov's characters do than the person in Basingstoke today speaks like George Bernard Shaw's. As a reflection of that, I've tried not to employ an English which situates itself too specifically within a certain time period: what I've done is hopefully fresh and immediate, without feeling completely modern. Likewise, the Russian accent doesn't vary very much over the country's vast, nine time-zone-spanning space (again, due to the language's rigidity), so I haven't used any specifically English regional dialects or words in the translation, but have hopefully created a text flexible enough to be performed in plenty of different accents.
The play deals so brilliantly with the debts we owe to the pastI've essentially tried to preserve the Russian context, both in how I see the language itself as operating, and in the backdrop to events as revealed in the words. I haven't done any simplification or English transplantation. Although I always feel for the actor the very first time she has to say "Lyubov Andreyevna" out loud, I've kept the names and terms of address in full. I've preserved all the references to contemporary figures or events, adding a word or two of explanation where necessary. I've tried to be as true as I could to the specific in Chekhov, in the hope that it might illuminate the universal for us.
Of course Chekhov threw in a fair amount of booby-traps for potential translators along the way: quotations from contemporary poets; snatches of song; Firs the valet's famously unmanageable made-up insult "nedotyopa" (still unmanaged by this particular translator at the time of writing); Yepikhodov's unwieldy mix of jargon and malapropism, to name a few. But I haven't shied away from embracing the deliberately ugly or odd in the text, and there's plenty of that: there's this myth in the West that Chekhov is some kind of arch Flaubertian style-master but, though he can write with as much poise and elegance as any writer who's ever lived when he needs to, he's also the feral offspring of Gogol and Dostoevsky, laughing prophets of chaos and revolution, poets of the wild and the peculiar; so I've tried to highlight the strange in the text as well.
Because The Cherry Orchard is a weird play. It's one of the reasons I love it. Against the backdrop of perhaps the simplest and most obvious metaphor for change imaginable – a house gets sold, the people move out – a revolving carousel of beautiful weirdos talk and love and don't really do very much. It's strange. It's funny. Chekhov's plays so often get lumped in with the realist seriousness of some late-period Ibsen, but for me the opening act of The Cherry Orchard has far more in common with the bleary-eyed bittersweetness of Twelfth Night, and the outdoor dreaminess of the second act, with its 16 (16!) miraculous silences, has far more in common with the vespertine oddness of Waiting for Godot. Chekhov himself, not entirely ironically, subtitled the play "A Comedy", so I've tried to bring out the comic in my translation.
Would I still declare that The Cherry Orchard is the greatest play ever written? Yes. But perhaps for different reasons than I did when I was 16. For teenage-me it was, unsurprisingly, Chekhov's extraordinary articulation of unrequited love, masterfully pinned down and laid out, in all its tongue-tied fear and nervous bewilderment. These days it's probably the politics. The play deals so brilliantly with the debts we owe to the past – the problem of privilege: surely one of the great issues, if not the great issue, of our time. We don't spring out of nowhere. We are born in a certain body, in a certain place, in a certain class, and the benefits many of us have unthinkingly enjoyed since birth did not come for free, but were bought by the toil, the suffering, very often the blood, of people in the past. When Trofimov looks out into the orchard he sees faces in the trees and, as we sit, about to watch a play, a few yards from Bristol Harbour, or in the Royal Exchange in Manchester, formerly the biggest room in the world, the great counting house of the Industrial Revolution, the ghosts surround us still. How can we make peace with them? How can we pay off that debt to the past? Can we ever be free? That's what I ask myself when I read The Cherry Orchard today. But, perhaps, a few more years down the line, I'll look at it again, and ask myself something different. Like all the greatest plays ever written, the questions are many, and clear. Yet, like all the greatest plays ever written, the answers are not.