Hamlet, Schaubühne Berlin, Barbican Theatre |

reviews, news & interviews
Hamlet, Schaubühne Berlin, Barbican Theatre
Hamlet, Schaubühne Berlin, Barbican Theatre
Each actor in what seems like a lifetime plays two parts, but one-time terrorist director no longer shocks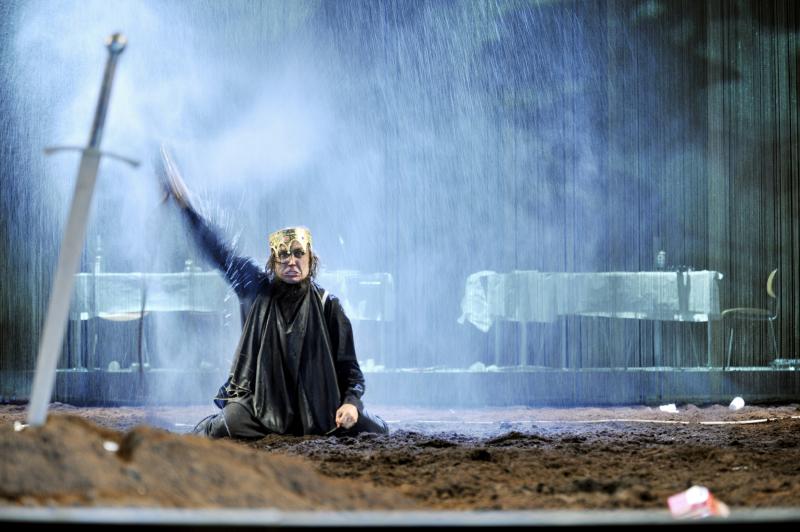 Lars Eidinger's acrobatic Hamlet, outshone by the earth and the rain
Ken Russell is, it seems, alive and well and directing Germans in Shakespeare. Actually, no, it's outgrown theatrical terrorist Thomas Ostermeier, but it might as well be our Ken to judge from the fitfully imaginative but repetitive images and the misappropriation of possibly fine actors. It seems old hat to us, but perhaps in two respects Londoners may strike Berliners as conservative.
We still like our
Hamlet
in sequence - cut, usually, but with the expected beginning, middle and end. And we're still inclined to talk about Michael Sheen's
Hamlet
, or Rory Kinnear's, or Simon Russell Beale's, rather than "the earth-and-hosepipe, six-hander
Hamlet
", which is how this may be remembered if it's lucky.
Personally, I don't mind the interpolation of a bit of contemporary filthy language - though "fuck, fuck, fuck the cunt" inserted into the Shakespearean German when Hamlet berates Polonius about his daughter might be a step too far - or the juggling around with the text. Ingmar Bergman in the Swedish Hamlet which visited the National many moons ago lifted "To be or not to be" out of context to suit his own memorable preoccupation with the players' scene. Here we get not "tomorrow and tomorrow and tomorrow" but "to be", "to be" and "to be", for starters without explanation and the second time in sputtering travesty before Rosencrantz and Guildenstern. Only as overheard by Ophelia does it acquire interior pathos, but there's so little of that in the way Lars Eidinger has to portray a largely grotesque-burlesque prince that neither here nor in the pre-fencing procrastination are we ready to take the character or the thrown-away verse seriously. Two specialities are evident, if over-exploited: Eidinger can do a mean backflip or six and has a flair - though misplaced here - for DJing.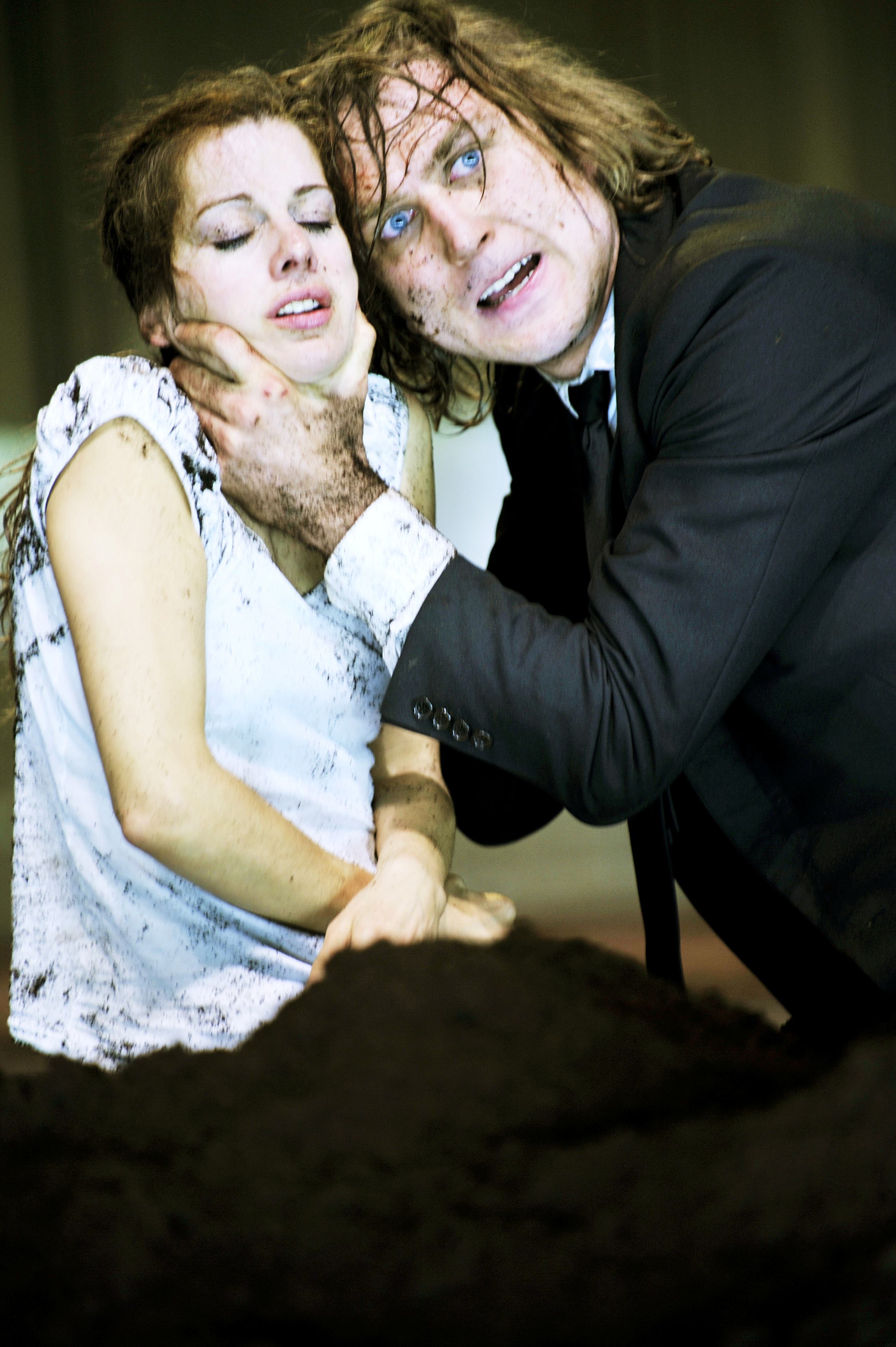 What is predominantly a Hamlet cabaret, though, can't suddenly become a three-dimensional Shakespearean drama. No one is worth caring about. Judith Rosmair drops a sketchy Gertrude for a flimsily present Ophelia by removing dark glasses and blonde wig, but the voice doesn't project or undulate enough to fill out the differences. Hamlet's assault on Ophelia (pictured right) shocks in bursts - there was an audible gasp when he spat in her face - but again has no line through the confrontations to contribute to a plausible madness (and Rosmair's, as she chucks water over her head, is unconvincing on any terms). I did briefly warm to the "willow grows aslant a brook" speech as Gertrude morphs into the drowning maiden. Robert Beyer's Polonius gabbles and his Osric is a blank sheet; the subordinate Horatio/Guildenstern and Laertes/Rosencrantz are either too soft-spoken or too shouty.
Which directorial ideas, then, must have caught international theatre administrators' imaginations to make this worth exporting around the globe for the past three years? Probably the scene near the beginning where Hamlet wrestles absurdly with his father's coffin; but the music pumps out at such a disjunctively ear-splitting, possibly supra-legal limit that the image can't be appreciated for what it is. The speeches-to-microphone of Urs Jucker's Claudius at the wedding banquet and in other, more surprising contexts provide the most riveting delivery of the text, but you miss the mic all the more when the sound levels go back to extra-low. Ostermeier does have a brilliant solution for the play-within-the-play, Hamlet as the Player Queen - we discover to our surprise that he's been wearing a fat-suit as himself - and Horatio as the King in nothing but crown and jockstrap.
Yet all the pointedly theatrical stuff becomes otiose with so much business to audience with the lights up. The actor-held camera projecting giant images is as old as one of the worst shows ever to visit the Barbican, Peter Sellars's The Merchant of Venice, though the ubiquitous video film, of accumulating burnt and flying fragments, looked good. At any rate, I sat unmoved, neither entirely bored nor quite embarrassed and hardly ever shocked. In fact, the most shocking thing was the way the younger spectators roared their way through grotesquerie surely designed to freeze every laugh in its tracks. They, as much as anyone on stage, seemed to be complicit in Ostermeier's oddly dated theatre of repulsion - and to be fair, they did sit with apparent engagement through 165 interval-less, uncertainly paced minutes.
GREAT DANES
Alan Mahon, Tobacco Factory, Bristol. Hamlet as wayward teen spirit
Andrius Mamontovas, Globe to Globe. Lithuanian take on the Danish play puts on a frantic disposition
Benedict Cumberbatch, Barbican. Visuals threaten to swamp Shakespeare – and, yes, Sherlock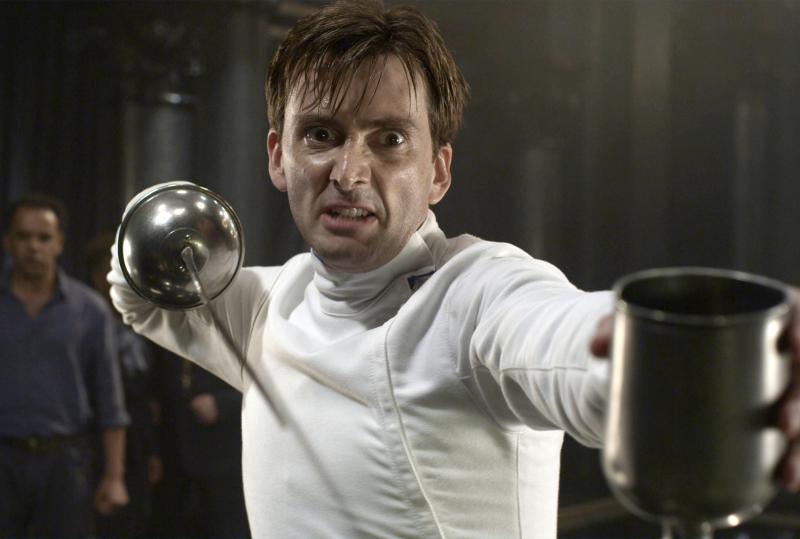 David Tennant, RSC/BBC. Star looks for life in an infinite space beyond the Tardis
Maxine Peake, Royal Exchange, Manchester. An underwhelming production, but Peake is gripping as the young Prince
Michael Sheen, Young Vic. Sheen is riveting as the crazed Danish Prince in Ian Rickson's terrifying psychiatric-hospital staging
Rory Kinnear, National Theatre. Kinnear isn't a romantic Prince, but an unsettled, battling one in Nicholas Hytner's staging which is modern, militaristic and unfussy
Andrew Scott, Almeida Theatre Predictably unpredictable performance subject to Robert Icke's slow-burn clarity
What is predominantly a Hamlet cabaret, though, can't suddenly become a three-dimensional Shakespearean drama
rating
Share this article