'I come from there': how the Royal Court brought home plays from Ukraine, Chile and Syria |

reviews, news & interviews
'I come from there': how the Royal Court brought home plays from Ukraine, Chile and Syria
'I come from there': how the Royal Court brought home plays from Ukraine, Chile and Syria
The Court's international director explores the roots of this autumn's international season
Wednesday, 11 October 2017
Elyse Dodgson, the Royal Court's international director, visits her ancestral home in Ottynia, Ukraine
The autumn season of plays at the Royal Court leads with international work. B by Guillermo Calderón (from Chile), Bad Roads by Natal'ya Vorozhbit (from Ukraine) and Goats by Liwaa Yazji (from Syria) have a long history with our international department.
We probably have to go back over a decade to look at the seeds of this work and the connections they have to one another and to each of us.
THE ROAD TO BAD ROAD
It is June 2008 and I am sitting around a table in Natal'ya Vorozhbit's new flat in Kiev with her mother Masha, her baby daughter Pasha and our co-collaborator and translator, Sasha Dugdale (pictured below in Ottynia with resident). It is my first visit to Ukraine and we are eating delicious Ukrainian food that Masha has prepared. Sasha and I are just about to get on an overnight train to Chernivtsi in the west of Ukraine. We are making our way to Kolomyia, the town where my grandparents lived, and Ottynia the village nearby where my father was born. Natal'ya couldn't join us for this part of the trip but the three of us had been cooking up projects together since 2004 when we met Natal'ya as part of the Royal Court's ongoing workshop with Russian language writers as part of the Lubimovka New Writing Festival in Moscow.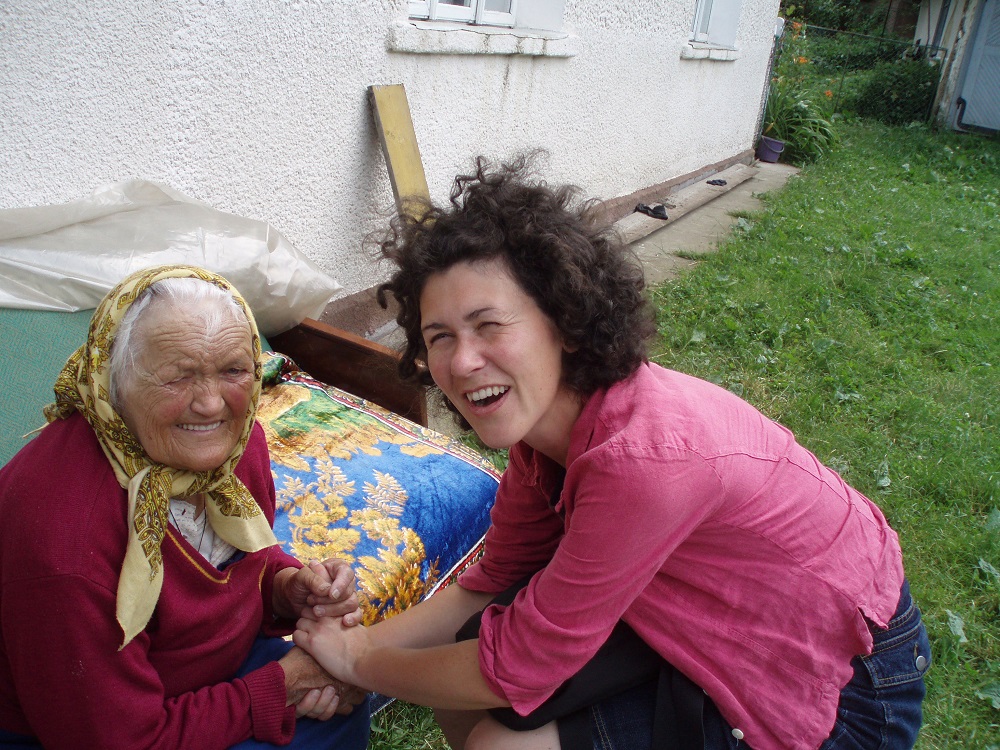 On the bus from Chernivtsi the driver informed us that he was from Kolomyia. I explained my own connection to the town and he said, "You come from there!" and I replied with the sudden realisation, "Yes I do," having never thought of that before. I first met Natal'ya in Moscow where she had studied theatre but as soon as the Orange Revolution started in 2004/5 she returned to Kiev and began to work with incredible energy to create a new writing theatre scene. We invited Natal'ya to the Royal Court's international residency in 2005 where she worked on her remarkable play Demons, a local story of the village where her family originated. In 2007 we presented her short play The Khomenko Family Chronicles about Chernobyl. In 2008-2010 the Court's then artistic director Dominic Cooke and I worked with her on a new play for the RSC's Russian season, The Grain Store, about the Ukrainian famine of the 1930s.
By the time I returned to Ukraine in February 2011, to do a research visit for a longterm project with young Ukrainian writers, Natal'ya was one of the leading writers in the country and led a seminar in a local bookshop to persuade other young playwrights to join in with the Royal Court project. This official visit received a great deal of publicity. The local media repeatedly asked me, "We understand your father was born in Ukraine? Does he speak Ukrainian?" I had to explain that when my father was born in 1913 Ukraine did not exist and he only knew that he was born in a town called Ottynia in Austria-Hungary. But this was rarely heard and I was welcomed home with pride and warmth.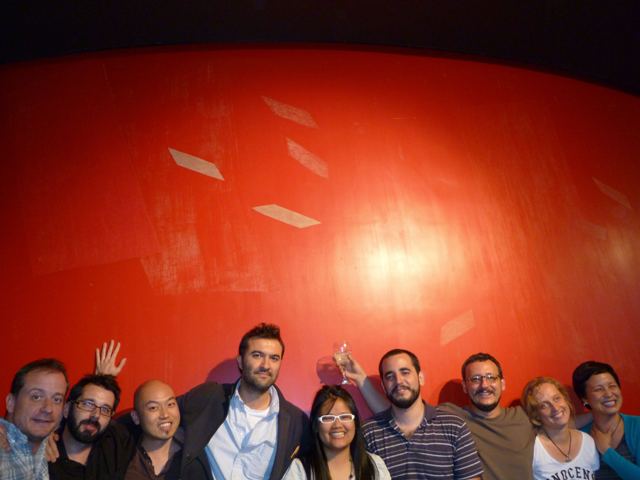 This visit to Ukraine, which started a beautiful project with writers from all parts of the country, also had an added poignancy. There was a brilliant writer from Odessa, Anna Yablonskaya (pictured, second from right, at the Royal Court). Recommended by Natal'ya, she came to the Royal Court in 2010 to work on her play Scenes from Family Life and by the end of that year we also started to work with her on Pagans, which she had written originally as a film script. Anna was among the 35 people killed in a bomb attack on Moscow's Domodedovo Airport only a month earlier on 24 January 2011. She had just arrived in Moscow to collect a film award. There are no words for the grief and horror we all felt about her senseless and untimely death. I was supposed to visit Anna in Odessa as part of this research visit to Ukraine and this now became a pilgrimage with British Council Arts Manager Anna Bubnova as we arrived in this mythical city in the snow to meet her husband Artyom and share our memories of her. We visited local theatres to talk about her work, but as Anna used to say, literary managers in Odessa would "cross themselves at the mention of new writing", and it was difficult to get a commitment for the new project. We presented a reading of Pagans as part of our International Season a few months later at the Royal Court. Anna's hero was Tom Stoppard and he attended the reading and paid tribute to her.
By the summer of 2011 the Ukrainian project was well underway. We decided to do a joint programme with six writers from Ukraine and six from Georgia and the second phase of the project took place in Lviv only a few hours away from Kolymyia in December of that memorable year. Natal'ya travelled to Lviv to spend time with the writers and talk about several new plays. By 2013, after working together on these new ideas, the revolution took place in Maidan and Natal'ya was out there with the people on the square every day. This became her next play, Maidan: Voices from the Uprising, a verbatim piece directed by current artistic director Vicky Featherstone in the Jerwood Theatre Upstairs in May 2014. When the conflict between Russia and Ukraine began to escalate in the Donbass later that year, you could be certain that Natal'ya would get involved and that this would become her next project. Based on the extraordinary stories she heard from people of all ages and backgrounds on both sides of the divide, Bad Roads began to have a life. In December 2016 Natal'ya spent several weeks camping out in the meeting room of the Royal Court completing her draft of Bad Roads. It was not an overnight idea but the culmination of many years of thinking and dreaming about a place that has become very important in the history of our international work. Natal'ya worked in the same room, overlooking the skyline of central London, that Guillermo Calderón sat in 2011 when he began his work on B.
THE B ROAD
2011 was definitely the year of international research visits. Prior to the visit to Kiev and Odessa I visited Santiago in Chile for the first time. I was invited by the Santiago a Mil Festival and the British Council to meet writers and see if there was a viable longterm project there. We had already worked with Alejandro Moreno in 2006 and with Guillermo Calderón in 2009 and they both urged me to explore the possibility of working with a younger generation of playwrights. I had the opportunity of seeing a wide range of new Chilean work through the festival and met many potential partners. I was intrigued that so much of the work I saw had such strong political themes that were largely concerned with the dictatorship and Chile's past like Alejandro Moreno's La Amante Fascista (The Fascist Lover), a monologue about an army wife who is in love with a dictator. I also saw Guillermo's production of his two plays Villa and Discurso (the latter developed on our international residency in 2009) and it was thrilling to see the company of three actresses perform both plays at a venue (Londres 38) which was a detention and torture centre during the military dictatorship. (Pictured below: Guillermo Calderón, second from right, with writers from the international residency)
I felt inspired by a continuous conversation I was having with Guillermo about the political arguments in his work and invited him back to London to develop a new play with us. I was in my penultimate day in Santiago and I thought I would just spend some hours walking the streets of Lastarria, near my hotel, and pick up some presents. As I wandered through the charming streets, my phone continued to ring and I could see it was the stage door at the Royal Court. I thought this was strange as it would have been rather late in London. I finally answered and the stage door keeper said he had a reporter from Newsweek on the phone. They had heard that Anna Yablonskaya had spent time at the Royal Court working with us and they wanted to speak to me about the fact that she was one of the victims of the bombing that had just taken place in a Moscow Airport. He left me a number to ring but I had to ring all our mutual contacts first. When Sasha Dugdale phoned me back to say that this was indeed true I only remember stopping off in a small park, in a complete daze, and realising that I needed to speak to someone I knew.
I contacted Guillermo. He came to see me at my hotel and we talked endlessly about Anna and the act of violence that took her life so suddenly and so randomly. Guillermo had never met Anna; she came to the residency at the Royal Court a year after him. But he has spoken to me recently about the effect she has had on him over the years since her death. Guillermo arrived in London to work on a new play which became B just a few months after Anna's death. It is about a group of anarchists from two generations in Chile trying to make sense of the country's past. This would take place thousands of miles from Domodedovo Airport and from Ukraine. But I cannot help feeling that the tragic news we shared that hot January day in Santiago is somehow related to the preoccupations of Guillermo's latest work B.
THE ROAD FROM DAMASCUS
In April 2007, just as we were planning an international season at the Royal Court that would present Natal'ya Vorozhbit's short play about Chernobyl, we embarked on our first ever regional project in the Arab world, perhaps the most ambitious and far-reaching project we had ever done. This was my first visit to Damascus, and I worked with 21 writers from seven countries in a magnificent ancient Damascene house in the old city. It is difficult to describe how moving this was to come face to face with such inspiring writers. It was challenging from the beginning and some of the writers were both tentative and doubtful. The only way we could change that was through the work itself which over two years produced some remarkable plays which, in the words of Laila Hourani, regional coordinator of the project, continued to ask the question, "What exactly are we waiting for?"
Working in Damascus was a unique experience. David Greig (pictured) did an exercise we do all over the world in which we look at where we are now and where previous generations of our family have come from. He also asked us to think about a place in the world where we wanted to be in the future by moving to different parts of the courtyard. Here it was a question of moving around the fountain or up an ornate staircase. April De Angelis led a session about "the world of a play" and sent small groups out to explore the old city and discover particular aspects of some very small worlds inside of it. I have a vivid memory of one piece of research done by the young Syrian writer Mohammad Al Attar as he described his visit to a small glass-blowing workshop. We were so engaged by the stories he told of the workers there and the beautiful glass objects that we ventured out with him to see this for ourselves. After being offered cups of tea and several presents we were totally enchanted by the world of Mohammad's glass blowers. In 2017, I wonder where they are now. Most of the Syrian writers we have worked with are out of Syria. They are still writing plays that are asking very different questions. (Pictured below: Damascus workshop, 2007)
All this work took place before the spring of 2011. There were many outcomes across the Arab world; productions in all of the seven countries, a volume of plays published in English and Arabic, and seven of the plays presented in translation in the Jerwood Theatre Upstairs and also at the Segal Center in New York. The publications created possibilities for more productions of the plays across Europe and the young voices were much in demand. Many of the writers later became actively involved in political movements within their own countries and many of their lives have been changed dramatically.
It is in this context that we began our next new writing project with playwrights from Lebanon and Syria in Beirut in 2014. This work also engaged the playwrights David Greig and Sam Holcroft and this new group contained seven writers living in Lebanon and seven Syrian writers from either inside Syria or in exile. One of those writers was Liwaa Yazji, a poet, filmmaker and playwright who had an incredible idea for a new play. Goats is based on a real story of a small town in Syria where grieving families are rewarded with a goat in place of their dead sons. We worked with Liwaa in Beirut from 2014-15. She came to London in March 2016 for a staged reading of her work-in-progress and after further work in Berlin, London and Beirut we are making the final preparations for rehearsal of this remarkable play that is very much a story told from the inside.
Looking back it is easy to see so many connections: While young people were out in the squares in the Arab world, they were also at Maidan in Ukraine. Liwaa and Natal'ya, two very different playwrights from different parts of the world, began urgent new plays to tell us about our world in these times. It was also at this time that Guillermo decided to write a play that wasn't set in Chile and didn't deal with the long shadow of the Pinochet regime. As a complete outsider, he was determined to find a way to explore the civil war in Syria and how theatre might reach out across cultures in an earnest and genuine way but at the same time fails at doing it. His play Kiss was presented at the Düsseldorfer Schauspielhaus also in 2014.
Mohammad Al Attar and Liwaa Yazji are now living in Berlin. They both attended Guillermo's most recent play Mateluna at the HAU in Berlin, a play that looks at the recent imprisonment of a former activist against the Pinochet regime. Guillermo also saw a reading of Natal'ya's Bad Roads at the Edinburgh International Festival this summer and said he was determined to one day direct the play himself because it spoke to him so deeply. I can only conclude that in these dark times we need these three plays from Chile, Ukraine and Syria more than ever and we need to understand their own specific sense of place and their connections to each other.
The Palestinian national poet, Mahmoud Darwish, wrote the poem "I Come From There" about dispossession and exile. This was the title we gave to the week of plays we presented from the Arab World in 2008 - the plays that started in the Damascene courtyard. These are the same words that the Ukrainian bus driver said to me on the way to Kolomyia that same year. It is something that all three plays have in common; it is something that we all have in common. "I come from there and I remember…."
Goats is based on a real story of a small town in Syria where grieving families are rewarded with a goat in place of their dead sons
Share this article