Interview: Actor James Purefoy |

reviews, news & interviews
Interview: Actor James Purefoy
Interview: Actor James Purefoy
The star of stage and screen explains why actors shouldn't talk about acting
A disproportionate number of column inches seem to have been devoted to James Purefoy's matinee-idol looks, his ability to carry off a pair of breeches and the amount of time he appears on television naked. However, while he has admittedly spent much of his career swaggering around in period costume - Vanity Fair with Reese Witherspoon, Mark Antony in HBO's Rome, the recently released Ironclad - he has also played, among many other things, a psychopathic rapist, a stalker and the fraudster Darius Guppy.
I met him earlier this week to discuss his return to theatre in Flare Path by Terence Rattigan, directed by Trevor Nunn. The play is set in a hotel near an airbase on the Lincolnshire coast where a young airman, Teddy, has been briefly reunited with his actress wife Patricia (Sienna Miller). Events take an unexpected turn when Patricia's ex-lover Peter, a Hollywood film star played by Purefoy, arrives at the hotel and Teddy is obliged to disappear on an urgent bombing mission.
"So Patricia and Peter's romance kicks off again", explains Purefoy, "and they're good together. (Pictured right: Purefoy and Sienna Miller. Photo by Johan Persson.) They work well together and they're slightly bitchy, like actors can be, and they realise that they really ought to be together."
It's a canny choice of play in Rattigan's centenary year as not only has Flare Path not been performed in the West End since 1942, but it is semi-autobiographical. Rattigan was in the RAF, a rear gunner in a Wellington Bomber, and he actually wrote the play in the turret between bombing raids. One night his aircraft was hit and the crew were forced to chuck out absolutely everything that wasn't necessary – all fixtures and fittings – to lighten the plane, but Rattigan ripped out the pages of the play from its hardbacked notebook and stuffed them in his pocket. "So he really knew what it was like to be in one of those flying coffins and think that you might die at any minute," says Purefoy.
This is the second time Purefoy has worked with Nunn – the first was the National Theatre's production of The Relapse by Vanbrugh in 2001 and he is fulsome in his praise of the director. "The reason he's so successful is that he's just fucking brilliant," he says earnestly. "His direction is extremely detailed – you put your teacup down on exactly the same word in the same line every time. Plays are like chains and sometimes, usually with younger directors, the links are quite clunky whereas with the best directors, the play is like a filigree silver chain where the links aren't apparent, they just seem to happen effortlessly, and that is what Trevor is especially able to do." He stops suddenly and groans. "God, I hope he never reads this. Actors really shouldn't talk about acting, they should just do it."

"Actually, Rattigan is brilliant at writing about actors. When you're an actor you're constantly walking this tightrope of being lauded one minute and completely humiliated the next. Peter is enormously famous but the woman who runs the hotel has never heard of him so everybody is giggling and very excited that he's there, but she doesn't have a clue who he is. It's a sort of gentle pie in the face and that happens to actors all the time."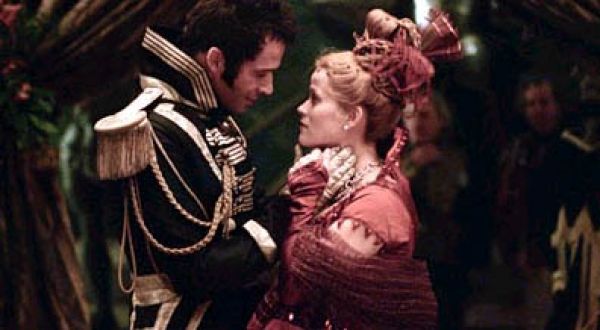 Purefoy's entry into the profession can - like so many others before him - be broadly attributed to being at the right place at the right time, and hormones. He was brought up in Somerset and although he is clearly neither stupid nor lazy he somehow managed to leave his expensive public school – Sherborne - with just one O level, which is something of an achievement in itself. "I know," he grimaces. "God knows what my parents thought. I have a kid of my own now and the thought of him leaving school with just one O level is horrendous. But I just wasn't motivated in the slightest, except in English literature and that was only because the teacher told me that out of all my O levels, that was the one I'd never get - so of course I rose to the challenge." (Pictured above: Purefoy with Reese Witherspoon in Vanity Fair.)

Purefoy's mother ran an employment agency, so she was in a particularly strong position to point out to her son that to embark on a future without qualifications might not be the wisest course of action. So Purefoy got a job as a hospital porter and studied for retakes at evening classes, eventually racking up an impressive eight As and three Bs. He was about to enrol on a course to qualify as an operating theatre assistant when his father suggested he went to live with him – Purefoy's parents divorced when he was very young – and study for A Levels at the local technical college.

"It was the beginning of the Eighties and Saatchi and Saatchi was very much in the ascendancy at the time and I thought I might like to go into advertising so I took English with Media and Communication Studies, which is much maligned these days, although I don't really understand why – I would have thought it's very useful if you want to work in that world. Anyway, I needed a third subject but I was hard pressed to find something I was interested in until wandering around the college one day, I came across a long hut with a corrugated iron roof, right on the edge of the campus. It was the drama studio and when I looked through the window I could see something like 15 girls and six boys and as at least two or three of the boys looked as if they might be gay, I decided that that would be a pretty good place to be. So that's how I started acting. I know, I know – it's really shallow but that's the truth I'm afraid."
It was very cold and my todger was shrunk to the size of a bloody raisin

Shallow or not, Purefoy quickly became very serious about acting and, encouraged by his teacher, applied to go to the Central School of Drama, who told him to go away and get some more experience. Undaunted, he scanned the small ads in the back of The Stage and got a job playing Alan Strang in a touring production of Peter Shaffer's Equus – which meant that he was naked for his first appearance on a professional stage. As he hadn't even been to drama school at that point, it must have been something of a baptism of fire.

"Yup. Completely." He nods vigorously. "Mainly because it was very cold and my todger was shrunk to the size of a bloody raisin – I mean, come on, I was 18 and extremely vain." Fortunately his dedication was justly rewarded with a place at Central which he left at the beginning of the third year to join the Royal Shakespeare Company, initially to play Donalbain in Macbeth, directed by Nicholas Hytner, which, I suggest to Purefoy, must have been incredibly validating to someone who had only decided to be an actor a couple of years previously.

"It was - although I was very pragmatic about my career, right from the start. When I was at Central I'd already decided that if I didn't get a decent job within a year of leaving I'd do something else because, although I loved acting, I didn't want to waste my life hoping against hope.

"It's quite strange [the RSC] because in those days everybody was in Stratford and if you're a spear carrier, you're sitting around doing bugger all and people can get quite bitter about it, but I was constantly putting myself forward for understudy work. Donalbain is a tiny part but I thought it would be a good idea to understudy Malcolm because one day I might play Malcolm in my own right as it were, so I saw it as an opportunity to do it on a big stage with experienced actors who knew what they were doing – and even if you never went on, at least you'd had the chance to work on the text and the verse."
Generally speaking, people like to reduce me down to randy Mark Antony
He then, by his own admission, lucked out – like most actors who are successful and honest, he constantly refers to his luck - and was cast as Edgar in King Lear, directed by the legendary voice coach Cicely Berry. "If you spend two years working intensely with Cicely Berry, as I did, you get a pretty profound understanding of how to do Shakespeare, how to speak verse. So for me, the RSC was an incredible learning process - it was my university, quite honestly."

James Purefoy plays Mark Antony's fall in Rome
Since leaving the RSC he has worked consistently but, considering his range of work, is far more diverse than he is generally given credit for. Doesn't he get tired of being constantly referred to as the regency buck, the swashbuckler, the cad and the bounder- and by his nickname James Puresex - when there is so much more to his career?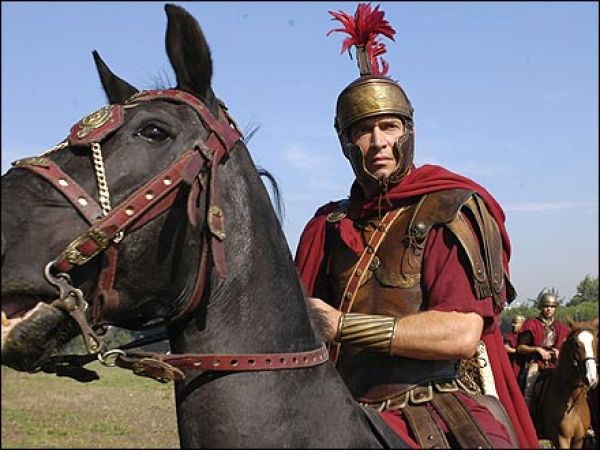 "It is a lot more varied than the press would have you believe but I think it's just laziness on the behalf of journalists – newspapers like to reduce you down to something that is bite-sized and easy to understand and there's fuck all you can do about it. And now, generally speaking, people like to reduce me down to randy Mark Antony. (Pictured right: Purefoy as Mark Antony in Rome.) It's so tiresome, but it's the culture we live in, I'm afraid."

He is also wary of LA. "God, you have to be hard if you're striking out in LA because it's not the same as it is here – you don't get the same level of collaboration or respect. There are so many people desperate to work - if you're up for a part over here you'll learn your lines and sort of shuffle along but over there, if you go along for a meeting to play a doctor in ER for instance, you'll turn up and there'll be nine other people waiting to be seen, wearing operating greens with white coats and beepers, which I think is completely alarming. Does everyone else have a wardrobe with a police chief's uniform and a fireman's uniform and the rest of it? I find it quite bizarre."
His jaded attitude to LA might be partly due to his disappointment that The Philanthropist, a series about the American philanthropist Bob Sager, was dropped after the first series. "The Philanthropist was the most socially liberal series to be on American television and I am terribly proud of it. It showed people that you don't need to donate money to become part of the philanthropic moment; it's all about what Bob Sager calls 'taking baby steps' and doing things for other people. It came along hot on the heels of Obama being elected and became known as the 'Obama drama'."
Watch clips from The Philanthropist
"But American television is so weird. We used to put so much time and effort into the end of each episode of The Philanthropist and then I saw a tape of the show as it actually went out and during the last five minutes the show only takes up about two-thirds of the screen because there's a ticker tape running at the bottom telling you what's on next and adverts running down the side. I can't believe that we put so much love and effort into the emotional denouement of the show and then the commercial aspect takes over and drowns it out."

Not only can he currently be seen on stage and screen (in the aforementioned Ironclad), he will shortly be appearing in Injustice, the forthcoming thriller penned by Anthony Horowitz for ITV1. He is also interested in directing – last year he quietly slipped off and directed a group of second-year students from his old drama school in King Lear and hopes to build on this experience by directing something in the West End.

Not surprisingly, Purefoy seems pretty content with his lot. He has expressed regret in the past that it is unlikely he will ever work with the likes of Mike Leigh or Ken Loach, directors whose work he much admires, but I wouldn't rule it out. Good-looking, middle-class men do exist in the real world – and some of them are jolly good actors.
Watch the trailer for Ironclad
Share this article