IOU Rear View, Brighton Festival review - imaginative odyssey around town |

reviews, news & interviews
IOU Rear View, Brighton Festival review - imaginative odyssey around town
IOU Rear View, Brighton Festival review - imaginative odyssey around town
Mind-massaging travelogue of theatre, poetry and site-specific visual experience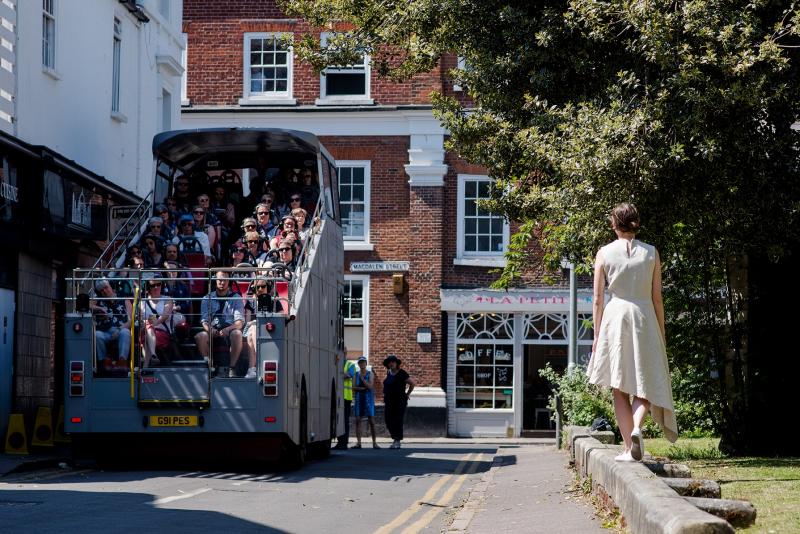 Taking open top buses to the next level
Yorkshire theatre company IOU have a tool in their armoury that most of their peers do not. It's an open-topped bus with tiered seating, as pictured above, built in Halifax and the only one of its type, replete with headphone sets for every seat. It is at the heart of Rear View, their show which takes to the streets of Brighton and puts the participant right at the blurred connecting point between art and reality. It's a unique experience.
Rear View starts at a barge venue in Brighton Marina. The Marina is a gaudy, ugly place of clunky, mismatched modern buildings and tacky, American-style restaurants and bars. It 100% confirms the prejudices of anyone who thinks money can't buy taste. Today, however, this large, Dutch houseboat-style barge is a funny little oasis of artiness amidst the plastic, high money tat. Our group, is herded into a life-drawing class, which gradually, via means it would be spoilsport-ish to reveal, leads to the main event.
Aboard the bus, we strap in and put on our headphones, which play a soundtrack of ambient piano seguing into chilled, occasionally spooked electronica. The form the event takes is a 40 drive around west Brighton, stopping every now and then so that the show's solo performer, playing a 65 year old woman looking back on her life in poetically wrought stanzas, pops up somewhere on the roadside and talks directly to our headsets. At one point she continues narrating as she's driven along behind us in a blue Fiat. Mostly, though, she finishes then disappears. The mind cannot help but wonder at the logistics of whipping her around ahead of us so efficiently.
The show is co-written by Jemima Foxtrot and Cecilia Knapp who take turns giving the performances. It is the turn of Foxtrot when theartsdesk attends. Clad in a plain burlap-style cotton dress, she has a precise northern enunciation, a touch of the child about her voice which suits the story she weaves. It's impressionist prose-poetry that touches on a tattoo, a song, a lost love, letters and events of long ago, emanating nostalgia and wistfulness.
In itself, in a small venue, it might pall quickly, but the way it blends with everything going on around, as Foxtrot stands at a bus shelter, in a café and so on, brings it to life. At one point she delivers a monologue right next to a very active motorbike workshop with amused geezers looking on, occasionally revving their machines very loudly (possibly on purpose!), drinking tea and chatting in the lush afternoon sun. The din adds to what Foxtrot is doing, as it's supposed to, making the viewer genuinely start thinking about the nature of the planned experience versus the random in art, bringing to mind the ideas of Tristan Tzara, John Cage and other restless creatives who've pondered the matter.
Greater than the performed show itself is the experience of moving around, backwards, the world receding before our eyes all the time, cut off from the noise around in our soundtrack bubble (background sound is only audible during the acted sequences). The busy bank holiday streets are filled with people pointing at us, seated in rows in our bulky headphones. They wave. They take camera photos. We are on view. We are part of the experience. It is a flash of narcissism, there we are and then gone, a happening, with the lovely weather only adding to it all somehow.
Everything the eye takes in, with that soundtrack playing and the constant movement, becomes akin to a dream sequence in a film. It really does. That, for me, is the best bit about IOU Rear View. It's a trip, in the best sense, and one well worth taking.
Overleaf: Watch the trailer for IOU Rear View
It becomes akin to a dream sequence in a film
rating
Share this article