Julius Caesar, RSC, Barbican review - Roman bromance plays straight |

reviews, news & interviews
Julius Caesar, RSC, Barbican review - Roman bromance plays straight
Julius Caesar, RSC, Barbican review - Roman bromance plays straight
Angus Jackson's traditional staging opens the the Rome MMXVII season
Thursday, 14 December 2017
Et tu? Andrew Woodall as Julius Caesar on Robert Innes Hopkins's set
Even more than some of Shakespeare's other histories, Julius Caesar inevitably offers itself to "topical interpretation", a Rorschach test of a play which directors short of an original idea can extrapolate to project their own political aperçus upon.
Over the last century, Ancient Rome's most famous autocrat has been endlessly re-spun as a leery dictator of the modern totalitarian variety.
Angus Jackson (overall director of the RSC's Rome MMXVII season now at the Barbican), has wisely chosen to eschew such modish nonsense and concentrate instead on clarity, drawing out of the text itself all the clues necessary for understanding Shakespeare's intentions, rather than overlaying them with his own.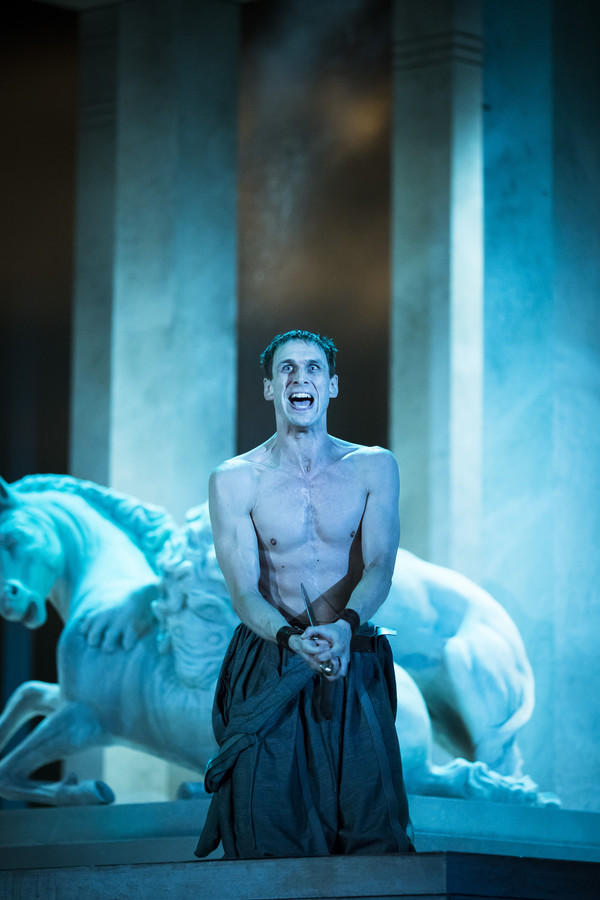 Some have already criticised Jackson's production as being expository and didactic, as if conceived for schools and coach trips, but the fast pacing and unadorned delivery is refreshing. Indeed, with a youngish cast, there is plenty of boisterous energy, much of it well harnessed in the crowd scenes and battle skirmishes, credibly choreographed by movement director Scott Ambler.
There is even more testosterone sloshing around in the scenes of Lupercalian merrymaking around the Roman Forum in the first half, which despite the blokeish air-punching fists and foaming football chanting of Caesar's name (more Millwall than Chelsea), one cannot escape the memory of Sid James and the Carry On team in certain moments of cod theatrics.
There are strong performances by Martin Hutson as the highly-strung ideological purist Cassius (pictured above right), Tom McCall as the laddish Casca, and above all Alex Waldmann who, possessing a somewhat nerdy countenance as a hesitant Brutus, well conveys the torn loyalties between his love for Caesar and his even greater attachment to the values of the Republic.
Despite his commanding stature, and mature appearance (the rest of the cast is much younger), Andrew Woodall's Caesar is the weakest presence. He appears onstage looking pale and enfeebled, presumably by his gruelling campaigns, and even when haranguing and exhorting those followers who come apparently to ingratiate themselves with him, he is more a spent force than a forceful presence. This is clearly Jackson's intention. It is Woodall's wraith-like face which emblazons the posters and programme, more of a death mask than a portrait: when he appears to the tormented Brutus as a ghost after his murder, his Caesar looks hardly altered at all.
Shakespeare was writing for an audience which still conserved a late-Medieval sensitivity to the symbols of pre-Reformation Catholicism. The evocative references to Caesar's wounds and blood, and then his life-like reappearances after death, are explicitly highlighted by Jackson.
It is the scheming, duplicitous Mark Antony of the bearded James Corrigan who really defines this production. (The Romans didn't "do beards" until the Emperor Hadrian revived them early in the second century). What is lacking in nuance in Corrigan's performance is more than compensated by his boundless self-confident energy. Forget Caesar-as-Trump, it is surely Emmanuel Macron who is the Mark Antony de nos jours.
Jackson's reading is equally commendable for concentrating on the keen sense of kinship and loyalty, the deep manly bonds of affection and loyalty forged over years of harsh military service. No homoerotic clichés here: these are blokes, living in a blokeish world. It's one long bromance, although not overstated.
The largely operatic influences of designer Robert Innes Hopkins are clearly visible in the pared-down sets, almost provocative in the way they present a conventional view of Ancient Rome, all marble colonnades, pillars and statues. The colour palette of the costumes and the backlit stage lighting is deliberately reduced, and based on Rome's traditional colours of red and ochre yellow. Mira Calix's restrained but urgent music, played live by a small brass ensemble, complements and punctuates the mostly frenetic action on stage.
with a youngish cast, there is plenty of boisterous energy
rating
Explore topics
Share this article