Kes, Leeds Playhouse review - seminal Yorkshire story soars |

reviews, news & interviews
Kes, Leeds Playhouse review - seminal Yorkshire story soars
Kes, Leeds Playhouse review - seminal Yorkshire story soars
Stripped-down staging of Barry Hines' iconic novella
Wednesday, 30 January 2019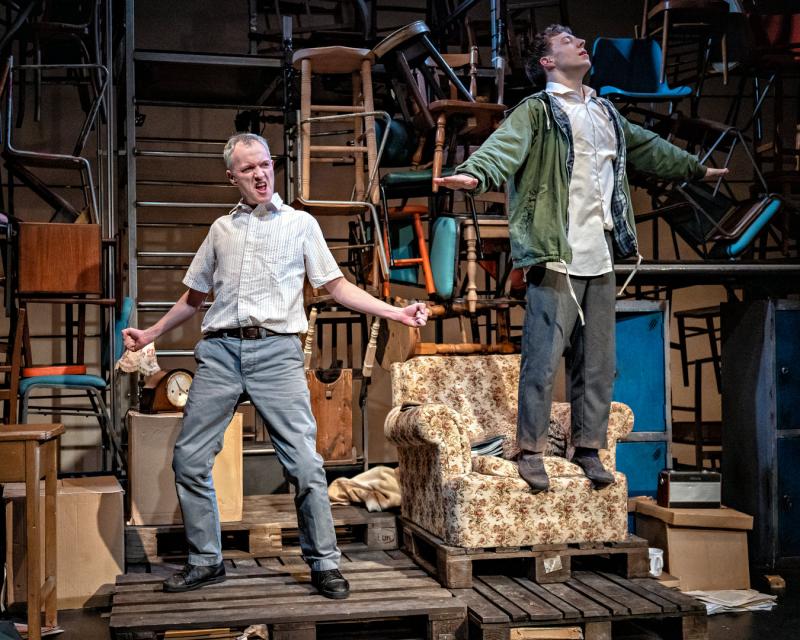 Birdmen: Jack Lord and Lucas Button in 'Kes'
Robert Alan Evans' adaptation of Kes is a dark, expressionist reworking of Barry Hines' novella. It pays lip service to Ken Loach's iconic film version, and most of the memorable bits are present and correct here: the wince-inducing rant from head teacher Mr Gryce is a highlight, as is the PE teacher's sadistic insistence that poor Billy has to take a shower. Evans distils the book into just 70 minutes without diluting its anger, the original's dense narrative reshaped into a series of tiny scenes. Hines' Barnsley-set story focuses on 15-year-old Billy Caspar, a misfit destined to follow his father and brother into the pit. Billy's chance adoption of a kestrel chick leads him to gaze, literally, up instead of down, giving his life a transitory sense of purpose.
Kes's downbeat dénouement is signalled early on, Billy's decision to buy fish and chips instead of placing a bet for his brother leading to bitter revenge. Hines began his career as a secondary teacher and presumably knew from experience how to engage the most recalcitrant of students; there's a touching moment when a sympathetic English master encourages Billy to talk to the class about his new-found passion. For once he's able to stand up straight and speak clearly about something he loves. It can't last, of course; most of the other adults are bent on grinding Billy down.
The Leeds Playhouse is currently being refurbished, so this no-frills, two-handed Kes, confidently revived by Martin Leonard, is staged in a converted scenery dock. It's an austere but cosy space. Lucas Button's twitchy, fidgety Billy remains himself throughout, leaving Jack Lord to hoover up the entire supporting cast, including the hero's reflective older self. This is entirely to the piece's advantage, the frenetic shifts in tone and pace reflecting Billy's scattergun attention span. Presumably he'd be prescribed Ritalin today. Lord's chameleon-like ability to inhabit the tiniest of bit parts is spectacular; he's great as a curmudgeonly newsagent and chilling as thuggish older brother Jud. There's a welcome moment of light relief when Lord channels his inner Les Dawson to impersonate Billy's downtrodden single mother, and the biggest laugh comes as he impersonates the brutal Mr Sugden (above right), a man "born wi'a tracksuit on."
Max Johns' set is striking, a dizzying wall of chairs enclosing props and furniture which sum up late 1960s decrepitude, and John Biddle's sound design uses fragments of music, racing commentaries and bird song to convey a strong sense of place. Lucy Cullingford's movement direction is superb. Wisely, Billy's kestrel is never shown. There's no need. Button and Lord behave as if they can see the bird swoop and soar, and we believe them. Fifty years on, Kes is as relevant as it ever was.
Kes at the Leeds Playhouse until 16 February