The Man Who Pays the Piper, Orange Tree Theatre |

reviews, news & interviews
The Man Who Pays the Piper, Orange Tree Theatre
The Man Who Pays the Piper, Orange Tree Theatre
Spirited revival of GB Stern's early feminist play tackles the curse of making money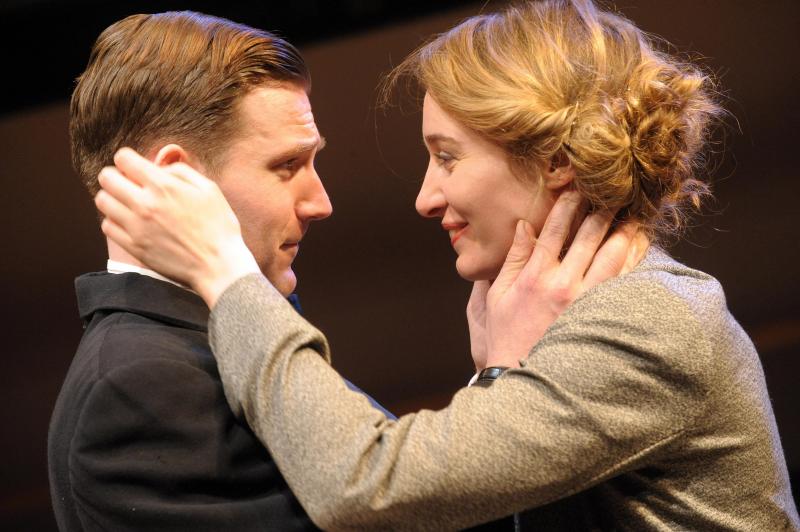 A marriage of unequals: Simon Harrison as Rufus and Deirdre Mullins as Daryll
Staged in 1931, The Man Who Pays the Piper appealed to women who had gone to work (and become the master of the house) while men were fighting in the First World War, but were subjugated once they returned. The protagonist, Daryll, starts work during this time and gets hooked on the money, the independence and the buzz of her job at a fashion house. She enjoys being able to keep her siblings and kindly but inept mother in luxury.
But when her father is killed, she realises she could be funding her family indefinitely. This is not what she wants.
The strength of GB Stern's rarely seen play lies in her complex lead. Daryll is conflicted by a desire for independence and a desire to be looked after. She likes the power money brings so that she can buy gifts, but hates its potential as a weapon to get her relatives to behave. When Daryll finally marries and gives up her job, she is bored. But when the reverse situation is proposed, she despises the idea of a domesticated husband.
Stern's prolific novel-writing (she wrote a book a year from the age of 20) might explain why this drama conforms more to page than stage conventions. By focusing on the psychology of the characters, the play lacks drive. The narrative is held together by Daryll's growing realisation that economic power changes relationships, and while there are points of light dramatic tension, there are few moments of real intensity. If this were Ibsen or Chekhov, at least one character would threaten suicide at the mere thought of their allowance being withdrawn. Here, they sniff a bit.
There are, however, some deeply funny moments, with standout performances by Stuart Fox (pictured above right) as Daryll's impoverished stepfather, Benedictus, and Jennifer Higham as Daryll's nervous middle sister Penelope. Deirdre Mullins also gives Daryll depth. Much of the comedy comes from the family's attitude to Daryll as head of the household. They are so scared about what she will think of her mother (Julia Watson, pictured above right) marrying a layabout musician that the pair have the ceremony in secret. One running joke is that "Benny" must try to impress Daryll by saying he plays the double bass.
Stern conjures up a microcosm of society's attitudes towards the changing role of women. Anthea, the eldest daughter, is married and sensible; Daryll is headstrong; Penelope is subservient; and Fay is carefree. The siblings resemble the March children of Louisa May Alcott's Little Women (Meg, Jo, Beth and Amy). Stern was a contributing writer on the 1933 film.
Imaginative directing by Helen Leblique gives this play an expansive feel and a sense of involvement. Action – from one of Fay's gatherings to Benny's double bass getting stuck in the doorway – often happens off stage, making the entire theatre seem like the family's house. Sam Dowson's elaborate designs and the flapper costumes are also worth a mention.
Stern's play has much to say to modern audiences about how money changes the dynamics of relationships. This is an entertaining revival.
If this were Chekhov, at least one character would threaten suicide. Here, they sniff a bit
rating
Explore topics
Share this article