Mary, Hampstead Theatre review - compelling study of power politics |

reviews, news & interviews
Mary, Hampstead Theatre review - compelling study of power politics
Mary, Hampstead Theatre review - compelling study of power politics
New play about the Queen of Scots is a bit wordy, but well worth it
Wednesday, 02 November 2022
Brooding presence: Douglas Henshall in 'Mary'
Scottish playwright Rona Munro is both prolific and ambitious. After her trilogy of historical dramas, The James Plays, was staged in 2016, she continues to work on her cycle of seven works, covering the years from 1406 to 1625, which are designed to give today's Scotland a contemporary equivalent of Shakespeare's medieval history cycle.
Her latest, Mary, opens at the Hampstead Theatre because this venue is run by her long-time collaborator, director Roxana Silbert. So who is it about, and how relevant is the play to a general audience?
The title refers to Mary Stuart, Queen of Scots, who became queen six days after her birth in 1542 and was executed by her cousin Elizabeth I of England in 1587. In a tumultuous reign, wedged between two king Jameses, she lived through one childhood marriage to the French dauphin, another marriage to her cousin Lord Darnley, the brutal murder of her favourite Riccio, and another marriage to the Earl of Bothwell. She was then forced to abdicate and fled to England. Phew.
To her credit, Munro focuses her 90-minute drama on a short timespan which culminates in Mary's abdication in 1567. She also concentrates the drama on one character, James Melville, who had once been Mary's page in France and is now a diplomat and courtier. In the aftermath of the murder of Darnley, whose house was blown up, Melville is struggling to protect her because she is suspected of complicity in the assassination. When the play begins, he is trying to persuade Thompson, a young servant, to help Mary escape from Holyrood Palace. But another servant, Agnes, is blocking him.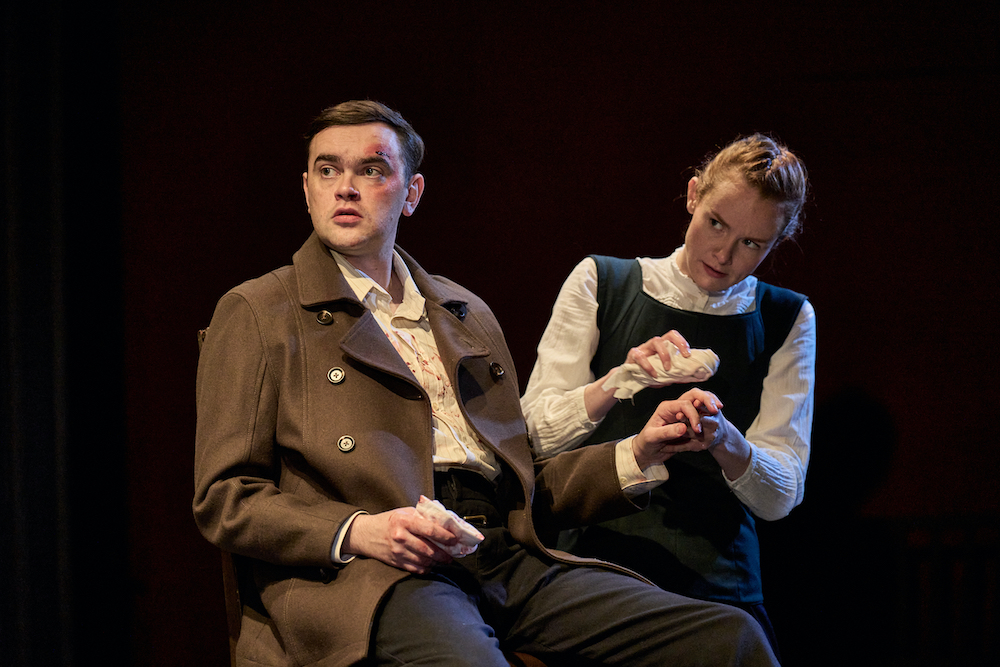 The question is not only Mary's complicity in Darnley's murder, but also her religion. As a militant Protestant, Agnes is suspicious of Mary's Catholic faith, while Thompson is more opportunistic, trying to gauge Bothwell's next move: will he abduct the Queen, or will she turn to him for protection against the Protestant lords? In the event, Melville fails to save Mary from Bothwell's clutches and, in an original twist to the story, he ends up in Thompson's power. The young man has been commissioned by the powerful Earl of Moray, Mary's half-brother, to get Melville's signature to the Queen's abdication.
It's a classic ethical conundrum: Melville has served Mary for decades, and he believes that she is not a scheming lustful witch, as the Protestants characterise her, but the victim of the vicious power politics of Renaissance Scotland. He also thinks that she has not only been abducted, but also raped. This revelation heightens the drama of his interrogation and poses new choice for Thompson and especially for Agnes. Can Agnes sympathise with Mary as a woman, or will she always be against her because of her religion? And which way will Melville lean?
By putting on stage just one historical character, Melville, and two fictional interlocutors – Thompson and Agnes – Munro concentrates the drama, and creates a psychological and political thriller which pulses with excitement. But it demands concentration. At every point, the argument can go either way, and the history is unfamiliar enough to keep you guessing. The usual conflict between Mary and Elizabeth is barely mentioned and instead we have the ferocious court intrigues of the Stuart throne and the febrile religious fanaticism of the Scottish Reformation.
However distant, or obscure, these events have a resonance today, whether it is the characterisation of money as the only faith, or the discussions about truth and principles. The need for political stability, and the failure of leaders, resonates more in London today than in Edinburgh, although the confidence of Munro's writing suggests an implicit support for Scottish independence. Questions of loyalty in politics are as relevant as ever, and the imperative to witness the truth becomes crucial. Munro brilliantly interrogates historical fact, and her account of sexual violence is stunningly intense. At the end, she comes up with an equally impressive coup de théâtre.
The playwright's strong and subtle text gets a superb staging by Roxana Silbert, who starts the story on Ashley Martin-Davis suitably gloomy bare grey set with a sense of inner stillness that is gradually animated as the emotions of the main characters grow. As Melville, Douglas Henshall has a compelling grandeur and a convincing self-questioning demeanour, as well as moments of savage power. Likewise Brian Vernel (Thompson) and Rona Morison (Agnes) (pictured above) travel the play's flint road from calmness to passionate engagement. Uncompromising and difficult, this is an excellently taut and satisfying account of intrigue and betrayal.