Mary's Babies, Jermyn Street Theatre review - rollercoaster investigation of early fertility treatment |

reviews, news & interviews
Mary's Babies, Jermyn Street Theatre review - rollercoaster investigation of early fertility treatment
Mary's Babies, Jermyn Street Theatre review - rollercoaster investigation of early fertility treatment
Two-hander provides multifarious acting opportunities but insufficient focus
Katy Stephens and Emma Fielding as two of the linked Barton brood
Obstetrician Dr Mary Barton had the best of intentions. As a missionary in India she had observed the poor treatment of childless women and, back home in England, she took positive action to help women who wanted babies. This being the period between the late 1930s and 1967, there was as yet no legal framework for artificial insemination; indeed it was disapproved of and kept secret.
More importantly, there was only a small pool of donors, so a very few men – one of whom was Mary's husband, Bertold Wiesner – fathered hundreds, perhaps thousands, of offspring. All records were subsequently burned.
Rising playwright Maud Dromgoole has been quick to see the dramatic potential in the results of Dr Barton's work. By 2007, when her play is set, the ready availability of DNA testing has enabled the "Barton brood" to identify each other. What happens when two of them unknowingly fall in love? What does it do to relationships when a daughter discovers that she has no biological connection to her supposed father? Or a son who finds that he was rejected by his mother's partner and given to someone else entirely? Are the Barton brood more a family than any other grouping they become part of? What is a family anyway? Is a true parent the one who shares your DNA or the one you have loved all your life? Dromgoole seems to enjoy the challenge of big questions; her 3 Billion Seconds, about pressure on the planet's resources, has been seen recently at the Vaults, where Mary's Babies was also presented last year.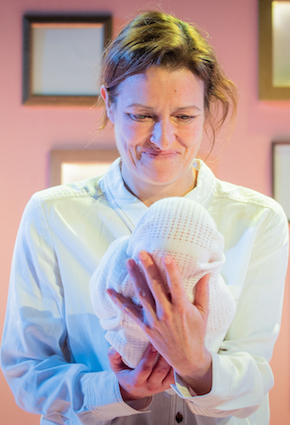 Much has been made of the fact that 39 characters are named in the programme, all played by two actors, Katy Stephens and Emma Fielding. Although some of these get barely a line and the emphasis is on a few interlinked pairings, it is still sometimes difficult to keep tabs on exactly who is what to whom, partly because there is limited time for character development. The two actors do a heroic job, swiftly differentiating between men and women, young and old, from a variety of backgrounds, back and forth between characters.
Kieran is the lynchpin who makes it his business to find unsuspecting siblings. His first speech, beautifully judged by Stephens, is a son's funeral oration for the woman he now knows was his biological mother's maid. It allows Dromgoole to provide the necessary background to the Barton story, here fictionalised but based on real cases.
Caroline (Fielding) and Bret (Stephens, pictured right) get together, Caroline meets Kieran who finds the much older Rita (Fielding), while Caroline encounters Gracie (Stephens), who is in a relationship with Ethel (Fielding) and so on. A registrar and, more surprisingly, a ventriloquist also get stirred into the mix. Ethel and Gracie are considering having a child by artificial insemination and it is this relationship which rings most true. Gracie's speech about her feelings for her parents and for Ethel is the emotional heart of the play. It would have been good to have had more at this level of intensity and specificity.
Tatty Hennessy – herself a writer, with A Hundred Words for Snow now at Trafalgar Studios – delivers a nifty production, scenes melding swiftly one into another over 90 minutes. Anna Reid's clean design goes a long way to aid clarity, the names of the characters in conversation appearing in frames behind them and an exceptionally flexible couch splitting and opening as necessary to provide instant changes of location.
Dromgoole is obviously a talent to watch. Although Mary's Babies provides both too much (in numbers of characters) and too little (in depth of character investigation) it shows originality, daring and wit.