Midnight's Pumpkin, Battersea Arts Centre |

reviews, news & interviews
Midnight's Pumpkin, Battersea Arts Centre
Midnight's Pumpkin, Battersea Arts Centre
Kneehigh's new Cinders is raucous good fun but also provides moments of magic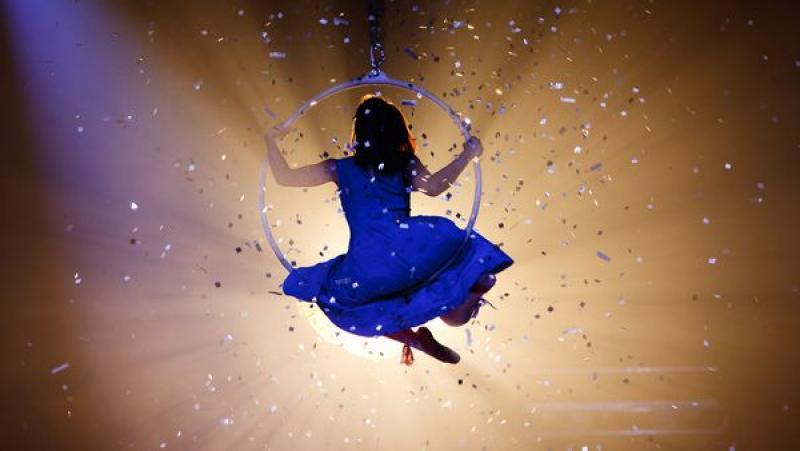 The girl in the swing: Audrey Brisson's Midnight
If you have any young siblings, friends or relatives in need of burning off a little energy, send them directly to BAC. With their open-hearted style of rough, circusy-type theatre, Kneehigh are ideally suited to this circular barn of a room.
Taking
Cinderella
and adapting it to their own special brand of popular theatre, Emma Rice, Mike Shepherd and the company have come up with a ridiculously raucous production, a seemingly ungoverned but highly controlled piece of Christmas chaos that couldn't be the success it is without the skill and talent of a company who make it all look so effortlessly easy.
The mood is set as you walk through backstage with costumes and props hanging about on hooks and welcoming blasts from The Carpenters and Whitney Houston. Lurking in the shadows are two enormous skips, later to be eagerly plundered by the audience during the two intervals. This is the kind of show that gives a whole new meaning to audience participation – not only are we encouraged to share in lifting furniture, becoming pumpkins and dancing through the intervals, but in a delirious interlude, the whole audience seem to take to the floor to follow performer Stu Goodwin in a 15-minute routine.
Credited to Etta Murfitt, Matthew Bourne's associate no less, the movement ideally suits the relaxed, semi-anarchic spirit of the piece, and with the live score - mostly rock-based - devised by Kneehigh's resident musical team, carries all before it.
If the show's narrative sticks pretty closely to tradition - give or take a few amendments such as Fairy Godmother becoming Pumpkin Man (Giles King and Mike Shepherd) – convention is blown apart in the manner of its telling. In a performing crew that numbers merely nine, including two musicians, everyone plays everything from removal men to mice to the dashing Prince to the hideous sisters (Patrycja Kujawska and Kirsty Woodward as high-booted, terrifying strutters) and a "wicked" Stepmother.
Wonderfully versatile, cheekily subversive, Phil Brodie's Prince, looking like a cross between a young Albert Finney and Jonny Wilkinson and not adverse to rising from a bubble bath in the buff, swaggers and struts his stuff with an engaging smile and the tightest pair of jodhpurs this side of Cheltenham. "Prince of Battersea, Clapham and the surrounding areas but not including Tooting Broadway", he employs every modern device he can find to advertise for love, including video and TV screen..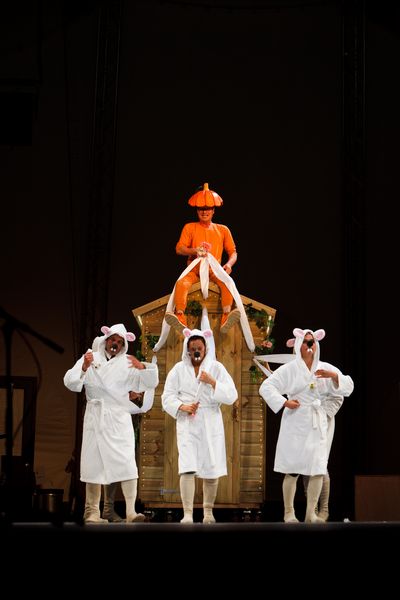 Meanwhile, an animated ginger cat (or "pussy"; I'll leave you to imagine the jokes arising from that) pursues the bevy of mice. Clad in white bathroom robes, hospital socks and stick-on paper teeth, with Pumpkin Man (pictured left) they keep a watchful eye over Audrey Brisson's diminutive "pocket rocket" of a Cinders - or Midnight as she's here styled.
It is Brisson who delivers the show's most magical moment. There is always one such in a Kneehigh show. Here, just as the atmosphere is rising to its most delirious, a circus trapeze lowers and Midnight takes to the sky to the recorded music of the Moonlight Sonata. Brisson, it turns out, is not only a trained classical singer – she can belt it out with the best of them – but worked with Cirque du Soleil.
The contrast with all the stomping and the art of coarse acting that has gone before is simply shimmering. Goodwin's Dad, too, delivers a quietly resonant homily in rhyming couplets at the end to remind audiences that true love cannot always be found online or in the bottom of a wine glass. Simply wonderful.
It's the kind of show that gives a whole new meaning to audience participation
rating
Explore topics
Share this article