Mother of Him, Park Theatre review – lean domestic drama unsure where it stands |

reviews, news & interviews
Mother of Him, Park Theatre review – lean domestic drama unsure where it stands
Mother of Him, Park Theatre review – lean domestic drama unsure where it stands
Award-winning play starring Tracy-Ann Oberman centred on the mother of a teenage rapist
Wednesday, 25 September 2019
Her own personal prison: Tracy-Ann Oberman in 'Mother of Him'
Mother of Him was written a decade ago, but its most prescient moment happens in the first five minutes of Max Lindsay's production at the Park Theatre.
Brenda Kapowitz (Tracy-Ann Oberman) presents a sheaf of papers to Robert (Simon Hepworth, excellent), a family friend who's also her 17-year-old son's lawyer. "Report cards, awards," she explains. "Grade six one doesn't seem to be here but that shouldn't make a difference." We've just learned that the son in question, Matthew (Scott Folan, struggling gamely with a Canadian accent), has raped three women. Robert's doing his best to present him as a good kid who made a mistake. Brenda's doing her best to square what her son did with her love for him, all while designing a new mall and trying to shield younger son Jason (Matt Goldberg/Hari Aggarwal, Aggarwal
pictured below
right
with Folan) from the paps.
Canadian-British playwright Evan Placey's award-winning debut was based on a true story, which is why its details are so familiar to anyone used to reading about rapists' promising athletic careers. This version is excellent in parts, and fits the space well, but still misses more than it hits.
One of those excellent parts is Lee Newby's stage design. It's a sea of sludgy grey, like a protein shake vomited all over it. Grey milk cartons, grey party hats, blocky grey Nokias, in case you haven't realised that it's the late Nineties. The only colour comes from the people – aside from Matthew, whose clothes are grey, too. He's in prison before he's even been tried, but what of his single mother? Hasn't the home, with its mountains of laundry and washing-up and endless tasks, always been her own personal prison?
It's like there's a great play hidden somewhere inside this one (perhaps nestled in one of Newby's versatile grey cubes). We're allowed glimpses of it: the wonderfully menacing sound and lights (Fergus O'Hare and Ali Hunter); Anjelica Serra's lovely turn as Brenda's cleaner Tess; the ritual lighting of the Hanukkah candles, heavy with things unsaid. But for the most part Placey isn't clear what questions he wants to ask, nor to whom our sympathy is supposed to gravitate. Surely not to Matthew: he's one-dimensional, a cardboard cutout. Rape is never justified, but his complete lack of motive is jarring. Maybe that's the point Placey's trying to make – regardless, it falls flat.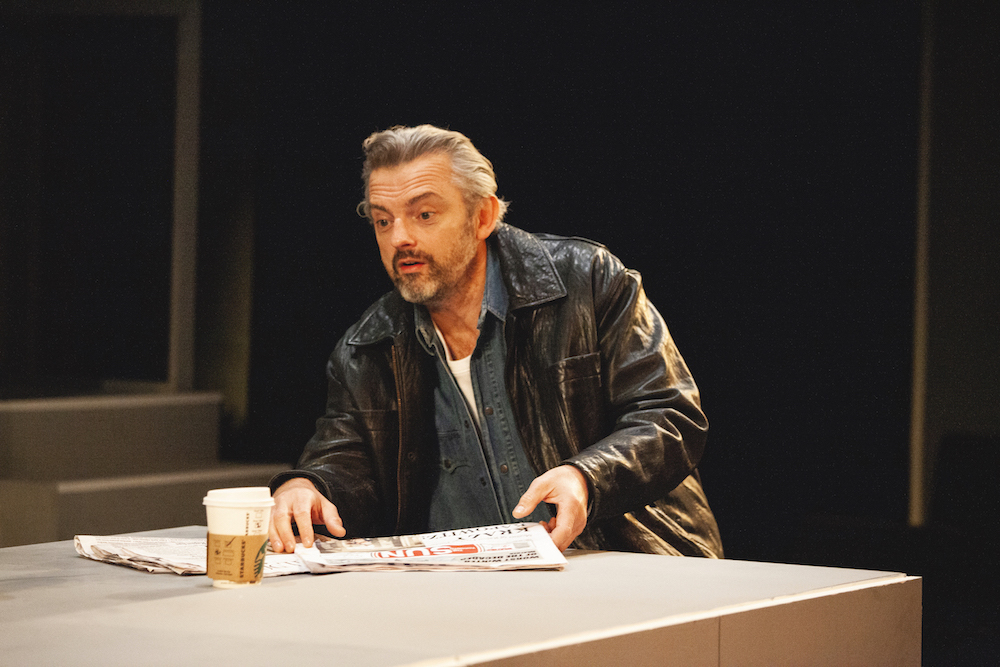 Matthew's father (a well-measured Neil Sheffield, pictured above) thinks Matthew's crime must be his fault, for walking out on Brenda when the boys were young. "He had no one to show him respect for women," he blusters, having rocked up at Brenda's door unannounced. "I mean what kind of example had I been?" Brenda's reply is fierce and immediate, Oberman's finest moment: "I showed him how to respect women!" This idea, that blaming Matthew's father for his absence really blames his mother for her inferior presence, is a compelling one, but not dealt with well enough to satisfy. In the end, neither Brenda nor Matthew are convincing as characters – leaving the title with only that lonely "of".
It's like there's a great play hidden somewhere inside this one
rating
Share this article