Noises Off, Lyric Hammersmith review - farce doesn't catch fire |

reviews, news & interviews
Noises Off, Lyric Hammersmith review - farce doesn't catch fire
Noises Off, Lyric Hammersmith review - farce doesn't catch fire
Jeremy Herrin's production of modern classic feels leaden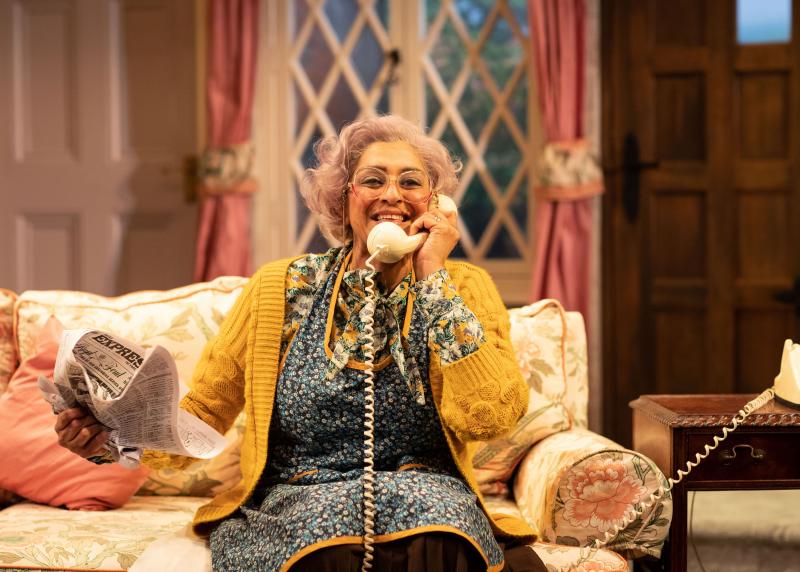 Meera Syal as actress Dotty Otley, in character as charlady Mrs Clackett; and the cast, below
Michael Frayn's Noises Off is a modern classic, a backstage sex farce that pokes affectionate fun at a profession he loves. And now Jeremy Herrin, one of our most accomplished directors, revives it for Lyric Hammersmith, where the play was premiered in 1982. He also directed a production in 2016 on Broadway, so this is his second bite of the cherry.
At the press night, the theatre gods appeared to be in on the fun when, two hours in, the lights failed and a member of the crew came on stage to tell the audience there was a technical hitch in this play within a play, and there was a short delay as the cast left the stage. How meta can you get?
Noises Off is three versions of Act One of a clanking old farce called "Nothing On", which is set in a country house. First we see the technical rehearsal just hours before the opening night, then backstage during a matinee a month into the run in out-of-town theatres, and lastly, the final performance in Stockton-on-Tees. By then, the farce has descended into, well, farce, and the cast, having had various dalliances, all loathe each other, stoked by Belinda Blair's (Debra Gillett, a pleasure to watch) backstage gossiping about who is shtumping who.
The trick is in orchestrating Frayn's intricately ordered chaos as this group of untalented actors – who all think they're really rather marvellous – enter and exit by several doors, carrying various items such as bags, boxes and plates of sardines that are crucial to the plot. And there's much knowing comedy as Frayn guys the theatrical profession, actors' fragile egos and faux camaraderie – never have endearments such as "love" and "precious" been uttered in such a delightfully passive-aggressive manner.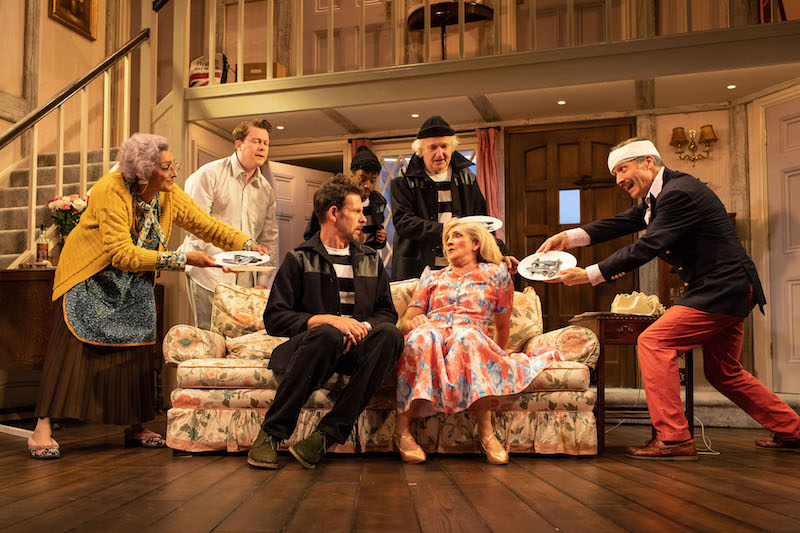 The script is a delight, as ever. "How about the words?" faded star Dotty Otley (Meera Syal) asks long-suffering director Lloyd Dallas (Lloyd Owen in terrific form). "Am I getting some of them right?" He replies: "Some of them have a familiar ring."
But despite some really committed performances – Daniel Rigby commendably does the lion's share of pratfalls as insecure actor Garry Lejeune, and Enyi Okoronkwo is just lovely as put-upon assistant stage manager Tim – the production just doesn't catch fire. Even the terrific mime scene – despite spot-on timing of the complicated and prop-heavy comedy – during the backstage middle act didn't garner the laughs as intended. And we should care about lovely stage manager Poppy (Lois Chimimba), passed over by Lloyd in favour of the more obvious charms of cast member Brooke (Amy Morgan) but it's hard to invest emotionally.
Something gelled in the third act, however, and the laughs came more easily as Nothing On's actors, spent and sent mad by a three-month tour of drossy theatres, finally lost it and mayhem ensued. But Herrin's direction feels leaden and the alchemy needed for this work was absent. It may be that I saw it on an off night, and I sincerely hope the spark will come.
Noises Off at Lyric Hammersmith until 27 July