No's Knife, Old Vic |

reviews, news & interviews
No's Knife, Old Vic
No's Knife, Old Vic
Lisa Dwan transfixes as Beckett's out-of-time exile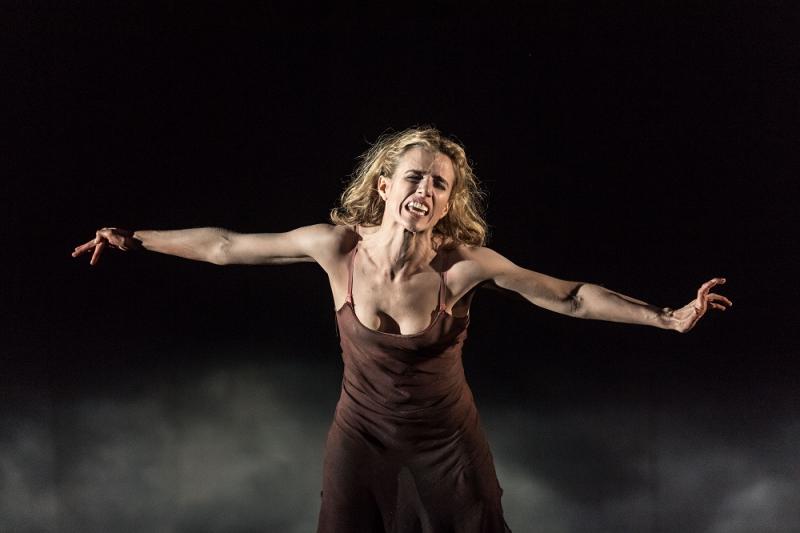 Lisa Dwan embodying Beckett's 'Texts for Nothing': 'Down in the hole the centuries have dug'
Nobody said that a 70-minute audience with the undead was going to be easy. You can read Samuel Beckett's Texts for Nothing in your own time, pausing for thought, leaving off, coming back. When as compelling an actor as Lisa Dwan chooses not just to read it but to perform a selection for the first time, there's nowhere to hide – either for us or for her.
Beckett runs cosmic circles around a state of being not quite in this world, of seeking a body, a head, a mouth, to express his stream of consciousness; paradoxically, in the theatre, you've got them all, in the shape of Dwan's utterly transfixing hollow-eyed wraith, who proves her existence by bursting from time to time into very earthy rhetoric. There are two problems with this, both of which can be turned into virtue: the text wheels round itself, with obsessiveness but not much variety, and there is – as Dwan has admitted – none of Beckett's meticulous stage directions, or structuring, for that matter.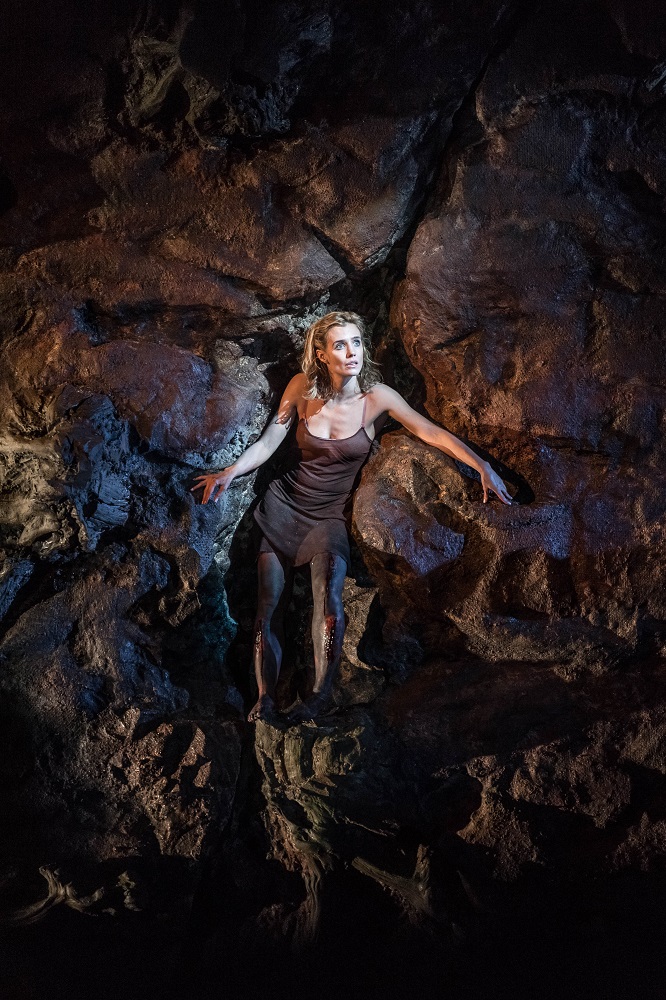 So there are two ways of holding the attention in this strange limbo. One is the scenic breaking up of the text, Dwan and co-director Joe Murphy working wonders with designer Christopher Oram, Hugh Vanstone's eerie lighting, Mic Pool's selective sound and – for starters – Andrzei Goulding's video projection. A shut eye opens wide at the start, sucks us in, plunges us with the protagonist full fathom five – and there's Dwan, trapped bolt upright (pictured right) as if seen from above in a cleft of earth, maybe on the sea bed, "down in the hole the centuries have dug". In further scenes, she wanders the wasteland, sits aloft expecting judgment and finally moves in front of the proscenium arch to acknowledge that if she's alone in her own head, so are all the members of the audience in theirs.
The more significant compelling force is one of the most extraordinary and musical speakers ever to have hit the stage. Dwan modulates through several octaves – cajoles, rails, desolates, does all the voices jostling for attention within. It's an experience not unlike Schoenberg's monodrama for soprano and orchestra Erwartung (Expectation), where a woman trapped in a dream is alone in a forest with the corpse of a lover she may have killed. (Lisa Dwan pictured below)
This universal exile, speaking for so many of the displaced in the world today just as he/she was in the post-war ruins of 1950, may have "given myself up for dead all over the place", but she exists, uses words and even sly humour to prove that, wherever she's trapped, and however far "no's knife" may be plunged in "yes's wound", she's not dead yet.
It's not Dwan's fault if this spectator lost a bit of focus at the three-quarters mark – it would be interesting to know how many in the audience did the same. That's surely in the nature of this new addition to the possibilities of Beckett on stage. Heck, I'd gladly listen to Dwan read the whole of Finnegans Wake. But I'd want to be able to press the pause button for regular breathers, something you can't do in the theatre. And maybe that's no bad thing.
Read more theatre reviews on theartsdesk