Othello, Lyric Hammersmith review - Frantic Assembly's high-energy take on the Moor |

reviews, news & interviews
Othello, Lyric Hammersmith review - Frantic Assembly's high-energy take on the Moor
Othello, Lyric Hammersmith review - Frantic Assembly's high-energy take on the Moor
Shakespeare's tragedy as a tight thriller, with its racist elements fully exposed
A lover and a fighter: Michael Akinsulire as Othello
Frantic Assembly's Othello, originally co-developed with the Lyric in 2008, is back in its third iteration, and it's still not exactly the play you studied at school or saw other companies perform. In some ways, that's all to the good.
Frantic's strength is its use of co-opting high-energy dance moves into the action. In the 1990s, the company typically performed bespoke pieces, often exploring social issues, where dance added a thrilling layer to the narrative. When the company's Steven Hoggett and Scott Graham (who directs at the Lyric) decided to move on to Shakespeare, they had to adapt their signature style to its demands. One thing that would not be jettisoned, they resolved, was Shakespeare's verse: there would be less of it, but what stayed would be genuine Bard. The action still comes with welcome injections of dance, to pulsing music from Hybrid, but more as defined interludes that give way to spoken text. It's a fast-moving production, creating a tight, often exciting story of jealousy-driven violence.
It opens with a long danced section in the company's excellent signature style. The moves are underpinned with a controlled athleticism, flowing and rippling and making inventive use of the set: here, the pool-table space at the Cypress pub (standing in for Cyprus). It's a standard sticky carpet joint, whose red-striped walls buckle and fold at emotional high points. Behind them is a barren space containing a dumpster.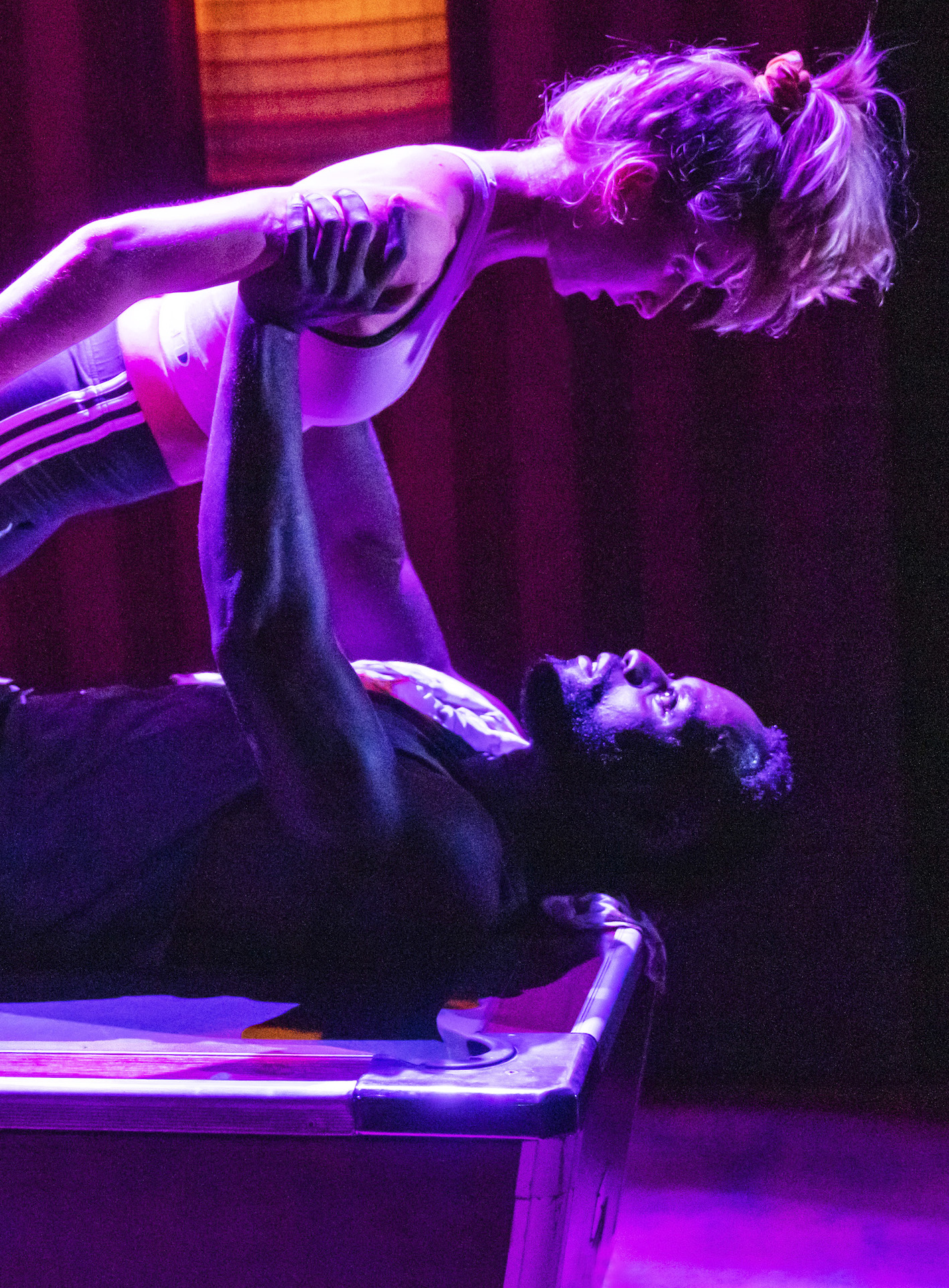 All nine actor-dancers appear in this dance, uniformly kitted out in athleisure outfits. When Othello (Michael Akinsulire) arrives without fanfare, a fierce-looking, handsome Black man in tracksuit bottoms and a T-shirt, there is a big frisson among the white pub-goers. But in the fight that develops he proves himself the victor. One of the pub-goers is his Desdemona (Chanel Waddock, pictured right with Michael Akinsulire) – somewhat predictably, the only blonde there – a sparky type in Lycra shorts and hoodie. Then the text begins, plunging straight into Iago's plotting.
The modern-day pub setting is a fruitful venue for rank racism. But already the text is starting to diverge from what we are seeing. Shakespeare's Othello is a respected mercenary whose companions hold ranks in the army he heads on Venice's behalf, hence the enmity between Ensign Iago and Lieutenant Cassio. Here, sans uniforms, we have to assume Othello has established himself as the local kingpin, with a gang whose members are jostling for position. His baseball-capped "ensign", Iago (Joe Layton), seems to be handing out baggies for cash, though the text obviously can't make clear whether or not Othello has sanctioned that. There are no dress codes signifying social status, so we are thrown back even more onto the anachronistic text.
Moving the action to a contemporary local is made trickier by Graham's decision to give the cast a range of accents: northern English for Iago and Cassio, Scottish for his wife Emilia, but "street" London for Othello and Essex Girl for Desdemona (how did these two southerners end up with the others?), who has to pronounce "duty" as "du-ee", "committed" as "commi-ed", etc. It's a choice that's true to the production's overall plan, though not to the character on the page, even Frantic's stripped-down page.
The class stratifications in the original help us understand Othello's vulnerable psyche. He has had to fight for a place in the white world; marrying Desdemona has embedded him in it even more firmly. He knows that losing her will invite "chaos". In Frantic's version, after the initial bristling by the white gang, we are left with the raw racism of Iago's and Rodrigo's plotting, but no danger to Othello's status with his paymasters and thus to his fragile state of mind. He's become a target with less emotional ballast attached. His Desdemona is suitably spirited, clearly loyal to him, but confusingly also seems to be a tomboyish member of the pub gang, not a gracious incomer described in the text as "blessed" and possessing a "delicate tenderness", with a high-ranking dad. (Hers wears jeans and a woolly hat.) She and Emilia (Kirsty Stuart) hang out like mates at a hen night.
Yet the piece still works as a story of malicious "fake news" ending in tragedy, even with these layers of nuance taken away. (And much else: there's no epileptic fit or Willow Song scene; lengthy speeches are thinned out.) The text is compact and impressively clearly spoken, especially by Layton's Iago, whose villainy is never less than horribly credible. Cassio (Tom Gill) is more trusty squaddie than the posh officer Iago depicts him as, but he still convinces; Felipe Pacheco's Roderigo is an exceptional dupe, with the best entrance in the show, though Akinsulire is a tad underpowered vocally to be truly commanding. But, as is often the case, the most satisfying role is Emilia's, and Stuart does her proud, projecting a scrapper of a woman, careworn but kindly, with the courage to stand up to her husband.
One clear bonus of the updating is that the racism of its characters gets the brightest of follow-spots. Shakespeare's blows have real writerly heft and can land with an almost palpable shock. Here their target is not a "moor" in a far-flung 16th century landscape but the kind of guy you could see down the gym. When white men with similarly familiar faces spit out phrases like "black ram", "thicklips" and "sooty bosom", you can hear the audience's intake of breath and feel the silence that follows.
The piece still works as a story of malicious 'fake news' ending in tragedy, even with its layers of nuance taken away
rating
Explore topics
Share this article