Persona, Riverside Studios review - Bergman masterpiece transformed into 'The Mumbling' |

reviews, news & interviews
Persona, Riverside Studios review - Bergman masterpiece transformed into 'The Mumbling'
Persona, Riverside Studios review - Bergman masterpiece transformed into 'The Mumbling'
One woman barely speaks, the other can't be heard and two men interfere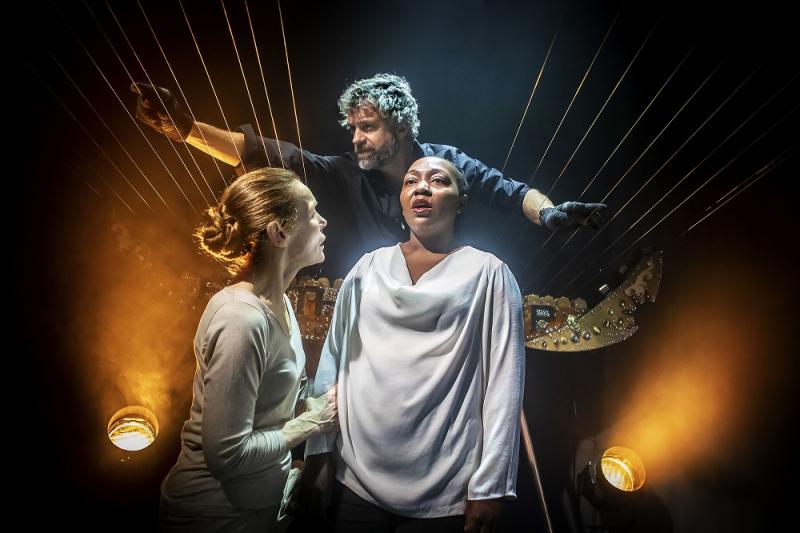 Alice Krige's Alma and Nobuhle Mngcwengi's Elisabet dominated by William Close's Earth Harp
A work of genius isn't sacred, copyrighted territory. A great film may become a play, a novel a film; the adaptation shouldn't be about fidelity, as Elena Ferrante has written about the latter case, but down to to the director "to find...the language with which to get to the truth of his film from that of the book, to put them together without one ruining the other and dissipating its force".
Stage genius Ivo van Hove managed it by pairing
Ingmar Bergman
's most talked-about film masterpiece,
Persona
, with a side-work,
After the Rehearsal
. Paul Schoolman kills it by being both too faithful and too loose in his own perspective.
It's good to be back at the radically transformed Riverside Studios by Hammersmith Bridge, my local, now a completely different building on the site of the old with doors on to the new walkway by the Thames. Performance spaces and cinemas are opening one by one; but the experience in the smaller theatre wasn't a happy one. Acoustically, it would seem to be more or less dead; so speaking at a naturalistically low level doesn't carry to row F, where I was sitting; if it had been a lecture, you would have shouted out "can't hear you!" And if the director had been able to sit among an audience, he would have realised that much of the action, which takes place at the front of the acting space and on the ground, can't be seen by most of the spectators; moving it back if possible (production note) would be crucial for future performances. What's the point of Persona if you can't see the face of Bergman's Elisabet Vogler, the actor who has retreated into silence, or a crucially violent action of Nurse Alma, unbalanced by her charge's refusal to speak and shocked by proof of her manipulation?
Individual components might work in different contexts. Schoolman has decided to give a leading role to the monstrous Earth Harp, developed by one of its two players throughout the run, William Close (pictured above), as, the note tells us, "the Guinness Book of World Records' Longest Stringed Instrument", its strings hovering threateningly over us and attached to the back of the studio. Its sound is close to that of an organ, creating a score more suitable for a Gothick horror than for Bergman's dissolving boundaries between reality and dream.The master would be horrified, too, at so much music when he is always so sparing with it in all his films.
The long "overture" isn't promising, but worse is director Schoolman's decision to frame what's essentially a two-woman drama with his own narration. He's no actor, and mumbles half the lines, but you get the gist that he's presenting this "version" as the fantasy of a man admitted to hospital 50 years after the film first appeared, who knows every line of both Bergman's screenplay directions and the actors' words. It's an idea that's dead on arrival, and adds nothing.
Will the two women save the show, once it settles to Bergman's script? Award-winning former RSC actor Alice Krige could be good, but you can't hear enough of her words; the whole of Alma's first monologue at Elisabet's bedside, downstage right, was lost to those of us sitting on the other side. In any case, the dynamics seem reversed; Alma as embodied by the film's Bibi Andersson is young, impulsive, passionate; her lines here don't fit with the performer. Nobuhle Ketelo Mngcwengi's Elisabet is proud, strong at first and shows the necessary cracks in the persona; but you can't see enough of her expressive visage enough of the time (Mngcwengi and Krige pictured below).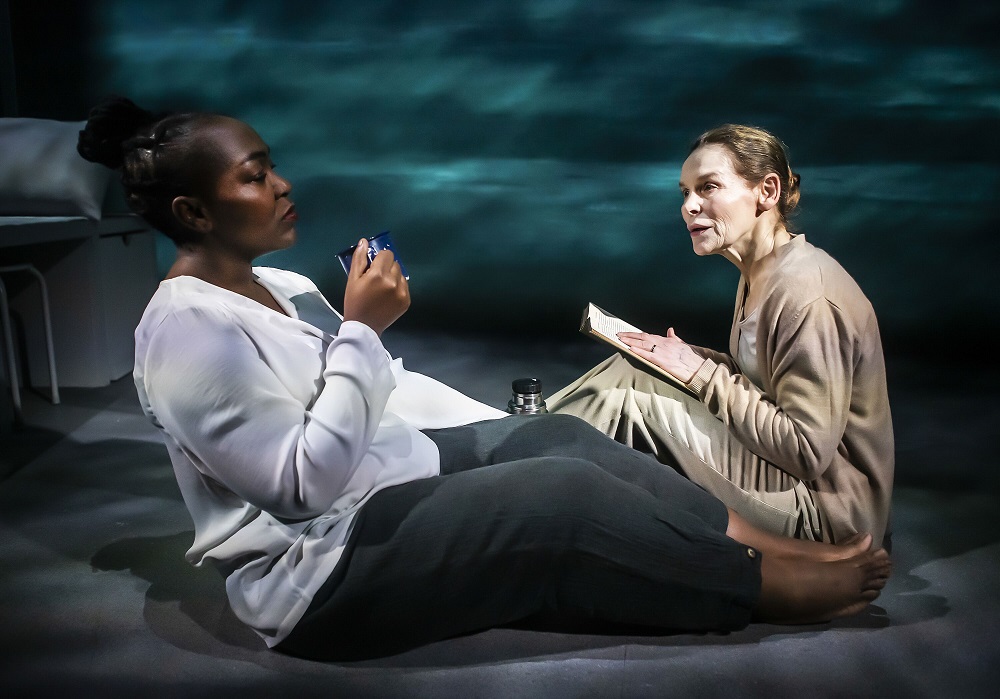 There's one constant that keeps the 90 minutes bearable for the spectator: Filip Haglund's video projections of a rushing or calm sea at the back of Fotini Dimou's elegantly designed set - but it all needs to be moved further back. And that crucial moment of the broken shard of glass, so shocking in the film, not only can't be seen by most of us but gets swamped with a burst of Earth Harp, which drowns out the words whenever it punctuates the "action".
Schoolman's flat delivery of Bergman's screenplay directions further robs the essence of two women isolated on an island and merging into one another; show, don't tell. It's acceptable that the images of war-traumatised children should end the drama - after all, Bergman shows Elisabet's extreme distress at the awful news footage on the hospital television - but most of the audience, without clarity from the text's delivery, will be left wondering why. One lifeline might be for Krige and Mngcwengi to alternate roles on different nights, like Juliet Stevenson and Lia Williams in Mary Stuart, but I doubt if anyone would go back for second helpings.
Will the two women save the show, once it settles to Bergman's script?
rating
Explore topics
Share this article