The Radicalisation of Bradley Manning, National Theatre Wales |

reviews, news & interviews
The Radicalisation of Bradley Manning, National Theatre Wales
The Radicalisation of Bradley Manning, National Theatre Wales
Live webstream gives an intense slant to a play about the Welsh-American WikiLeaks 'martyr'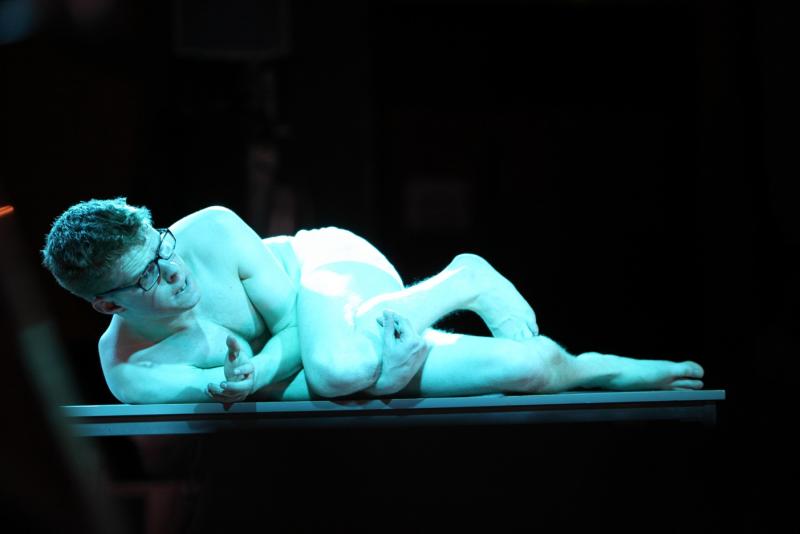 A Pembrokeshire lad: Matthew Aubrey as WikiLeaker Bradley Manning
Looking at CCTV footage of a school hall in Cardiff through Adobe Flash Player in the corner of a webpage and listening to the attendant interference, bells, buzzes and bleeps might not sound like the cutting edge of theatre. But by the time National Theatre Wales' tech wizard Tom Beardshaw closes the live stream of Tim Price's electric new play The Radicalisation of Bradley Manning with the school pupils and soldiers we have been watching taking their bow, this is exactly what the "audience" are convinced we have witnessed.
NTW Director John E McGrath, having overseen one of the most radical and ambitious opening seasons for a UK theatre company in years, brings all his experience to bear on this production. Although as web-viewers we were given the viewpoint of security cameras – raising all sorts of questions about who is watching whom, particularly online – at the schools where the physical performances will take place the play is in the round, with the audience very close to the action. Indeed, the subject matter of the play – the extraordinary sequence of events that led to the internment of Bradley Manning, the 24-year-old US soldier accused of the release of thousands of US embassy emails to WikiLeaks – could not be more close at hand. The preview performances were staged at his alma mater, the Tasker Milward school in Haverforwest, Pembrokeshire; last Saturday night, Manning's mother was in the audience.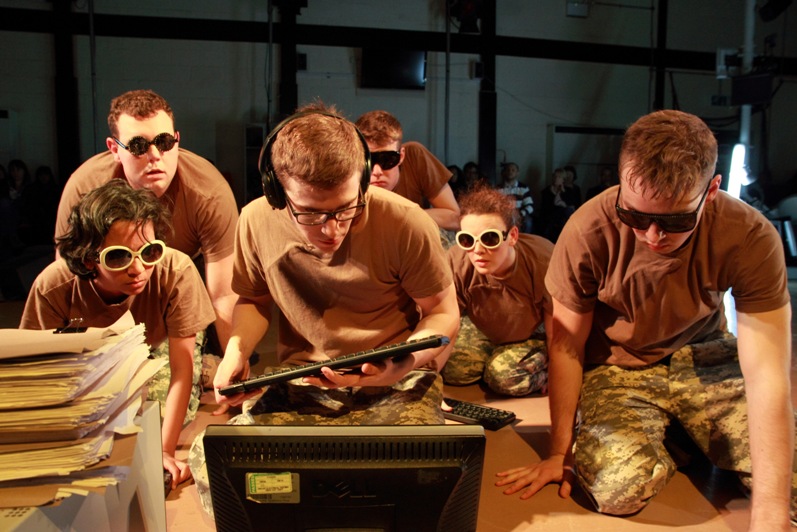 The unlikely links between Bradley's teenage years in west Wales and his subsequent "radicalisation" in a variety of locations across the US and Iraq form the basis of the play. Indeed, the webcast version calls into question the whole nature of orientation. While Bradley himself is a "complex character" who inspires a cacophony of contradictory views – his sexual orientation and struggle with issues of gender form a vital thread of his personal story – the ability of the webmaster to provide context via links to vital background information gives audiences viewing the play in this way information unavailable to those in the theatre space itself. Whilst we can imagine the process of disorientation they experience over an hour and a half of non-linear action punctuated by the bright lights and shouting of interrogation as well as heavy metal and (more than once) Lady Gaga, our experience of the play is actually one that orientates us vis-à-vis the story.
And we are left in no doubt whose side the writer is on. Tim Price has said on a theatre blog for The Guardian, "I urge you to take the time to get in touch with this young man who is accused of changing the world." The play has been a labour of love, a campaign tract for those who would "Free Bradley Manning" at his trial next week and also a courageous step into the unknown for a young writer with only two plays behind him. NTW were advised that there was no legal precedent for some of the questions they asked before giving the project the green light: "Could we use some of the leaked material on stage? Was there a public-interest defence for work shown in a theatre? Could we libel real people in Bradley's life? Could the US military sue?"
The story unfolds gradually in front of us, jumping back and forth between Bradley's schooldays in Haverfordwest and his torture in the Quantico Brig. Historical – and moral – resonances are evoked by the crash course in Welsh radicalism we are given through Bradley's chaotic history lessons. Price draws parallels between the Chartist march on Newport and the Rebecca Riots of the 1830s with what went on in Baghdad last decade; a whole litany of figures who were thrust into "pivotal moments in history and had no choice but to act" are reeled off. Clearly, the writer sees Manning as a modern-day Dic Penderyn, the martyr of the 1831 Merthyr Rising in south Wales hanged for supposedly stabbing a soldier in the leg. His story is recounted here alongside Bradley's: "As a government you can't punish an idea, so you punish a man who subscribes to those ideas."
Ideas about freedom of speech abound. In one of Manning's chat logs, released by wired.com, he states, "I don't believe in good guys and bad guys any more… only a plethora of states acting in self-interest… with varying moral standards of course, but self-interest nonetheless." As part of the online experience, the links provided are a double-edged sword. Some are so engrossing – and shocking – that they take you away from the performance itself. "Collateral Damage", a YouTube video showing what appears to be a deliberate US helicopter attack on Iraqi civilians is as compulsive as it is repulsive. But this is part of the point. These are the truths that Manning, the "gay", the "runt", the "martyr" – ALLEGEDLY – tried to expose.
And in the choice of such explosive subject-matter – an ongoing trial with the most potentially world-changing ramifications, Price and NTW have not only placed themselves at the cutting-edge of theatre, but at the very coalface of ideas. Dic Penderyn's last words are repeated here: "O Arglwydd, dyma ganwedd!" ("O Lord, here is injustice!") The Radicalisation of Bradley Manning, whether viewed on stage or screen, leaves one hoping that somehow, for once, this time, justice can be done.
NTW were advised that there was no legal precedent for some of the questions they asked before giving the project the green light
rating
Share this article
Subscribe to theartsdesk.com
Thank you for continuing to read our work on theartsdesk.com. For unlimited access to every article in its entirety, including our archive of more than 10,000 pieces, we're asking for £3.95 per month or £30 per year. We feel it's a very good deal, and hope you do too.
To take an annual subscription now simply click here.
And if you're looking for that extra gift for a friend or family member, why not treat them to a theartsdesk.com gift subscription?