Red, Donmar Warehouse |

reviews, news & interviews
Red, Donmar Warehouse
Red, Donmar Warehouse
Alfred Molina skilfully embodies 20th-century art giant Mark Rothko
Wednesday, 09 December 2009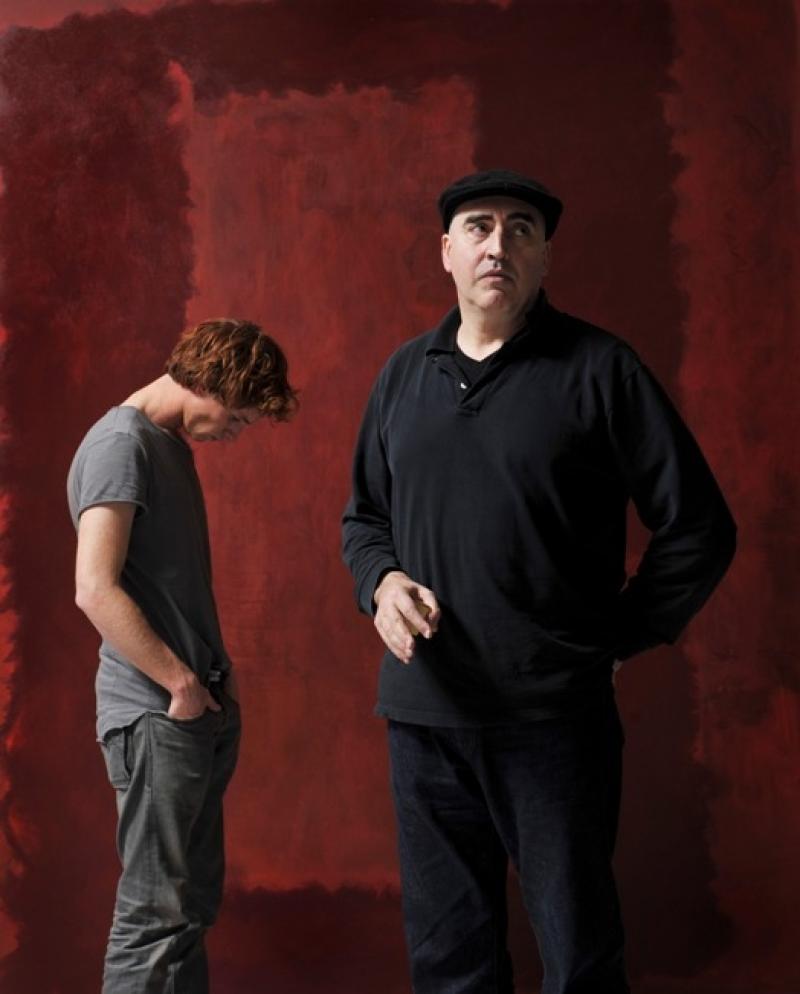 Alfred Molina (Rothko), Eddie Redmayne (Ken): 'portrait of the artist as headstrong inventor and livid tyrant'
He was the biggest hitter in an A-team of mid-20th-century American painters: Jackson Pollock, Barnet Newman, Willem de Kooning. Mark Rothko, born Marcus Rothkovitz in what has become Latvia, was Abstract Expressionism's shaman, its restless thinker and febrile poet, an artist who fashioned from an investigation into the power of pure colour a philosophy of art as potent as Crick and Watson's contemporaneous unravelling of the double helix.
Red,
John Logan's new play about Rothko, directed by Michael Grandage, is both a tribute and an excoriation: a portrait of the artist as headstrong inventor and livid tyrant.
Logan's trick is to invent, himself, a device to expose Rothko's inner workings and turmoil; in 1958, commissioned to paint a series of murals for the Four Seasons restaurant in New York's Seagram Building, he hires a young assistant, Ken, and bounces off the poor boy ideas, reflections, fears and fury. Ken helps the magus manage his canvases, listens to his self-doubt and self-worship - "Go on, I'm fascinated by me", "Artists should starve, except me" - and, in the play's strongest scene, daubs, with his employer, a square canvas with red primer as if almost to burn it away. The attack by mentor and protégé, played by Alfred Molina and Eddie Redmayne, spattering them with red like gunshot gore, provides a new gloss on the phrase "action painting".
Logan's play is about many things - master and servant, commerce and creativity, success and failure, tradition and innovation, red and black - and that perhaps is one of its problems. Its very busy-ness forces attention on the challenge it hopes to surmount: how to dramatise a process - turning thoughts into blocks of colour - that is essentially internal, silent, in terms of genuine action actually quite boring. It's the same with what writers do, or like listening to someone describing a dream. The inchoate, private process is truly impenetrable, so any attempt to turn it into discourse can seem like so much verbiage and vapour.
Red is absorbing, nonetheless. Logan's look into Rothko's complexity, wordy though it is, is intelligent and probing, and the art history is sound - the Abstract Expressionists led the way in post-war painting, taking the wind out of Cubism's sails and transplanting experimentation to New York, and were then trounced themselves by a hipper, slicker crowd of Pop Artists in the early 1960s. Logan has caught well Rothko's paranoia at being considered irrelevant, brilliantly underlined by Ken's uninhibited, and for Rothko deeply irritating, excitement over Andy Warhol and Robert Rauschenberg. In an especially touching scene towards the end, Ken has to rescue the painter, hands plunged in a bucket of red, from a drunken collapse - an image chillingly foreseeing Rothko's real, wrist-slashed end in 1970, a dreadful self-immolation in a wash of the colour to which he'd lent such lyricism.
The rough, intimate space of the Donmar serves as an ideal simulacrum of a painter's studio: the audience on three sides are its walls and, in a sense, Rothko's paintings - his works-in-progress, which Molina stares at and talks to. At the back stands a huge easel or screen on to which works are hauled by a pulley, and these, both at the play's start and finish, Molina touches with one hand, as if the dried paint has heat, energy, real presence: Logan leaves us in no doubt that whatever his failings as a man, Rothko sensed life in his art in the way the holy claim god as their foundation.
Molina has the physical properties of Rothko - large, burly, shaven-headed - and his performance is unstintingly accomplished, almost too polished. Even when he rants he seems to want to be in control: one craves something more fragile, more broken. Rothko was nothing if not neurotic. Redmayne is wide-eyed, articulate and attractive as the put-upon Ken, and without him there'd be no play. If the whole thing feels a little too studied, then that must be because a great, poetic spurt of life and art, spanning decades, is - has to be - crammed into a manageable hour and three-quarters. It works, but strangely one wants more.
EDDIE REDMAYNE'S FINEST MOMENTS
Birdsong. TV solves the problems of Sebastian Faulks's novel where movies and theatre failed
Fantastic Beasts and Where to Find Them. JK Rowling casts a new spell starring Redmayne as a wand-wielding zookeeper

My Week With Marilyn. Slim, prim but well-acted tale of the legendary star's misadventure in England

Perspectives: War Art with Eddie Redmayne. Oscar-winning actor proves that he did learn something as a Cambridge art history student

Richard II. Redmayne plays the tormented king in Michael Grandage's swift, fluid farewell to the Donmar

The Danish Girl. Beautiful but sanitised adaptation of a heartbreaking story

The Theory of Everything. Redmayne's Oscar-winning turn as Stephen Hawking, the scientist struck down with motor neurone disease
PLUS ONE TURKEY
The Pillars of the Earth. Ken Follett's Middle Ages: English history shot in Hungary and funded by Americans
Explore topics
Share this article