Richard II, Sam Wanamaker Theatre review - electrifying mixed-race all-female production |

reviews, news & interviews
Richard II, Sam Wanamaker Theatre review - electrifying mixed-race all-female production
Richard II, Sam Wanamaker Theatre review - electrifying mixed-race all-female production
Adjoa Andoh is a magnetic Richard with her hawk-like glare and vigorous swagger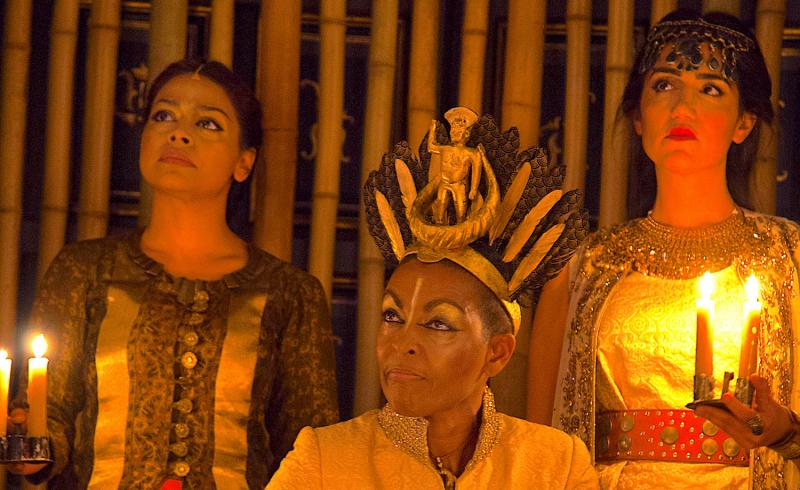 Aumerle (Ayesha Dharker), Richard II (Adjoa Andoh) and the Queen (Leila Farzad)
Richard II has become the drama of our times, as it walks us through the impotent convulsions of a weak and vain leader brought down by in-fighting among his men.
While
the Almeida
's recent production starred Simon Russell Beale as a solipsistic child, utterly unable to distinguish self-pitying fantasy from reality,
the Globe's
mixed-race all-female production is a more – well – virile vision of a narcissist raging against the dying of the light.
Adjoa Andoh – who stars as Richard as well as co-directing with Lynette Linton – is an electric stage-presence with her hawk-like glare, vigorous swagger, and fluently musical vocal range. The snap and crackle of her diction combines with the ability to swoop from lower tenor to soprano and back again in her moments of greatest agitation.
It is easy to see how Andoh's Richard compels others to dance to her tune, no matter what her delusions. Where the Almeida's production showed a leader utterly isolated, here the king presides over a society strongly bound together by assertive rituals that quickly flush out weaklings and traitors.
The staging of the famous ceremonial fight between Thomas Mowbray (embodied here with spiky vigour by Indra Ové) and Henry Bolingbroke (a snarling Sarah Niles, pictured right) is a particularly strong demonstration of this. Music supervisor Midori Jaeger has created a percussive backdrop that raises the pulse as the two combatants go for the attack, while – rather than watching passively – the onlookers execute a rhythmic dance that entwines them in the action.
Here Richard's weakness is the utter lack of conscience with which he deals with those he perceives as having lost their advantage. It's shown particularly strongly in Andoh's dealing with Donna Croll's John of Gaunt: there is a chilling gleefulness to the way she receives the news of his imminent death, bringing with it the opportunity to seize his money to fund the army.
One of the most compelling qualities of the exquisite Sam Wanamaker theatre is the clarity with which Shakespeare's text resonates, not least as it picks up on the political tensions of our times. When the dying John of Gaunt (Doña Croll, pictured below) declares, "That England that was wont to conquer others, Hath made a shameful conquest of itself," it makes you want to start a campaign to have the production staged at the Palace of Westminster.
Yet overall it's the sheer vigour and energy of this production that makes it such a resounding success. In the interview with Andoh featured in the programme, she declares, "Shakespeare is such an emotional writer. If you write on the heartbeat, then the heart is at the centre of everything you do and the way you see the world." It's a sentiment that resonates throughout this production. What's so powerful here is that this complex text is absolutely played on the pulse – in its physicality, in the delivery of the words, in its marrying of music and movement. There's never a false note struck.
Almost quarter of a century ago I saw Fiona Shaw play the first ever female Richard II at the National Theatre – an event that received mixed reviews, but still felt like something of a revolution. Then it seemed like a quirky experiment in a society that would never fully be able to grasp such a concept. It shows how greatly the debate has moved on that this production, groundbreaking though it is, feels less like an experiment than a bold capturing of new territory, and a laying of new foundations. Hopefully there will be much more to enjoy from this electrifying, inspiring company.
Richard II at Sam Wanamaker Playhouse until 21 April
Shakespeare's text picks up on the political tensions of our times
rating
Explore topics
Share this article