Room, Edinburgh International Festival 2022 review - decadent, extravagant, and somewhat mystifying |

reviews, news & interviews
Room, Edinburgh International Festival 2022 review - decadent, extravagant, and somewhat mystifying
Room, Edinburgh International Festival 2022 review - decadent, extravagant, and somewhat mystifying
James Thierrée joyfully collides together dance, mime, acrobatics, music and more - but what does it all mean?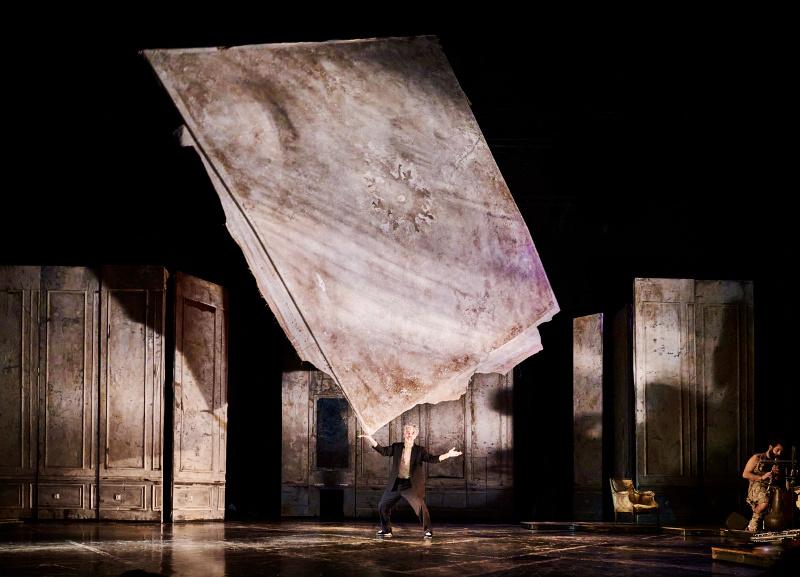 James Thierrée juggles a ceiling in his wildly exuberant 'Room'
"I feel I owe you an explanation." That much James Thierrée concedes partway through his sprawling, freewheeling, dream-like, hallucinatory Room in Edinburgh's King's Theatre. By which stage, most of the audience was probably in agreement. It's a proposal he comes back to again and again during the rest of the show – but, of course, no explanation ever materialises, save a few strangulated noises, which seem about the best Thierrée can manage.
With its weird, magical, disconnected images, its restless shifts in tone, its collision of dance, mime, acrobatics, music, circus, stagework and more, Room is indeed the kind of work that feels like it really does need some explaining. Without that, there's a nagging suspicion that all this ceaseless activity might be mere self-indulgence – a feeling only emphasised, frankly, by Thierrée's multiple roles as writer, actor, director, ringmaster, dancer, mime, composer, singer, violinist, keyboard player, plus lighting designer, costume designer, and no doubt plenty more besides.
In many ways, though, the tantalising search for meaning is itself what seems to drive Room. It's tempting simply to sit back and enjoy the ride – and what a ride it is! With Ching-Ying Chien climbing up the set's ever-rearranging walls, or crawling the floor in broken-limbed, Ring-like movements (pictured above). Or with Samuel Dutertre's bellowing stagehand demanding to know what Thierrée wants him to do with equipment. Or with Sarah Manesse's smoky vocals slinking their way through Schubert and blues numbers.
Swiss-born Thierrée and his Compagnie du Hanneton were last in Edinburgh in 2016 with The Toad Knew, but Room feels like a far more ambitious, further-reaching work, replacing the earlier piece's whimsical charm with a more outspoken, assertive tone, and its narrow focus with a more sprawling perspective and a somewhat scattergun approach. Even the bounds of Thierrée's stage itself are in question here: we're in some kind of dilapidated room, as the piece's title suggests, but with his ever-shifting panels (and even, in one of the show's most jaw-dropping sequences, a spinning ceiling), we're never quite sure what that room is. A draughtsman's table transforms into a keyboard, a rock band into a classical chamber ensemble. A convoy of tailor's dummies interrupts proceedings, a huge golden slug slithers in to pursue a dancer (pictured below).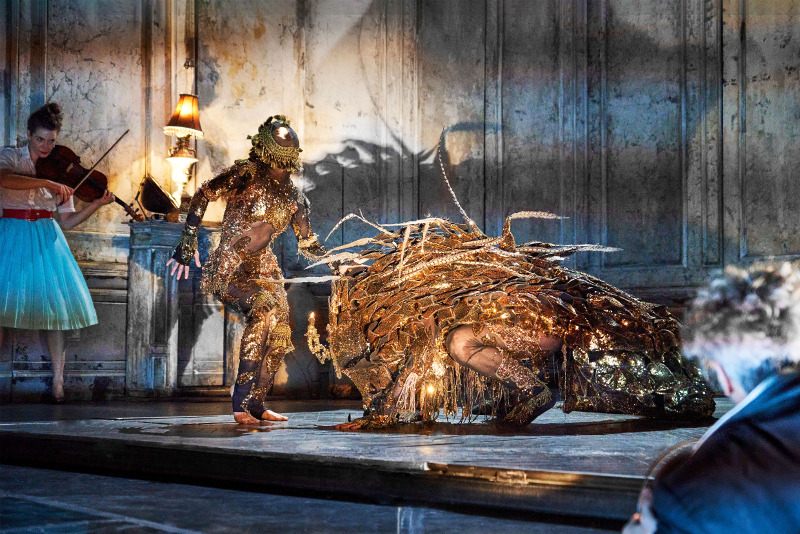 And on and on, unpredictably, with scenes and ideas interrupting each other in a frantic, restless desire for attention, each one more bizarre, captivating and slightly threatening than the last. Room is almost certainly overlong – a good 30 minutes could probably be pruned from the two-hour, interval-less running time as it currently stands. But it's a breathtaking visual and musical achievement, a glimpse inside Thierrée's restlessly creative mind, perhaps, or a celebration of sheer spectacle, or even an affectionate send-up of the creative process itself. Or some kind of self-referential search for its own meaning. Thierrée's sprawling, extravagant, decadent creation is so rich that you'll be able to project onto it almost anything you fancy.
In many ways, the tantalising search for meaning is itself what seems to drive Room
rating
Share this article