Saer Doliau, Finborough Theatre |

reviews, news & interviews
Saer Doliau, Finborough Theatre
Saer Doliau, Finborough Theatre
Revival of a Welsh classic marries an ancient language to a modernist sensibility
Wednesday, 06 February 2013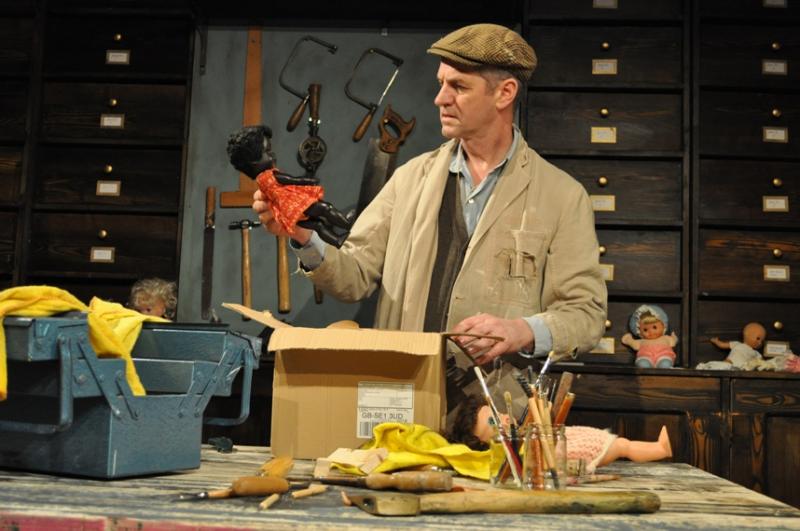 Cap-doffing, authority-fearing Welshness: Seiriol Tomos is the doll mender in 'Saer Doliau'
Last weekend it was the 50th anniversary of an important event in postwar Welsh history. In early February 1963 the Welsh Language Society – Cymdeithas yr Iaith Gymraeg – protested for the first time about the right of Welsh speakers to live their lives in Welsh.
At Pont Trefechan in Aberystwyth 500 people gathered on Saturday to mark the event and the same number came back on Sunday to
Y Bont
(The Bridge), a commemorative outdoor play devised by the Welsh-language National Theatre, Theatr Genedlaethol Cymru.
The ball has been energetically pushed up the hill ever since, but some things don't change. Though it's the oldest living language in this isles, for reasons which won't need rehearsing you don't find a lot of Welsh performed in England. So it is an event worth noting when a Welsh-language play crops up in a London theatre. Gwenlyn Parry's play Saer Doliau (which means Doll Mender) is running on Sundays, Mondays and Tuesdays at the Finborough Theatre as part of its commitment to staging plays in Britain's minority languages. Last month Scots Gaelic was featured in Somersaults.
Written three years after Cymdeithas's historic protest in 1966, Saer Doliau is no museum piece. In just over an hour, Parry succinctly and charmingly introduced the Theatre of the Absurd to the Welsh language, and all these years on it still has punch. Mr Ifans (Seiriol Tomos) is the doll mender of the title – itself an essentially surreal profession – and likes to do things the old way, patiently working with handtools. He talks to his dolls, as well as to a disembodied boss at the end of the Bakelite phone line. He also has an irrational fear of some sort of bogeyman in the basement, whom he is convinced is behind the regular delivery of dolls with black pigment.
Intrusion comes in the form of a young woman (Catherine Ayers) arriving in a crash helmet and leather hotpants. Ifans views her as a temptress and frets that he'll be caught with his trousers down, only to find she is assuming the reins of powers. Ifans endures further consternation when she introduces an apprentice (Steffan Donnelly, pictured above right with Ayers) who at first appears to be just another slovenly youth with no respect for authority, but is soon helping the woman sweep away the old chisels and brushes and introducing terrifying electric power tools.
All the while the question of who these interlopers are hangs over the play like a mist over a Welsh mountain. And throughout, tradition, faith and superstition, the march of progress and the sexual revolution are inspected through a woozy, distorting prism.
In this revival by Invertigo Theatre Alex Marker's design consists of high wooden cupboarding and a work bench, strewn with dolls and tools. Director Aled Pedrick moves the cast nimbly around the space. Tomos neatly embodies a cap-doffing, authority-fearing kind of Welshness, Ayers is all feistiness and legs, while Donnelly (an Invertigo co-founder) plays the youth with gangly, grinning intensity. In case you're asking, yes, the production is surtitled (if not every line), so Gwenlyn Parry's teasing marriage of an ancient language and a modernist sensibility is a treat for more than the London Welsh Diaspora. Do give it a go.