Salt, Root and Roe, Trafalgar Studios |

reviews, news & interviews
Salt, Root and Roe, Trafalgar Studios
Salt, Root and Roe, Trafalgar Studios
New writing confronts the demons of old age without flinching
Tuesday, 15 November 2011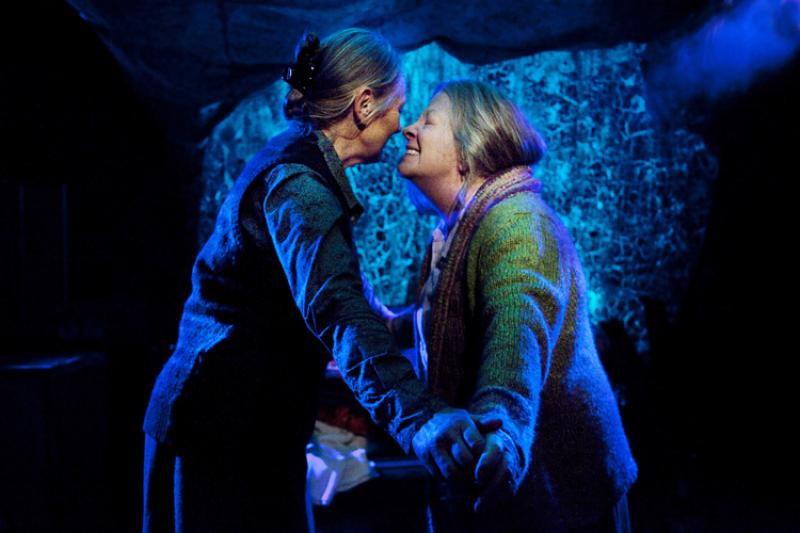 Iola and Anest (Anna Calder-Marshall and Anna Cartaret) offer intimacy as well as the ugly indignities of dementia
Many dramatists have taken their turn putting faces to Thoreau's lives of "quiet desperation". But the challenge in what Thoreau goes on to conclude – that it is therefore a mark of wisdom and the wise to avoid acts of desperation – has been taken up by far fewer. Salt, Root and Roe sees Tim Price transform an act of violence from one of apparently senseless desperation to one of humane intelligence and generosity.
It's quite the sea change, and one that makes for discomfiting viewing in the close quarters of Trafalgar Studios, but Price and director Hamish Pirie handle their subject matter with grace.
We open in the womb of a Welsh limekiln; two elderly sisters trade memories of childhood, connected by an umbilical cord of skipping rope. Iola (Anna Calder-Marshall) and Anest (Anna Carteret) are in their seventies, have outlived a father and husband, and live alone in a remote part of the coast. A suicide letter summons Anest's daughter Menna (Imogen Stubbs) home, and together the women struggle to live, love and communicate with one another.
The playwright himself never allows the cadence of language to distract from the insistent dissonance of its content
Pirie's direction has a balletic beauty to it, highlighting the synchronised rituals of eating and being that bind Iola and Anest in physical harmony. Currents of conflicting emotions ebb and eddy around the three women, waves breaking, transforming and turning back on themselves like the sea that has dominated their lives. While Price's text, in a rare moment of levity, speaks of the Welsh folk songs whose lovely melodies hide tragedy, there's little such euphemising in his own writing. Pirie might soften gesture, but the author himself never allows the cadence of language to distract from the insistent dissonance of its content.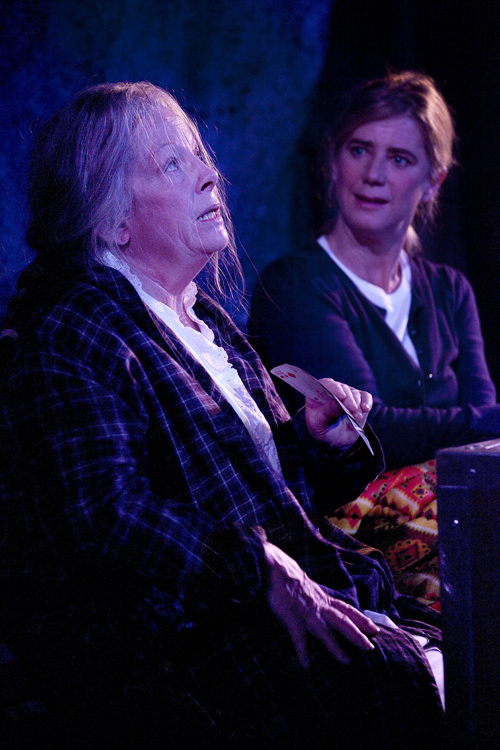 The indignity of dementia takes form by turns horrifying and heartbreaking in Calder-Marshall's Iola (pictured right, with Stubbs as Menna). Disarming us initially with eccentricity (a mobile phone meets a watery end in the teapot) and biddable absent-mindedness, Calder-Marshall's carefully controlled subsiding into desperation is no less tragic for all its ugliness. Vomit spews forth unbidden from her, and language only a little less foul breaks into her dealings with her beloved family.
Iola's defiance ("I've killed bulls; I can sit on some bloody sand") is set against the control and introversion of Carteret as Anest. Her sanity and reasoned kindness, so inexplicable at the start, become the compass of the piece, as we along with Menna swivel and swing in our attempt to find the moral north.
Stubbs's Menna is all neurotic flinches and tension, but while it's a tender performance (particularly sympathetic in scenes with Roger Evans as local policeman Gareth), the broken connection at the core of the character is evident and bravely ugly; she unsettles the instinctual rhythms of mother and aunt, struggling against nature with the most natural and misguided intentions in the world.
Language – the Welsh shared by the sisters, the halting attempts of Menna to speak and understand – underpins the drama of Price's relationships, but amid all this talk of "untranslatable" words we come to understand that the greater act of translation here lies between the languages of youth and old age, for whom death, suffering and love mean very different things.
Pirie is the first in a series of the Donmar's Resident Assistant Directors to benefit from the theatre's current residency at Trafalgar Studios, and Salt, Root and Roe will be followed shortly by Conor McPherson's Dublin Carol directed by Abbey Wright, and Paul Hart's take on Sartre's Huis clos. It's a confronting start to the season, a polemic that gets off its podium and wanders among the driftwood of family and memory: the domestic legends and myths that bind us to our relations and our lives. A merman father "borrowed from the sea", babies delivered in a lobster pot, a preference for marmalade; all these add up to Price's "infinite chaos of human desire" – no small equation to balance dramatically.
Salt, Root and Roe at the Trafalgar Studios until 3 December
The greater act of translation here lies between the languages of youth and old age
rating
Explore topics
Share this article