School Play, Southwark Playhouse |

reviews, news & interviews
School Play, Southwark Playhouse
School Play, Southwark Playhouse
Debut play makes strong and worthwhile points but lacks depth
Tuesday, 21 February 2017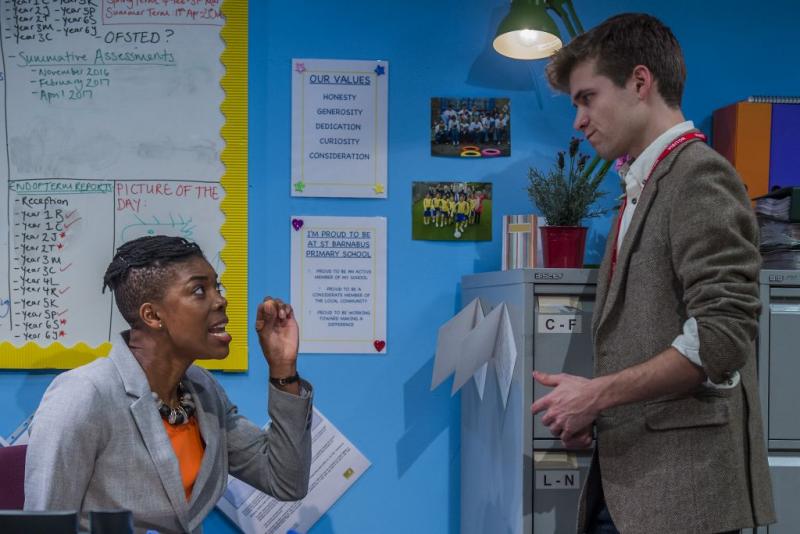 Class time: Ann Ogbomo and Oliver Dench in `School Play'
Hot on the heels of Katherine Soper's award-winning Wish List, about the UK benefits system in crisis, and John Godber's This Might Hurt, about an NHS in crisis, comes this play about our education system in crisis.
One suspects there will be plenty more plays about comparable flashpoints to come, but the passionate arguments found within Alex MacKeith's somewhat over-zealous debut play definitely hit home.
Set in the headteacher's office of a south London primary school on SAT results day, the play vividly outlines the dilemmas at its heart. Schools must adhere to rigid systems based on averages and pass rates from curriculums which constantly change: money and cultural treats, such as museum trips, are awarded based on these results. The threat of academies hangs in the air, and lessons are geared towards passing tests, which as a result stifles classroom activity and creative teaching. Missing targets, in turn, means that funding is cut: it's a double-edged sword.
As directed by Charlie Parham, the play takes a while to reach these points, but when it does – via a heated debate between headteacher Jo (Ann Ogbomo) and private tutor Tom (Oliver Dench) – it's electric. Tom represents all that is wrong with the education system, which can be a heavy burden for a character to bear. The imbalance in playwright MacKeith's portrayal of the privileged as the scourge of society makes for an uneven discussion, however directly Tom embodies the notion of children trapped by their backgrounds. In fact, we learn that he is studying to be a lawyer because that is what is expected of him, but he is nonplussed when asked if it is what he actually wants to do.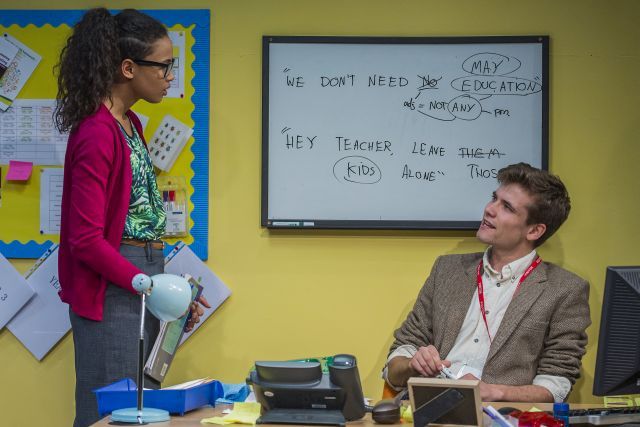 The problem is that Dench's cocky Oxford grad is so self-obsessed that any sympathy is hard to come by, not least why it is that office secretary Lara (Fola Evans-Akingbola, pictured above with Dench) might take a romantic shine to him. Far more engaging is the mutual respect that develops between the assertive, commanding Jo and the sincere, bright Lara, who is herself training to be a teacher. Their chemistry is palpable during a wonderful opening scene where they plan the day ahead. The students, interestingly, play next to no part, at least until the very end when we meet a young girl whose father is picking her up from school.
Anna Reid's neat, detailed set realistically portrays a primary school office. Brightly coloured walls are adorned with whiteboards, whilst white stripes of tape represent unseen walls. A flickering, buzzing ceiling light accentuates the precariousness that schools face: a sudden breakdown is never too far away.
The producing entity antic / face seeks to redress gender imbalance in the theatre, and the two strong female leads anchor the play. It jars, though, when the authoritative Jo can't juggle work and marriage; the problem feels tacked on, as if MacKeith felt politics alone wouldn't hold our attention. The throwaway attack from an angry parent about Jo's childlessness in particular stands out: would that topic be applied to a male character? A more detailed exploration of the issues would be welcome, especially given that MacKeith's background as a former private tutor at a state school gives him a unique insight. There are some excellent and important ideas raised here, but, much like the pupils at risk in our schools, they aren't given enough time and space to fully develop.
The imbalance in MacKeith's portrayal of the privileged as the scourge of society makes for an uneven discussion
rating
Explore topics
Share this article