Superhoe, Royal Court review - smart, sassy, and full of feeling |

reviews, news & interviews
Superhoe, Royal Court review - smart, sassy, and full of feeling
Superhoe, Royal Court review - smart, sassy, and full of feeling
Bright new monologue about coming of age in the Instagram era really rocks
Tuesday, 05 February 2019
Media is the message: Nicôle Lecky in 'Superhoe'
Titles matter: they send out messages. So, in the current #MeToo climate, isn't it a bit provocative that there's a rash of plays with titles which might be seen to offend: The Hoes, Superhoe and, coming soon, Inside Bitch? Not to mention the suggestive Hole. All strong titles, tough and spiky. But maybe not offensive at all. These plays are, after all, all written by women, and nowadays it's not what you say, but who says it that really matters.
Anyway, the
Royal Court
's artistic director Vicky Featherstone has impeccable
feminist
credentials so this staging of Nicôle Lecky's one-woman
debut
, this venue's first co-production with Talawa Theatre Company, is definitely PC – but is it also OK?
Like a lot of monologues, Superhoe tells the story of a single individual – played by the author – who confronts adversity and finally overcomes it. Our heroine is Sasha Clayton, and she is 24, mixed race and living at home in Plaistow with her Mum, stepdad Kevin and little sister Megan, who is 15. Although Sasha was once an outgoing teenager, she now spends a lot of her time alone in her bedroom. Well, she's both a social media addict – and working on her songs, recording tracks for her first EP. Over and over again. But all is not well. Her boyfriend Anton, who she has been dating for 11 years, is not replying to her phone messages, and tensions at home are rising, too. Oh, and maybe it wasn't such a good idea to smoke another spliff.
Lecky peppers her text with highly memorable sayings
When, in one of many emotionally excruciating incidents that totter on the brink of hilarity, Sasha snaps and screams at her parents, she says some stuff she regrets, and has to leave home. Broke, and with nowhere to go, she stays with various friends before hooking up with Carly Visionz, a young woman from Wigan who knows how to make some cash. Clue: it involves web cams and the internet. So Sasha's quest for friendship and an Instagramable lifestyle leads her into the dark underground world of seedy sex and danger, before she eventually surfaces, a bit older and much wiser. As the playtext says, "After darkness, there must always be light."
Lecky peppers her text with memorable sayings – such as "the hoe wife never becomes the housewife" – and her writing has all the vividness of fully imagined situations. During the occasional rap songs, her humour and singing makes the studio space come alive, and in general the writing impresses with its wry observations, lightning-quick perceptiveness and emotional intelligence – the cool wit of the 85-minute piece is encapsulated in the true meaning of its title, but I won't spoil that punchline by telling you what it is. Although the monologue form can be a constraint, Lecky uses it with confidence and her highly spirited accounts of selling her "premium pussy" mix filthy chat with heartbreaking feelings.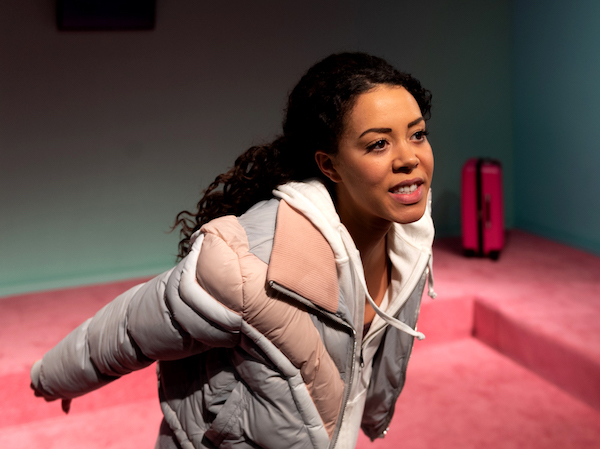 Superhoe is a story of loss and loneliness. It gradually emerges that Sasha's experiences as a young teen have prepared her only too well for the ugly world of the sex industry, whose superficial glamour – symbolised by the glasses of champagne the "girls" are given at every party they go to – barely hides the misery underneath. If female friendship is the main defence against exploitation by rich and powerful men, then even this proves occasionally fragile. While Lecky has the fluency to make bad language sound like girly chat, she never ignores the depth of feeling of her gallery of characters, all of whom she mimics to great effect.
Lecky's solo stage presence (pictured above) is confident and attractive, and she manages to effortlessly suggest the innocent child within the feisty woman. One moment she is the epitome of gurl power; at another an isolated youth whose brain is dangerously overheating. Although Lecky's ideas about the internet as a place of fake imagery and about the power of celebrity culture are pretty standard, and Jade Lewis's production makes good use of Ewan Jones Morris's video effects to underline its comic points: I loved the InstaBank screen that comments on Sasha's life choices. Likewise Chloe Lamford's pink-carpeted set suggests the youthful naivety that leads kids to make bad choices, while the haze effects to the rap sequences, with Lecky singing to the music of The Last Skeptik, give the bare stage a nightclub atmosphere. This show is not only OK, it's a brilliant piece of writing.
Female friendship is the main defence against exploitation by rich and powerful men
rating
Explore topics
Share this article