A Tale of Two Cities, Regent's Park Open Air Theatre review - it was the longest of times |

reviews, news & interviews
A Tale of Two Cities, Regent's Park Open Air Theatre review - it was the longest of times
A Tale of Two Cities, Regent's Park Open Air Theatre review - it was the longest of times
Dickens adaptation succumbs to the didactic
What the Dickens? Claire-Louise Cordwell as Mme Defarge in 'A Tale of Two Cities'
Much loved, yes. But Dickens's novel is probably little read by modern audiences and so a chance to see a new adaptation of this tale of discontent, riot and general mayhem set in the French revolution and spread across London and Paris in the late 1700s should be a genuine treat for theatregoers.
And on paper Matthew Dunster's version for
Regent's Park
of this intense exploration of injustice (billed, in fact, as "a new play") has it all: love, death, comedy, revolution and the promise of a provocative exploration of the underlying issues of power, oppression and tragedy connecting how we live now to our past.
Adapting a novel for stage, though, is a frequently unsatisfying process once the text has been gutted to fit the parameters of time and space. Dunster and director Timothy Sheader kick off with the cast declaiming in turn one of literature's most famous openers: "It was the best of times, it was the worst of times" etc. On the page, this sets the reader up to explore Dickens's dualistic themes, and also gives historical context of political and social turmoil to the period. But on stage it's just an uninspired regurgitation of prose, tricked up here with a variety of street and regional accents, and more than a nod to modern-day political leaders, demos, and refugee camps. (The two lookalikes from the novel are played by actors of different races.)
And this is a very, very long adaptation of Dickens's tale of imprisonment, heroism, and redemption, at least for some. Indeed, on press night the performance was 15 minutes longer than it should have been since almost halfway through part of the set collapsed and the show had to be halted. Once regrouped, the cast felt more cohesive and in charge of proceedings, interestingly, than they had before.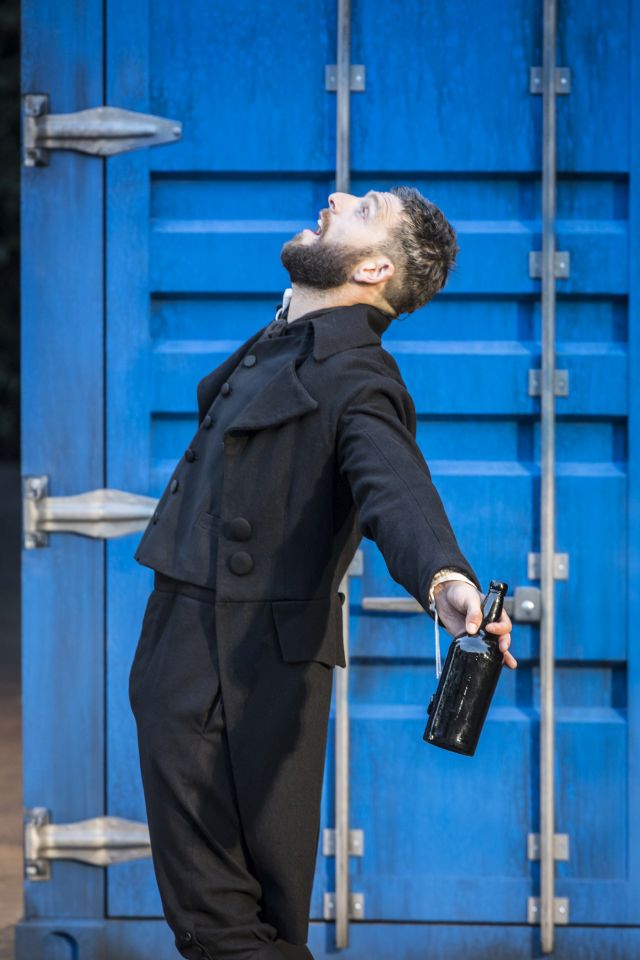 Nicholas Karimi (pictured right) is an admirable Sydney Carton and plays his abject part with ease; his double in the narrative, Charles Darnay, is here intriguingly played by a black actor, Jude Owusu: a casting decision that makes the audience work harder and scores its own political point. Both Kevork Malikyan as bank employee Jarvis Lorry and Patrick Driver as Dr Manette display gravitas and sympathy for their characters. But overall the inexperience of many of the cast is palpable, giving the play the air of amateur dramatics night filtered through the finishing school of EastEnders. (On a lighter note, a tip to actress Clare-Louise Cordwell, who plays the knitting-mad Madame Defarge: please learn to knit the Icelandic way. It will speed you up no end.)
Difficult to pull off al fresco, the play would benefit from enclosure and the intimacy that creates. A more sympathetic design would better support the frantic leaps from Paris to London. As it is, three stacked shipping containers serving as prison, parlour and wine shop prove awfully cumbersome, whilst a good portion of the start offers a maelstrom of opening doors and a dizzying stage revolve. Over time the movement subsides and Fly Davis's set is better utilised, producing scenes of real pathos, such as Lucie waiting in the street hoping her husband will glimpse her from his prison cell.
Dunster and Sheader rarely leave anything to chance and give little room for the audience to think for themselves. The play's closing brings the action, unnecessarily, into contemporary Britain. But those undeniable parallels with our own refugees and volatile political divisions don't need spelling out. The closing homily on what Britain could be is less enlightening than embarrassing: more art, please, and fewer polemics.
Dunster and Sheader rarely leave anything to chance and give little room for the audience to think for themselves
rating
Share this article