Dickensian, BBC One |

reviews, news & interviews
Dickensian, BBC One
Dickensian, BBC One
Charles Dickens's characters assemble from all corners in a moreish soap
What the Dickensian: Mrs Gamp (Pauline Collins) moves into a new curiosity shop
There are around 800 pages in a Dickensian doorstopper and it has been said around 800 times that if Dickens were working today he would be a show runner on a soap. Finally it has come to pass. Andrew Davies attempted something similar with his Bleak House, diced up into half-hour gobbets. But Dickensian is nothing less – or maybe that should be nothing more – than EastEnders in top hats and mobcaps.
Its 20 episodes have been scheduled over that time of year which Dickens wishes could happen all the year round, two episodes a day. Its scriptwriter Tony Jordan, formerly of EastEnders, had the brainwave of pickpocketing the novels and setting up his own version of Dickensian London peopled by household names. It's like Avengers Assemble filtered through a Victorian almanack. The idea of riffing on the loose threads of Dickens's plots is not new. Alan Bleasdale did it with Oliver Twist and John Sullivan wrote new plots for Mr Micawber. But Dickensian takes the spirit of reinvention to a new level. Be prepared to have your head messed with.
"I don't suppose you might know where I might find this Nancy," says Inspector Bucket of Bleak House to Mr Scrooge of A Christmas Carol re the whereabouts of Sikes's squeeze from Oliver Twist. Meanwhile down the Three Cripples Mr Pickwick and his chums are wassailing at the same trough as Mr Bumble and Arthur Havisham, whose sister is pals with the future Lady Dedlock. Young Peter Cratchit is sweet on Little Nell (pictured above: Brenock O'Connor and Imogen Faires), while the Old Curiosity Shop is patronised by Silas Wegg from Our Mutual Friend. Mr Heap of David Copperfield works for Mr Jaggers of Great Expectations. And so on and on. You get the picture, eventually. A span of the novels covering 30 years of London history is represented, the characters convening in an eternal Dickensian present which goes out of its way to ignore the social changes the author recorded across those years.
With co-creator Sarah Phelps, Jordan has created a jostling mulch of plotlines. There's no rhyme or reason in their fidelity or otherwise to the original story. One involves the young Arthur Havisham's plan to lay his hands on the fortune inherited by his half-sister (Tuppence Middleton), and we know how that ends. But prepare to be wrong-footed. Little Nell lies feverishly at death's door with Mrs Gamp (Pauline Collins) sozzled at her bedside, only to stage the miraculous recovery Dickens sadistically denied his original readers. The one copper-bottomed improvement is in the area of sexual frankness: Nancy, only vaguely linked to the oldest profession in Oliver Twist, is pimped by Fagin and Sikes to Jacob Marley.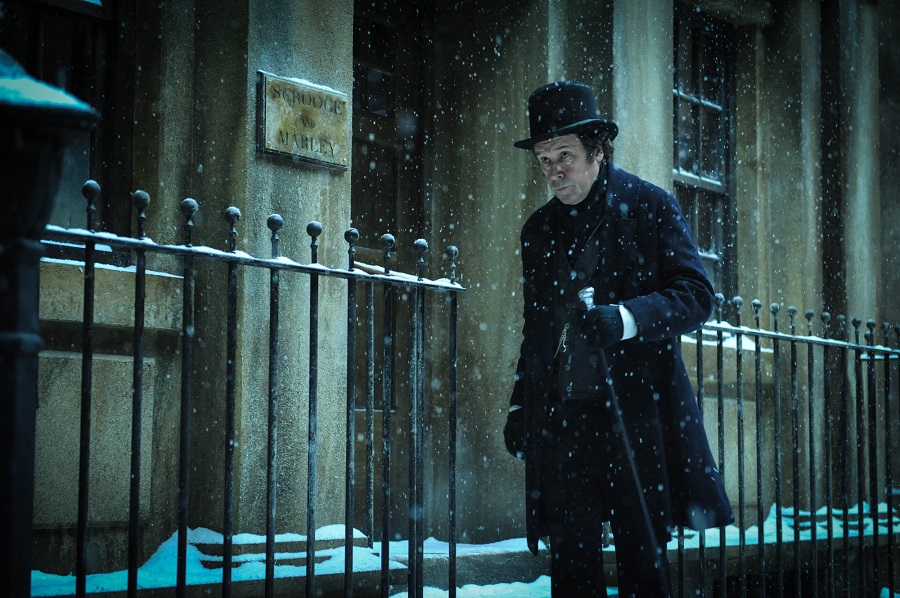 The central plot so far concerns the murder of the scowling Marley (Peter Firth), to whom everyone in the street owes money, thus supplying Inspector Bucket (pictured left: Stephen Rea, glorious) with a reason to demonstrate his skills in the new-fangled profession of detective. "What is this new detecting thing I have been hearing so much about?" asks Mr Venus (Omid Djalili), the taxidermist from Our Mutual Friend who here doubles as a forensic pathologist.
The scriptwriters make only half-hearted attempts to supply the dirty urchins and hatchet-faced gargoyles with period patter to match. "I seen Miss Nellie into this world," says Mrs Gamp, "and so I am disposed to see her out again" – that's about as Victorian as the syntax gets. The acting is as British acting always is with these characters: impeccable furniture chewing from the grotesques, making the best of what's on offer for the wooden heroines held together by crinoline. Dickensian is Coles Notes Dickens, a frothy seasonal broth which, in a perfect world, will send the odd new viewer to the shelves where they will select an 800-page doorstopper and encounter some of these characters in their richer original habitat.