A Christmas Carol, Bridge Theatre review - deluxe seasonal storytelling |

reviews, news & interviews
A Christmas Carol, Bridge Theatre review - deluxe seasonal storytelling
A Christmas Carol, Bridge Theatre review - deluxe seasonal storytelling
The Dickens classic, as adapted by this venue's artistic director, shakes its holly
Wednesday, 09 December 2020
No humbug: Simon Russell Beale in 'A Christmas Carol'.
A Christmas Carol is a seasonal standard. In a normal year, there are a couple of versions to be enjoyed, usually led by the Old Vic in London, but this winter it feels like there's an epidemic of adaptations.
Whether this reflects an attempt to create a warmhearted response to the current depressing political and health atmosphere, or just an acknowledgement that this is
Dickens's
evergreen masterpiece, doesn't really matter. Watching Nicholas Hytner's
Bridge Theatre
adaptation of this classic, which stars Simon Russell Beale, the only question is whether this is good theatre. And the answer? Yes it is.
Charles Dickens's 1843 novella is a mythical reminder of the contradictions many feel at this time of year, between the desire to have fun and the discomfort of conformity. It's great to celebrate a national holiday, but when everyone is obliged to be merry then it's reasonable to feel a resentment against this compulsory fun-fest. While the story of Ebenezer Scrooge draws deep on Dickens's personal fears of rejection from the family, and his compulsive need to surround himself with happy people, it also speaks to a more general aspiration for redemption on this Christian occasion.
Hytner's adaptation is perfect, keeping a lot of the original's striking language and turns of phrase, and he directs the show with his customary clarity and pace. With a running time of 90 minutes, there are no longueurs and the production is nimble and fleet of foot. Using both straightforward narrative and dialogues, three actors – Beale is joined by Patsy Ferran and Eben Figueiredo (pictured below) – play the well-known characters, not only Scrooge but also his nephew Fred, his clerk Bob Cratchit, plus his family (including Tiny Tim), and the miser's former fiancée Bella, plus the ghosts of his business partner Marley, Christmas Past, Christmas Present and a suitably sinister Christmas Yet To Come.
Beale's Scrooge in this modern-dress version has both the actor's avuncular charm and flashes of his character's passionate shifts of feeling, as he makes the psychological journey from being the proud miser, savouring the delight of humbugging against the festive spirit, through successive appalling revelations about his lonely boyhood, through to an open embrace of the redemptive joy of yielding to the most generous side of human nature. The social consequences of personal greed are well sketched out, with at one point the word "merchants" spat out in sheer contempt, and Beale's storytelling gives the familiar tale the stamp of a performer who is a national treasure.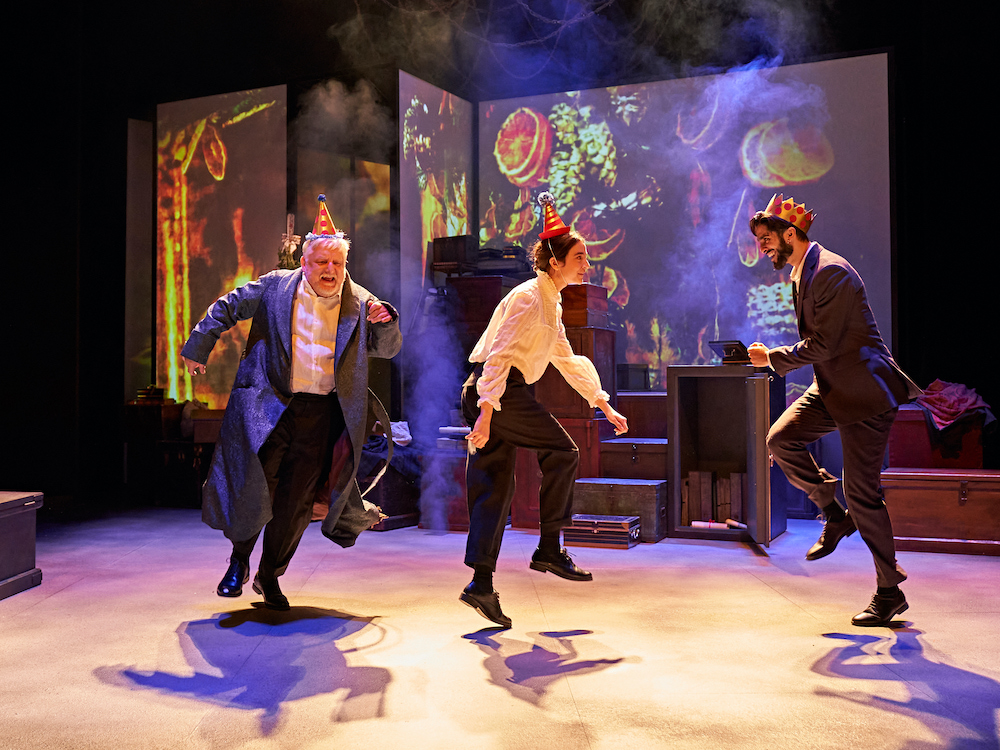 But this version of A Christmas Carol is also very much a team effort, and Ferran and Figueiredo are essential storytellers in their own right, with Figueiredo in particular giving a very physical performance in a dozen roles, lending his characters a very contemporary sense of diversity by using Asian and West Indian accents. Likewise Ferran's Bob Cratchit deftly sketches out the character's personality, and she switches effortlessly from telling the story to inhabiting a role. Between the three actors, who are suitably socially distanced, the evening flies by and they manage to make an archetypal tale fresh and moving once more.
Although designer Rose Revitt's set is perhaps rather awkward with its pile of bulky boxes evoking Scrooge's office, the brisk changes of scene are definitely helped by Luke Halls and Zakk Hein's video projections. Hytner creates a pleasurably contemporary feel to the story, reminding us that ignorance, poverty and disability are still with us by using puppets to represent street urchins and Tiny Tim, while an amusing bicycle courier and the steal of a ghostly trick from The Woman in Black both create enjoyable moments. By the end of the show, the crowd-pleasing arrival of some wonderfully OTT Xmas jumpers means that tears of remorse are vanquished by the joy of laughter.
In the inescapable context of COVID-19, A Christmas Carol is a powerful reminder that monetary greed can often have a reason rooted deep in a person's individual psychology and that in a world where so many are so isolated the only hope for the future is to reach out to others. Hytner's well-focused and moving production offers both theatrical delights – Beale as the "plump sister" or the dance music version of "God Rest You Merry, Gentlemen" – and a reassertion of the feeling that we really are all in this together. Once again, Hytner's Bridge Theatre makes a wonderful contribution to live performance in a time of pandemic.
The three actors make an archetypal tale fresh and moving once more
rating
Explore topics
Share this article